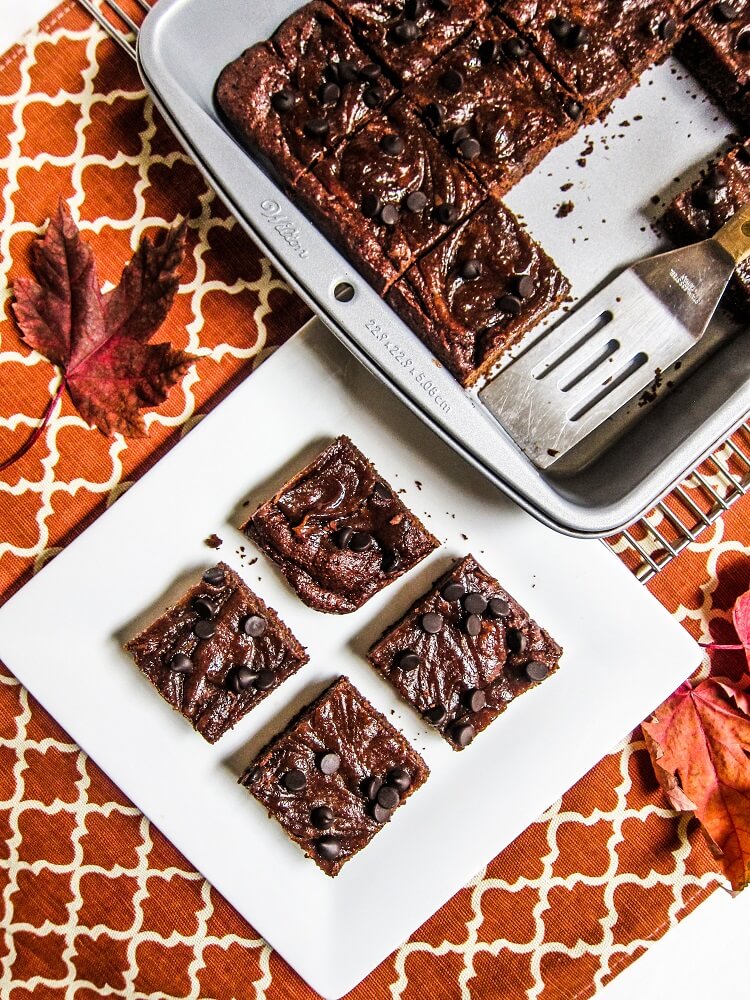 Vegan Tahini Salted Caramel Brownies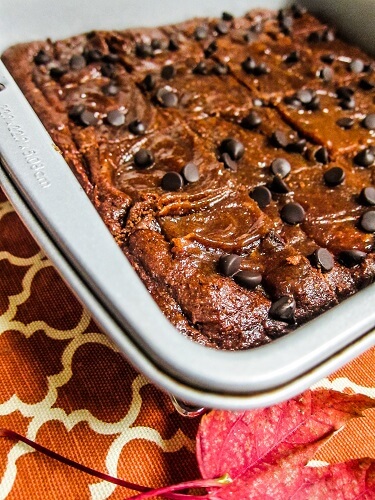 I am finding I love tahini even more for sweet applications than savory.  I used to think it was just something to make hummus and dressing with, but it is great in place of nut butter in things as well.  Like for instance in caramel.  Tahini caramel is amazing.  Raw Guru recently sent me a jar of Dastony sesame tahini and some raw cacao powder so I decided to make some vegan tahini salted caramel brownies.  Their tahini is so nice and smooth it is perfect for baking.  I love making brownies.  Not only do they make your house smell amazing and chocolaty, I love licking the extra batter from the bowl and of course the finished product.  If you need a chocolate fix, brownies are so much easier than baking a chocolate cake but just as good as far as I am concerned.  I can never make just plain chocolate brownies as I like to be creative in the baking department, so these were perfect!  I had never used tahini in brownies before.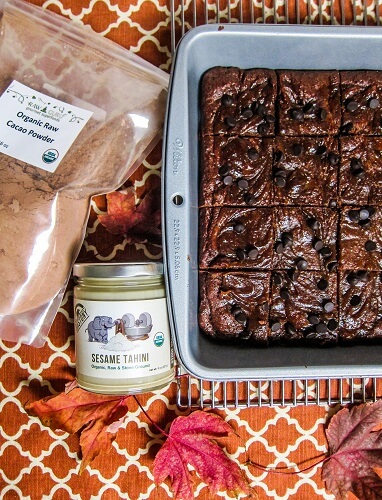 For the base, I used a good amount of tahini in place of 2/3 of the oil in my normal brownie recipe.  Tahini is rich and delicious so I knew these brownies were going to be good!  The batter tasted amazing.  Yes, I like to taste all of my batter to make sure it is good before baking it.  One time I forgot to add the coconut sugar to something and it was a good thing I tasted it before baking it!  Not only that, I just like eating batter haha.  Who doesn't?!  I whipped up a luscious silky smooth tahini date salted caramel in the blender and it was so good I couldn't stop sampling it.  But it was even better swirled into the brownies!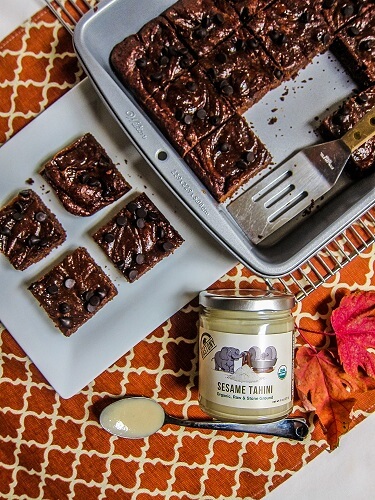 They smelled heavenly as they baked, the aromas of chocolate and caramel filling my home.  When they were cool enough to cut I couldn't wait to try one.  They were sweet, rich and gooey with that caramel swirled into them.  The tahini has a nutty flavor similar to peanut butter, so if you have tahini on hand give them a try!  Also, these are perfect for if you are someone with a nut allergy because they are rich and delicious without the nuts or nut butter!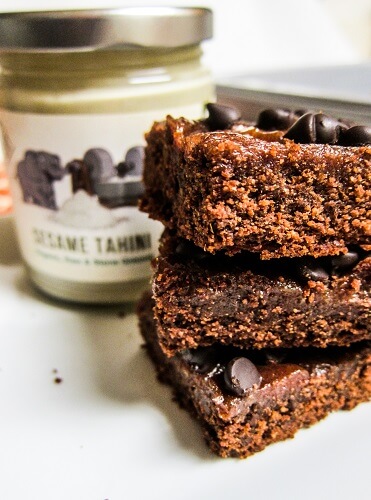 Vegan Tahini Salted Caramel Brownies
Makes 16
Caramel:
1 cup soft medjool dates, pitted (if they are not soft, soak them in water and drain well first)
2 Tbsp Dastony sesame tahini
1 Tbsp maple syrup
1/8 tsp sea salt
1 tsp pure vanilla extract
3/4 cup filtered water (or as needed)
Brownies:
2 Tbsp finely ground flax seed

1/2 cup filtered water 

1/4 cup avocado oil or olive oil

1/2 cup Dastony sesame tahini 
1 cup Raw Guru coconut sugar

2 teaspoon vanilla extract

1 cup Bob's Red Mill gluten free all-purpose baking flour

1/2 cup Raw Guru cacao powder or unsweetened cocoa powder

1/4 teaspoon sea salt

1/2 cup vegan chocolate chips, or vegan dark chocolate (chopped)
Instructions:
To make the caramel, combine all ingredients in a blender and blend until smooth (adding a little water if necessary, it should be the consistency of pour-able but still thick caramel).  Pour into a bowl and set aside.
To make the brownies, mix the ground flax seed with 1/2 cup filtered water and set aside for 15 minutes.
Pre-heat the oven to 350F degrees.
Whisk together the sugar, oil and tahini until well combined and the sugar is starting to break down.  Add the flax mixture and vanilla and mix until smooth.  Add the flour, cacao powder and sea salt and beat until smooth, then stir in the chocolate chips.
Scrape the batter into a greased 8x8 inch pan, then drop the caramel over it by the heaping tsp, and swirl it with a knife.  Place in the oven, and Bake for about 25 minutes or until set (but do not over bake or they will get too dry).  Let cool before cutting into bars.
(Visited 519 times, 1 visits today)