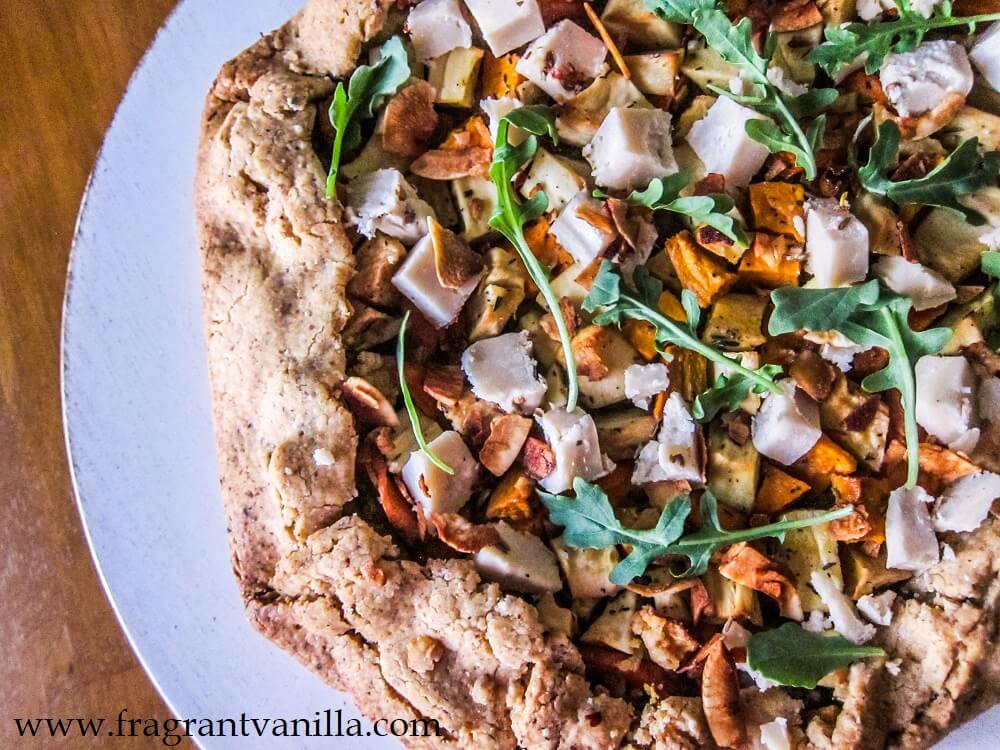 Rustic Fall Root Vegetable Tart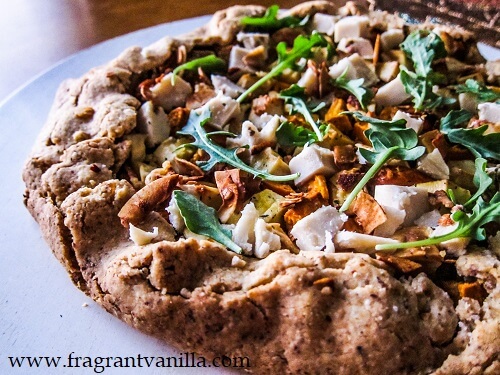 Fall is at it's peak of beauty right now here in Minnesota.  The leaves are all painted in warm hues, and fluttering to the ground.  But it hasn't gotten cold yet, so it is the perfect weather to go walking and enjoy the view, and listen to the crunch of the leaves beneath your feet.  I am still craving Fall dishes though despite the warmth.  Things like roasted root vegetables and squash. We make a roasted root vegetable in the deli where I work and it is super popular when made but it takes me a really long time to prep it because I am slicing about 30 lbs of rutabagas and carrots to roast.  But it is so good when finished!  I mean, nothing compares to roasted vegetables. I have found that even vegetables that I don't like are delicious when roasted.  It is my main method of cooking vegetables at home during the cooler months.  I mean, why not warm up the house with the oven and cook something delicious?!  So, I decided to make a roasted vegetable tart a few days back.  My Mom actually gave me the idea.  She likes to make suggestions of things I could veganize, and she showed me a photo of a gorgeous roasted vegetable tart.  It was far from vegan with a buttery crust and bacon on it.  But I knew I could make something even better.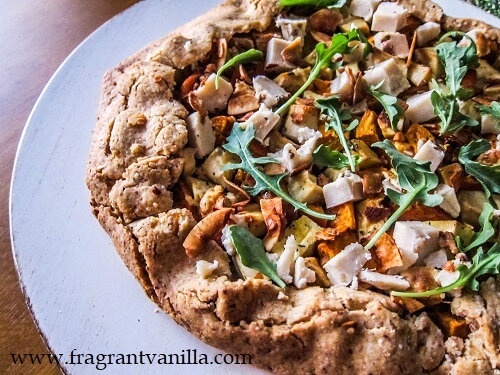 I made a gluten free crust for it actually, enhanced with a little almond flour because I love nut flours in crusts to make them more rich and delicious tasting.  For the filling I used some root vegetables that I had on hand.  Rutabagas, parsnips, carrots and yams.  That original tart that my Mom showed me had other veggies in it too, but I wanted this a little more simple and to my tastes.  I tossed the veggies with avocado oil, garlic, thyme, sea salt and pepper, and it all roasted to deliciousness in the oven once placed into the crust. This is a rustic tart, nothing fussy.  But if you wanted to get fussy and more fancy, you could place it into a 10 inch tart pan instead of free forming it.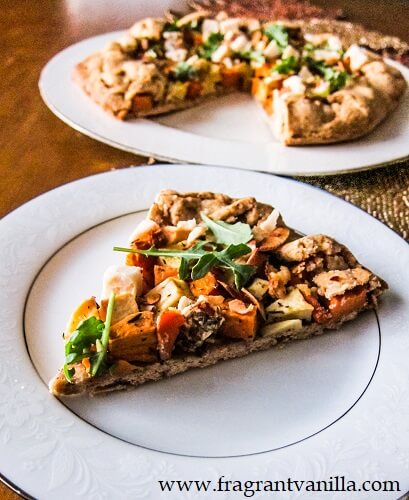 Once it was all baked and lovely, I added some coconut bacon instead of that real bacon that was on the inspiration recipe tart.  Not only that, I decided a bit of nut cheese would be awesome as well, and I happened to have some spiced nut cheese on hand which was perfect with the root vegetables (plain would be delicious too if you don't like spicy).  Lastly a little arugula for color.  It was so delicious!  I never used to think I would like rutabagas and parsnips when I was younger, but they are really delicious when roasted like this, and in this tart, even better!  If you have root veggies on hand, give this a try!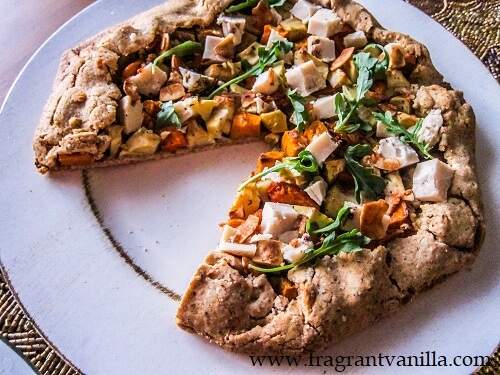 Fall Root Vegetable Tart
Makes 1 10 inch tart
Filling:
3 1/2 cups mixed 1/2 inch thick cubed root vegetables  (rutabagas, parsnips, yams, carrots)
2 Tbsp avocado oil or olive oil
1 tsp dried thyme
1 garlic clove, minced
1/2 tsp sea salt (or to taste)
1/2 tsp black pepper
Crust:
1/4 cup almond flour (or almond meal)
1/4 tsp sea salt
1/4 cup plus 2 Tbsp coconut oil in its solid state
about 3-6 Tbsp cold water
To finish Tart:
1/2 cup vegan chevre from THIS RECIPE with or without the spices, broken into pieces
1/2 cup coconut bacon from THIS RECIPE
a few fresh arugula leaves for garnish
Instructions:
Preheat the oven to 400F degrees, and line a sheet pan with parchment.
To make the filling, add the root vegetables to a bowl, along with the oil, thyme, sea salt and pepper and toss to coat.  Set aside.
To make the crust, combine the flour, almond flour, sea salt, and coconut oil in a bowl, and mix and squeeze together with your hands until the oil is in pea sized chunks. Add the water, and mix with hands just until it comes together and is not sticky.  If it is too dry, add a few Tbsp more water, too wet, a little more flour).
Roll dough out on a sheet of parchment into an 11 inch round, then spoon the veggies into the middle, leaving a 1 1/2 inch boarder.  Fold the sides up, using the parchment to assist.
Transfer the parchment to a sheet pan with the tart on it, and place in the oven.
Bake for about 1 hour, or until the veggies are tender and the tart is lightly brown.
Remove from the oven, let cool slightly and sprinkle the chevre, coconut bacon, and arugula over the top.  Cut into pieces and serve!
*Note: Whole wheat pastry flour or sprouted whole wheat flour can be swapped for the gluten free if you prefer a more sturdy crust.
(Visited 261 times, 1 visits today)