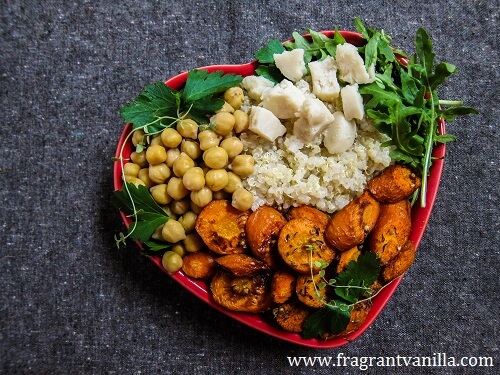 Roasted Carrot and Chickpea Quinoa Bowl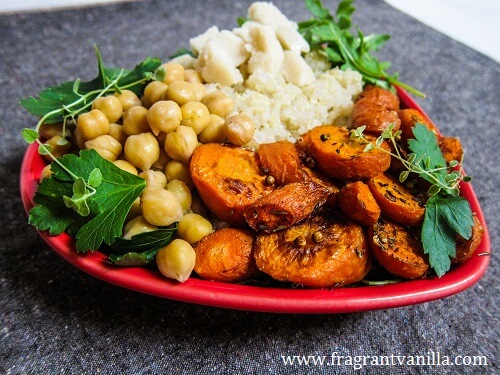 Last week, a coworker of mine made some roasted carrot fries for the hot food bar at work, and they were pretty amazing.  I admit, carrots are not usually my go to favorite ingredient when it comes to starring roles, but I was surprised at how good it could be when prepared that way.  It got me to thinking I should roast some of the ones I had at home up to crispy perfection and include them in my dinner. I mean, I have roasted carrots before, but I usually just slice them thin and go for chips.  There was something really delicious about them being in larger chunks for the fries.  I was going to just make carrot fries for a snack, but instead I decided to cut them into little smaller chunks, roast them with spices and include them in a bowl.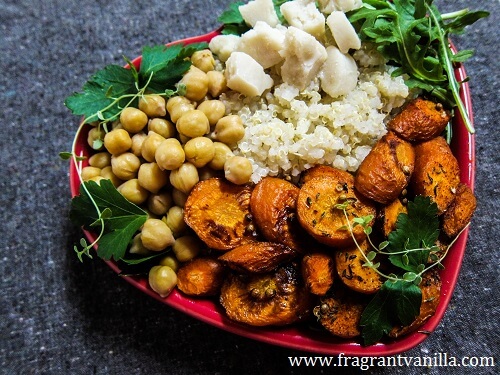 I love bowls.  No, I am not talking about the piece of dishes that you eat off of, I am talking about the composed dish that goes into it.  I love quinoa bowls, with lots of delicious toppings.  The sort of thing that you would pay a lot of money in a restaurant for but at home it can be made super affordable.  I decided to combine the carrots in one of those quinoa bowls with some vegan chevre that I had on hand, some chickpeas, and greens.  All topped off with lemon and parsley.  I was pretty hungry, so I was excited about this one.  The carrots turned out super delicious as I had tossed them not just with olive oil, but with the aromatic spices coriander, cumin and chipotle as well.  They smelled wonderful while roasting, and upon tasting them when they came out of the oven before they made it into the bowl, they were super delicious.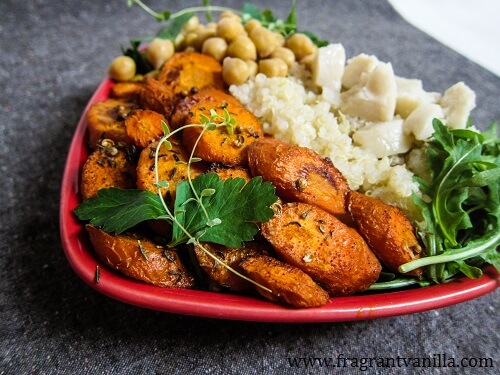 Once the bowl was all composed, I was pretty pleased with it!  It turned out to be even more delicious than I imagined. I really ought to venture out more and make new dinners more often.  I do tend to get stuck in a rut and make the same things all the time, and no matter how delicious they may be new things are always exciting!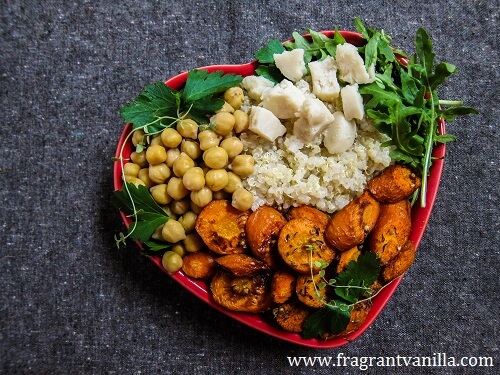 Roasted Carrot and Chickpea Quinoa Bowl
Serves 2-3
Quinoa:
2 cups water
1 garlic clove minced
1/4 tsp sea salt
1 cup quinoa, rinsed
Roasted Carrots:
3 cups carrots, cut into 1 inch pieces
olive oil
sea salt
1/2 tsp coriander seeds
1/2 tsp cumin seeds
1/4 tsp ground chipotle pepper
1/2 tsp thyme
For finishing the bowl:
1 cup cooked chickpeas
lemon juice
1/2 cup vegan chevre
3 handfuls arugula
fresh parsley leaves for garnish
Instructions:
Place quinoa, garlic and water in a medium saucepan and bring to a boil. Reduce to a simmer, cover and cook until all the water is absorbed about 15 minutes, or when all the grains have turned from white to transparent, and the spiral-like germ has separated. Drain, and let cool.
To make the carrots, preheat the oven to 400F degrees and line a sheet pan with parchment. Toss the carrots with just enough oil to coat, spices and sea salt and spread out on the pan. Place in the oven and roast for about 20-30 minutes until the carrots are tender.
Spoon the quinoa into bowls, then top with the garbanzo beans, roasted carrots, chevre, arugula and parsley, and squeeze the lemon juice over it, and sprinkle with sea salt. Enjoy!
(Visited 92 times, 1 visits today)