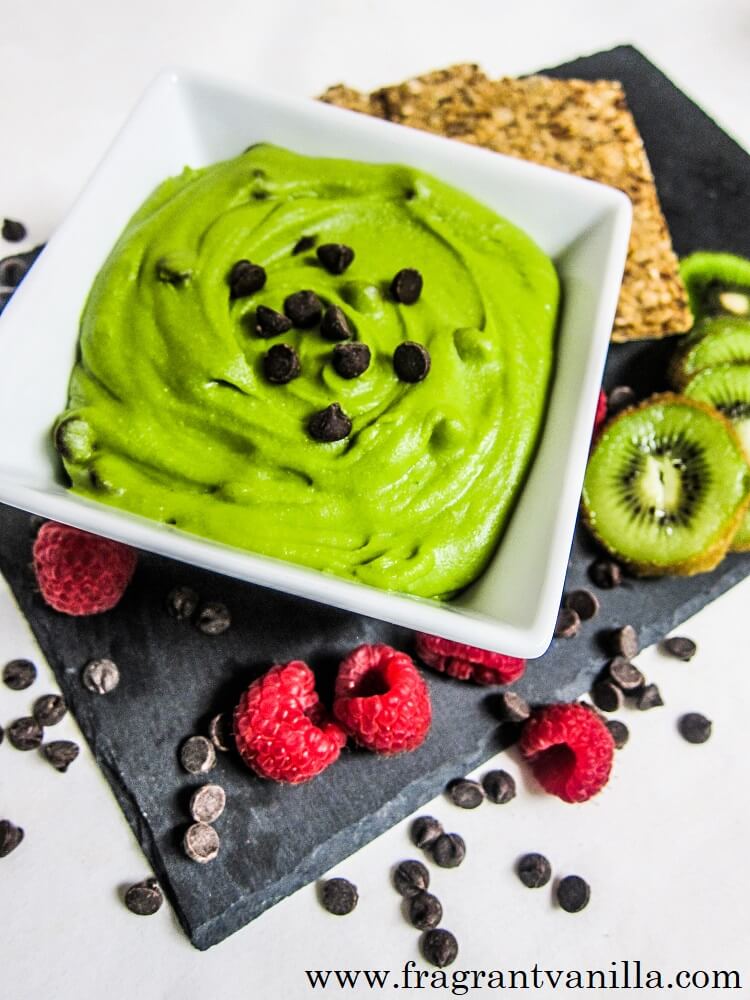 Mint Chocolate Chip Dessert Hummus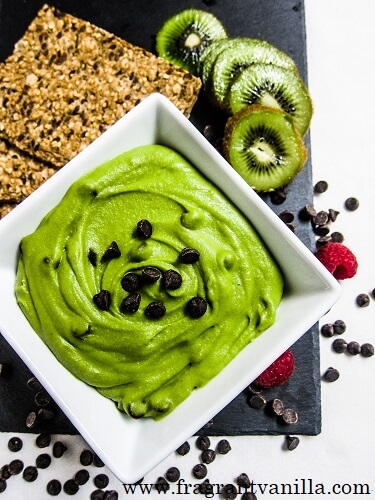 Dessert hummus is everywhere lately. It is actually a pretty awesome thing to make, because you can enjoy something that tastes like dessert but get some protein and fiber from the chickpeas at the same time.  Plus the chickpeas serve as a blank palate for any flavors you want to give them.  I have used them in vegan cheesecakes for that reason.  I feel like I make more dessert hummus lately than regular savory hummus!  Don't get me wrong, I love a good tahini hummus with cumin and lemon.  But I can get that at my work, and I like to experiment with new things every time I make hummus.  The sweet dessert hummus world is more unexplored I feel like.  I have made Red Velvet Cake Batter Dessert Hummus, Chocolate Cake Batter Dessert Hummus, Strawberry Dessert Hummus and Vegan Peanut Butter Cookie Dough Dessert Hummus...but why stop there?!  I still have plenty of dessert flavors I would love to make into hummus.  This week, it was Mint Chocolate Chip Dessert Hummus.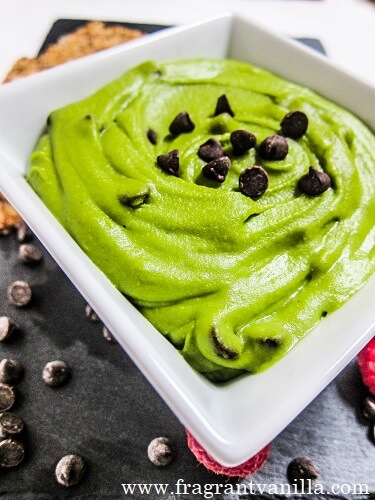 I loved mint chip ice cream (or peppermint bon bon as it was called) growing up, there was just something so refreshing and mellow about it.  The vanilla mixed with the cooling mint with rich flecks of dark chocolate.  I would eat it year round.  So I thought, why not make a hummus that tastes exactly the same, but won't melt or make me cold.  It was really simple to make, because I already had the cooked chickpeas on hand.  I always make a big batch, then freeze it in smaller amounts so that they are ready to go for salads, soups and of course hummus!  I blended the chickpeas with raw cashew butter because it is neutral and gives the hummus a silky texture.  Kind of makes it like smooth cheesecake but not as firm so it is still spreadable. I added some maple syrup for sweetness, and of course peppermint extract and vanilla to give this that lovely aroma and flavor the ice cream has.  No artificial colors here, I added spinach for a vibrant green hue as well as add sneaky nutrients to the hummus.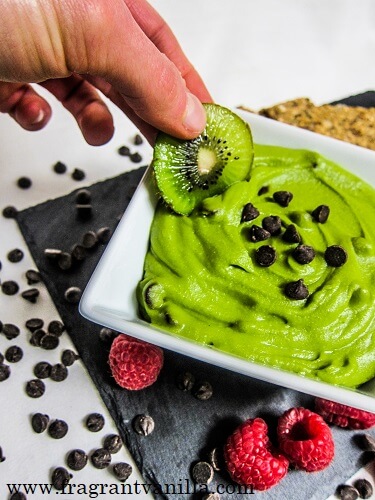 It blended up beautifully and lastly I stirred in my favorite vegan chocolate chips.  It was heavenly!  I wish I would have had some chocolate short bread to serve it with, but fruit, crackers and a spoon worked just fine!  It tasted just like the ice cream.  Creamy delicious texture, sweet fragrant vanilla mint and rich dark chocolate.  If you are a mint fan give this a try!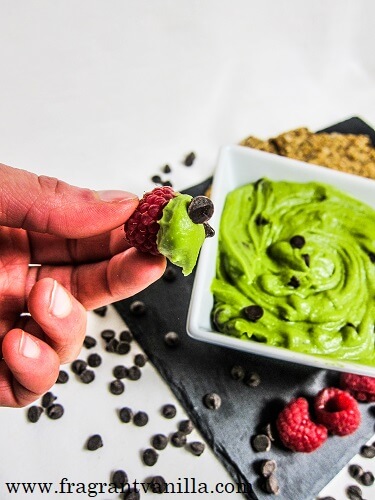 Mint Chocolate Chip Dessert Hummus
Makes about 3 cups
Ingredients:
1 1/2 cups cooked chickpeas
1/3 cup maple syrup (or to taste, if you like it sweeter add 1/2 cup)
1 cup filtered water (or as needed)
1 large handful spinach
1 Tbsp pure vanilla extract
1 tsp peppermint extract
1/4 tsp sea salt
1/2 cup raw cashew butter or almond butter
2/3 cup vegan dark chocolate chips
Instructions:
Combine all ingredients but the chocolate chips in a high speed blender or food processor and blend until smooth (adding a little more water if necessary).
Stir in the chocolate chips.
Keeps in the refrigerator for about 1 week in a sealed container.
(Visited 368 times, 1 visits today)