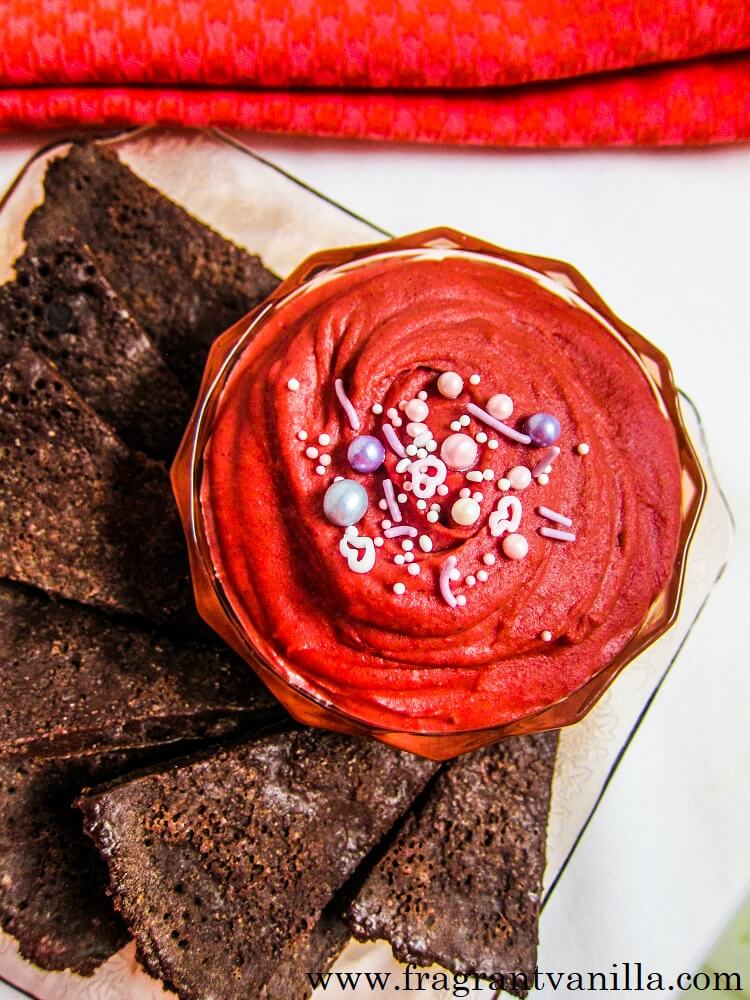 Red Velvet Cake Batter Dessert Hummus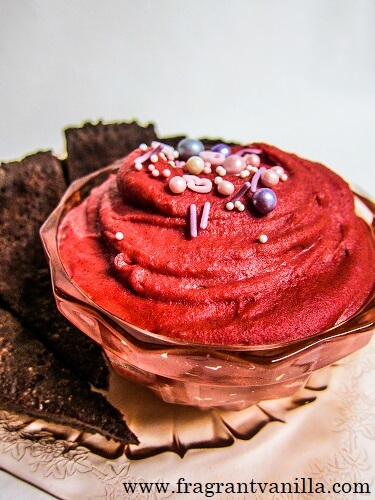 I am always up for trying new hummus as long as it is vegan and does not have any dairy thrown in.  Of course I love the classic with tahini, lemon and lots of cumin, and we make an amazing version of at my work.  But I like to switch it up when I make hummus at home.  There was a point in time I made it every week during the summer to enjoy with cucumbers fresh from the garden.  I would always add lots of chipotle and give it a good kick, since the cucumbers were cooling.  But the weekly hummus went by the wayside once Winter hit.  I have been making some every couple weeks though, but not of the savory variety.  It has all been sweet dessert hummus.  I keep seeing posts on social media about companies that make and sell their own dessert hummus, so it has been motivation for me to make my own because they always look and sound so good.  The latest one I made this week however, was not inspired by social media however, my Mom thought it up.  I shared some of my Chocolate Cake Batter Dessert Hummus with her when I made that one, and she said, "Why not make red velvet cake batter around Valentine's Day?"  So I had to keep my promise. Besides, it sounded amazing.
I have always leaned more towards vanilla than chocolate, as delicious as chocolate is.  So, this was right up my alley.  There would be no artificial red food coloring involved though. This was going to be all natural. Of course it had to be chickpea based, this was hummus after all.  But instead of the tahini that goes into savory hummus I used cashew butter.  You can of course use almond butter instead if that is your jam.  It had to have plenty of vanilla as well, and I sweetened it with maple syrup.  Lastly, for that beautiful color I used beet powder.  I thought about purchasing a red beet, cooking it and blending it into the hummus for color but that would have been too much work and I had the beet powder on hand already.  It was a lovely reddish pink color once finished, and it was beautiful just how it turned out.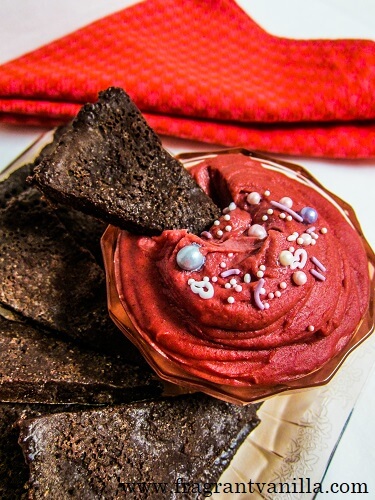 It is delicious for dipping fruit in and I so wished I had some strawberries, but I didn't happen to have any on hand.  I think they would be amazing with it though, and how festive for Valentine's Day. Of course, you can eat it with a spoon, that is not frowned upon, at least not by me because I do it myself.  Or as pictured here, you could serve it with some chocolate short bread (make without the almonds for what is pictured here) or brownie brittle.  The chocolate is a nice contrast to the vanilla hummus.  Or, if you only like vanilla, I think a cookie to dip in it would be amazing.  I just didn't have any on hand.  So, if you are adventurous when it comes to hummus, and you like sweet things, give this a try!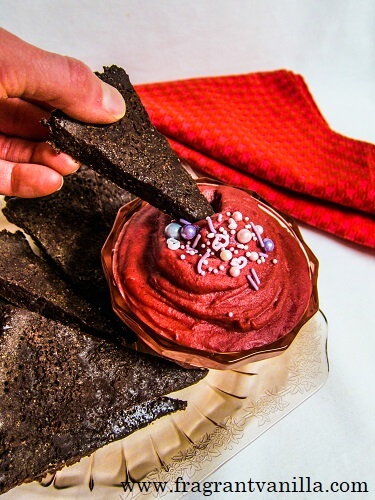 Red Velvet Cake Batter Dessert Hummus
Makes about 3 cups
Ingredients:
1 1/2 cups cooked chickpeas
1/3 cup maple syrup (or to taste, if you like it sweeter add 1/2 cup)
1 cup filtered water (or as needed)
2 Tbsp red beet powder or as needed (or natural vegan red food coloring as needed)
1 Tbsp pure vanilla extract
1/4 tsp sea salt
1/2 cup raw cashew butter or almond butter
Instructions:
Combine all ingredients in a high speed blender or food processor and blend until smooth (adding a little more water if necessary).  Keeps in the refrigerator for about 1 week in a sealed container.
(Visited 1,143 times, 1 visits today)