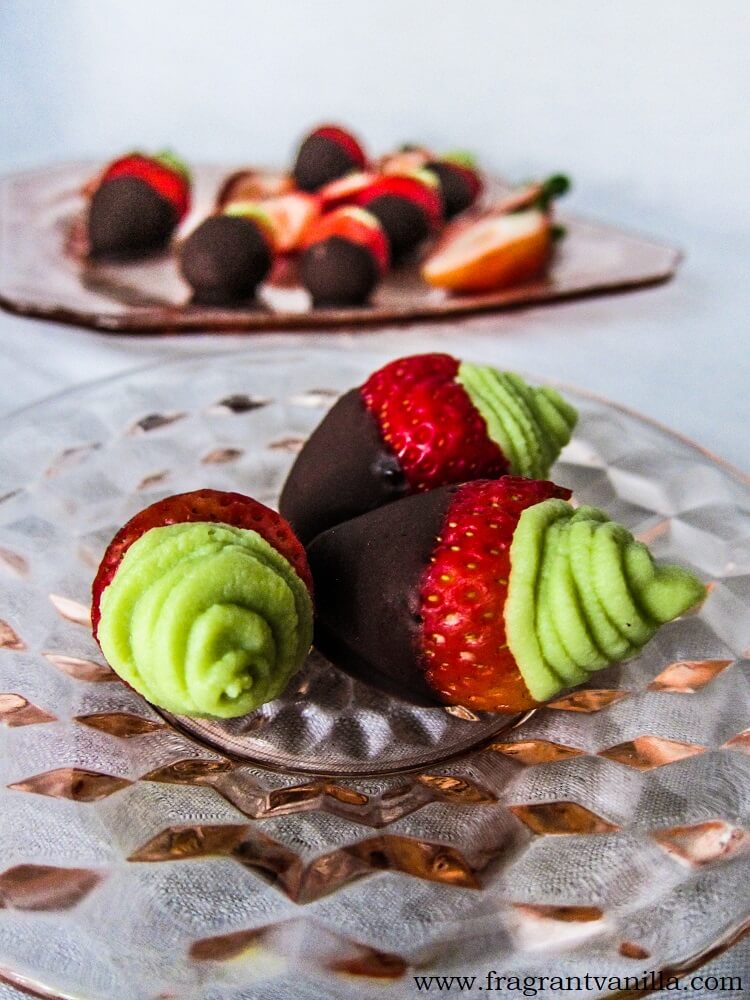 Chocolate Dipped Key Lime Pie Stuffed Strawberries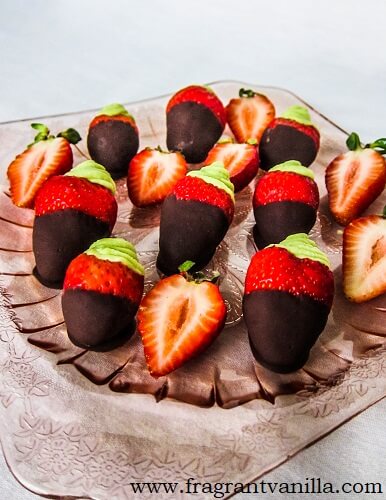 Key lime pie has always been one of my favorite Summer desserts.  It has to be the good kind though, plenty of tart lime and not too sweet. When I was little, my Mom and I found the perfect recipe for it that was the perfect balance, and it always tasted amazing.  Especially on a hot Summer day.  But a lot of times when we would order key lime pie in a restaurant or buy it somewhere it was never as good and we were disappointed.  I remember one year at the Minnesota State fair they had a key lime pie on a stick.  Because at our state fair everything has to be on a stick in case any of you were wondering about that.  But anyways, I bought one to try, and I was disappointed because it was way too sweet and not tart enough.  I liked the concept though, because lime with chocolate is amazing.  I have since come up with vegan key lime pie recipes that I enjoy.  Like these Chocolate Covered Key Lime Pie Bars, or my Key Lime Pie Shooters, or this Key Lime Cheesecake.  I will never tire of key lime pie recipes.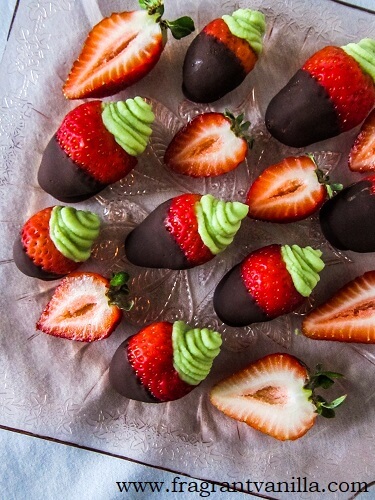 I was in the mood for some key lime pie a few days back, but I didn't want to take a lot of time to make it, and thought strawberries  and chocolate would be amazing to add to it.  So, I came up with chocolate dipped key lime pie stuffed strawberries.  I mean, no they aren't actual pie slices, but they are darn delicious and that filling is just like key lime pie.  I kept them pretty simple.  I trimmed a pound of organic strawberries (eating the insides, because why waste such deliciousness), then dipped them in a vegan dark chocolate.  I just melted down my favorite vegan dark chocolate chips and that did the trick.  I sometimes make my own chocolate but when I am in a hurry, it is nice to have some already on hand.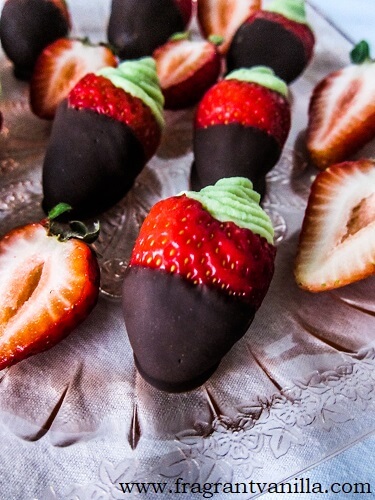 For the filling I used a special secret ingredient I use in most of my key lime pie recipes, avocado.   It works perfect!  It is rich and creamy, neutral and lime, a bit of maple syrup and coconut butter to thicken it hides the fact that it is avocado and not some soft of dairy or egg filling like you would find in most classic key lime pies.  These little strawberries are super delicious!  I bet you can't eat just a couple.  I needed quite a few.  I figure they are fairly healthy, you are getting your fruit and heart healthy avocado and dark chocolate all in one dessert!  I hope you will give them a try, I have a feeling you will love them!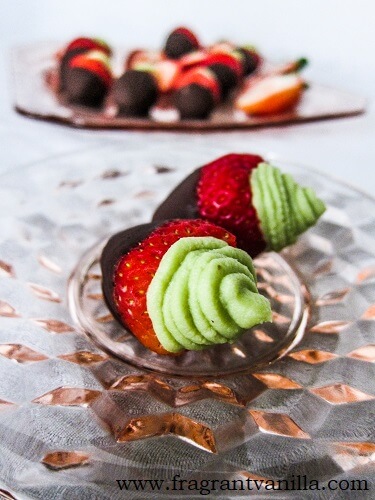 Chocolate Dipped Key Lime Pie Stuffed Strawberries
Makes about 24
Ingredients:
16 oz organic strawberries
Filling:
1 ripe avocado (not so ripe that it is brown)
1/4 cup lime juice
2 Tbsp maple syrup
1 tsp pure vanilla extract
3 Tbsp coconut butter, warmed to liquid
Instructions:
To prepare the strawberries, cut the tops off, and cut a v shaped hole into the middle from the top so that you have room for the filling.
Melt the chocolate in the top of a double boiler.
Line a baking sheet with parchment paper.  Dip each strawberry bottom into the chocolate by about 3/4 of an inch to an inch depending on the size of the berry.  Place on the parchment paper.  When they are all dipped, place the sheet pan in the freezer until the chocolate is firm.
To make the filling, put all of the ingredients in a food processor and process until smooth.
Place the filling in a pastry bag, or a ziplock bag with the tip cut off, and pipe into each strawberry.
Serve!  These are best enjoyed the day that they are made, but keep any leftovers refrigerated.
(Visited 378 times, 1 visits today)