Cherry Berry Quinoa Salad with "Chevre"
I have been eating more quinoa lately than I used to.  It stems from trying to eat a variety of vegan protein sources instead of my usual few in my meals (tofu, tempeh, garbanzo beans, lentils).  Plus, quinoa makes a great salad and that is usually how I enjoy it.  I can make a big batch ahead of time, and it makes a satisfying meal later. So, I have been making many different new recipes with it.  The most recent of which involved sweet berries and cherries.  It may sound like more of a breakfast porridge combination than a salad, but it was savory, sweet and super delicious!  In the past I have always jumped to making desserts first when I have fruit, but lately I have been trying to incorporate it into savory applications as well.  After all, I eat more meals than I do desserts.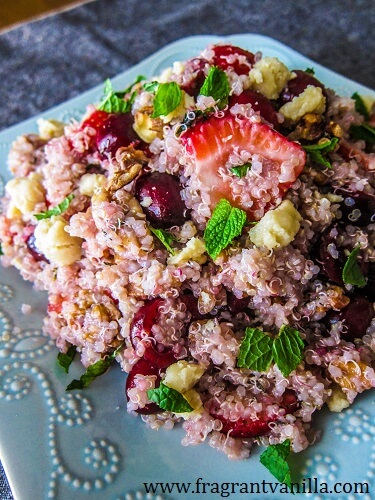 I decided to keep the flavors in this quinoa simple and just use lemon, mint and a little avocado along with some lime juice to flavor it.  No overpowering alliums in this dish.  I wanted the flavors of the strawberries and cherries to shine!  The mint just gave it a lovely fragrance along with the berries and lemon plus added the little pop of green color that it needed.  I tossed in some toasted walnuts for crunch and some nut "chevre" that I had on hand, and it was delicious!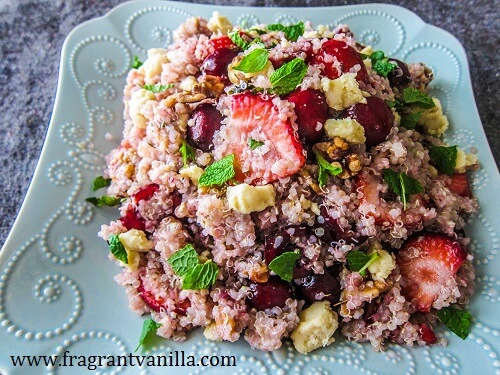 This is the perfect make ahead of time salad for Summer if you want something delicious for lunch or even of you are having a picnic or party and want to impress guests.  Just make sure your fruit is super flavorful, that is crucial to this tasting amazing!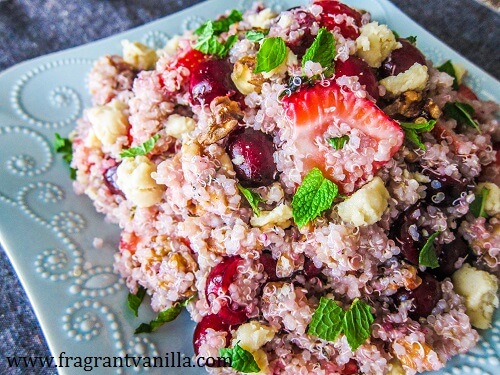 Cherry Berry Quinoa Salad with "Chevre"
Serves 2-4
Ingredients:
1 cup quinoa, rinsed
2 cups filtered water
1/4 cup lemon juice
1 Tbsp organic lemon zest
2 Tbsp avocado oil or olive oil
sea salt to taste
1 cup cherries, pitted and halved
1 cup strawberries
1/4 cup fresh mint leaves (if larger, tear them into pieces)
1/2 cup toasted walnuts
cashew chevre*
To prepare the quinoa, place quinoa and water in a medium saucepan and bring to a boil. Reduce to a simmer, cover and cook until all the water is absorbed about 15 minutes, or when all the grains have turned from white to transparent, and the spiral-like germ has separated. Drain, and set aside.
To assemble the salad, combine all ingredients in a bowl except the chevre, and toss together until well combined.  When ready to serve, sprinkle with the chevre (you will have more left over for another use).
*Use this chevre recipe and omit the herbs: https://www.fragrantvanilla.com/vegan-herbes-de-provence-chevre/
(Visited 79 times, 1 visits today)