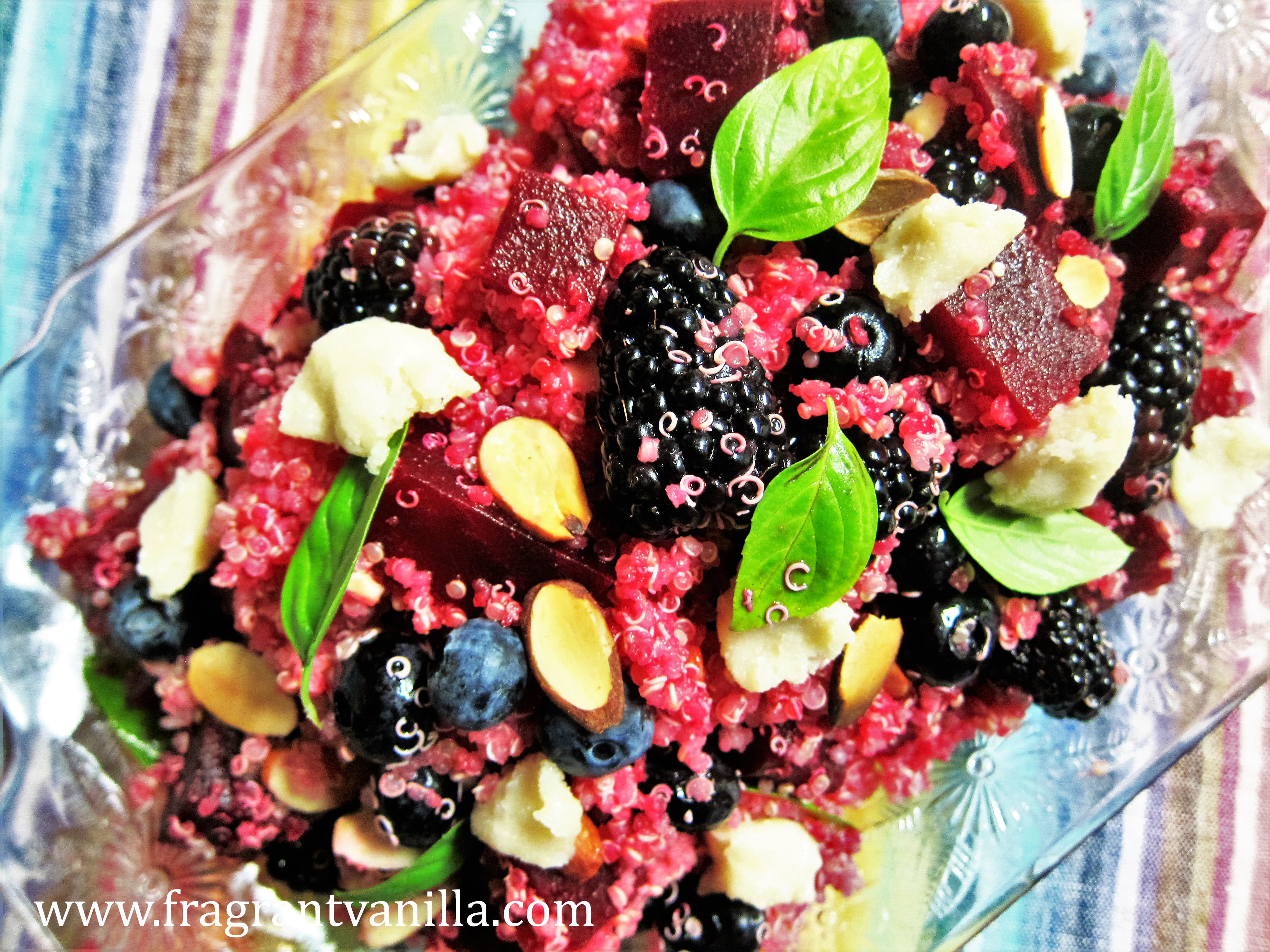 Berries and Beets Quinoa Salad with "Chevre"
People consider berries to be sexy.  But you know what else is sexy?  Beets.  I mean, they are beautiful.  Look at the color, they are sweet, and they keep you healthy.  They are a pretty amazing vegetable if you ask me.  Beets are actually one of my favorite things to juice, because the juice on it's own tastes amazing.  But I also love them roasted.  In fact, this was how I first enjoyed them and I fell in love.  Back in college actually.  Sad that I didn't really get to enjoy beets until then.  I admit as a child, I was a bit intimidated by them, and the only beets that I was ever offered were of the canned variety at my Grandma's house.  I thought that they looked scary so I passed them up.  When I started to explore cooking though in my early 20s, I decided that I wanted to try making a roasted beet salad from a vegetarian cookbook that I had checked out from the library at the time. They tasted so good when prepared that way!  The sweetness intensified through roasting.  That is now my favorite way to cook them over boiling them any day.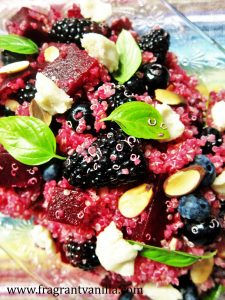 If I am eating them plain, I love them with a little vinegar and sea salt so they taste almost like pickled beets.  I had gotten some beets and berries at my work thinking they would be lovely together in a colorful salad.  I was thinking light salad at first, but them I decided to make it a main course by adding some quinoa for protein.  If I am looking to boost a meal quinoa is one of my go to ingredients.  It packs protein and fiber perfect for a satisfying dinner. I kept the flavor of the salad simple to allow the ingredients to shine adding only a little olive oil and lemon juice for the dressing.  Also, some fresh basil joined the show because that is an herb that I have growing on my patio and I use it as much as I can in the Summer.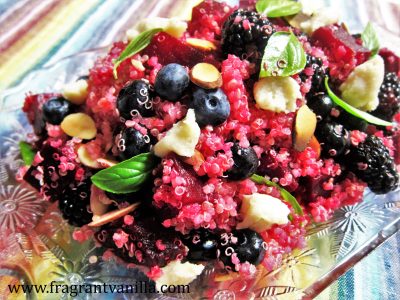 It was good as it was, but I also added some toasted almonds for crunch, and some cashew chevre to add a little richness.  I am a big texture and flavor person, so it was important to different flavors and textures in this salad.  Not only did it end up being beautiful thanks to all of the beautifully colored ingredients, but it tasted amazing.  This is something I would pay big bucks to be served in a restaurant.  It was so good.  Summer is almost over, and I am kind of hanging onto the last of it with salads like this that are fresh, but also hearty since it has cooled down a bit.
Berries and Beets Quinoa Salad with "Chevre"
Serves 2-4
Ingredients:
4 medium sized red beets
1 cup quinoa, rinsed
2 cups filtered water
1/4 cup lemon juice
1 Tbsp lemon zest
2 Tbsp olive oil
sea salt to taste
1 cup blueberries
1 cup blackberries
1/4 cup fresh basil leaves (if larger, tear them into pieces)
1/2 cup toasted almonds
cashew chevre*
To roast the beets, wrap them in foil, and roast them in a 400F degree oven for about an hour to an hour and a half depending on how big they are until they are tender when pierced with a knife.  Once roasted, allow to cool, peel and cut into large dice. Meanwhile, to prepare the quinoa, place quinoa and water in a medium saucepan and bring to a boil. Reduce to a simmer, cover and cook until all the water is absorbed about 15 minutes, or when all the grains have turned from white to transparent, and the spiral-like germ has separated. Drain, and set aside.
To assemble the salad, combine all ingredients in a bowl except the chevre, and toss together until well combined.  When ready to serve, sprinkle with the chevre (you will have more left over for another use).
*Use this chevre recipe and omit the herbs: https://www.fragrantvanilla.com/vegan-herbes-de-provence-chevre/
(Visited 77 times, 1 visits today)