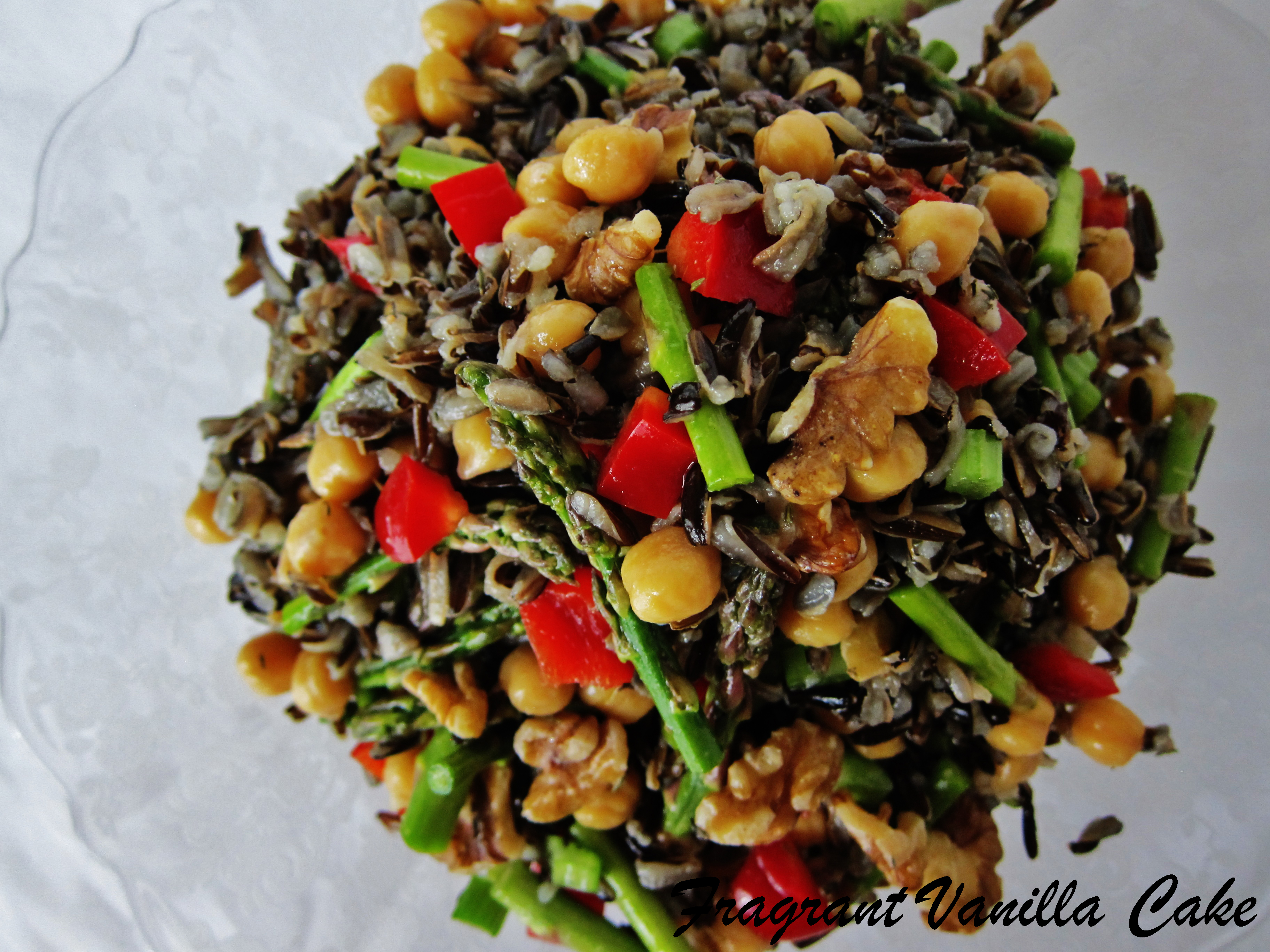 Wild Rice Salad with Chickpeas and Asparagus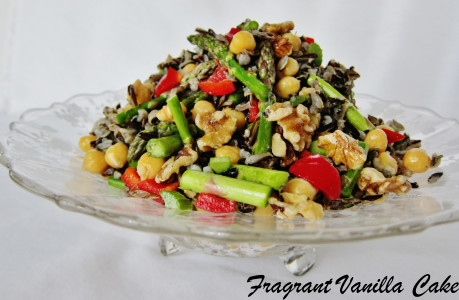 Wild rice is big here in Minnesota.  It is a bit spendy, but worth it. It tastes like nothing else, sort of earthy and savory perfect for hearty dishes and it is classic to use in casseroles.  But it is not limited to warm dishes.  It makes wonderful substantial salads as well.  I made a salad last week with it since it happened to be what I saw when I opened my cupboard when looking for things to compose dinner with.  I thought it would go perfectly with the fresh tender asparagus I had bought at the store with the intention of using it in something new and delicious.  I also added in chickpeas for a bit of protein as well as walnuts and some red bell peppers and celery since you can never have too many veggies in your meals as far as I am concerned.  I tossed it with a simple dressing and it was all that it needed to be delicious.  This keeps well and makes a wonderful thing to take with you to work for lunch the next day.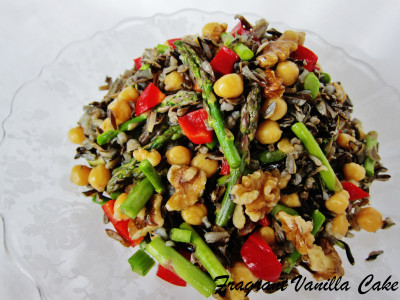 Wild Rice Salad with Chickpeas and Asparagus
Serves 4
3 cups cooked wild rice
1 1/2 cups cooked chickpeas (you may use canned)
2 stalks celery, diced
1 red bell pepper, diced
2 cups asparagus, cut into 2 inch pieces
1/2 cup raw walnuts
2 Tbsp cider vinegar
2 Tbsp olive oil
1 tsp dried thyme
1/4 tsp sea salt or to taste
2 cloves garlic, minced
In a large bowl, combine all ingredients, and toss together until well combined.  Serve at room temperature.
*To cook wild rice, rinse it well, then place in a pot of water covering by a few inches and bring to a boil.  Lower to a simmer and cook until the rice begins to flower or split apart and is tender about 1 hour and 15 minutes to an hour and a half (depending on which type you have).  Cook the chickpeas in a similar fashion, they take about an hour and a half.
(Visited 74 times, 1 visits today)