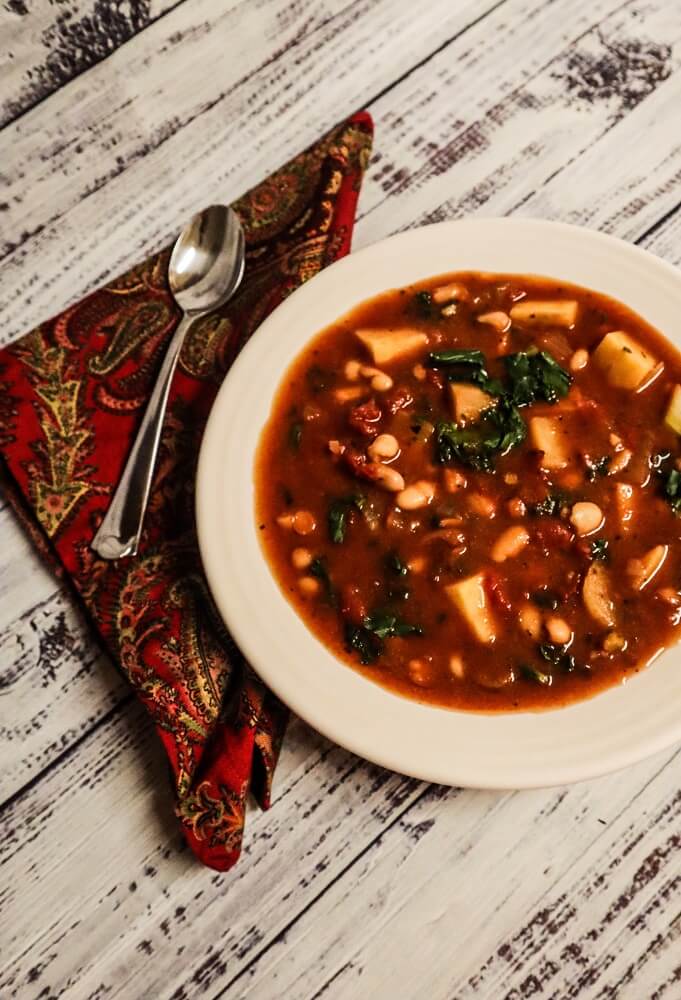 White Bean, Sweet Potato and Kale Soup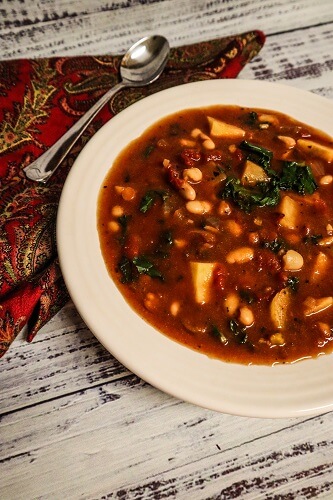 The weather can't seem to decide what it is doing here lately.  It was thawing out and above 35F degrees, and then it was down to below zero then back to above freezing again. I will take the warmer days though, it is not often we see days above the teens and twenties this time of the year.  Last year we had a polar vortex and it was -60 windchill for a few days.  So I am grateful for this weather. One thing I enjoy to kind of take the chill off is warming soups.  I make at least 3 different kinds during the course of the week.  I have my favorites, but sometimes I like to come up with new ones.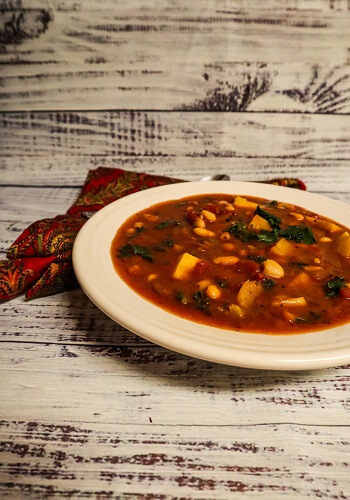 I was craving something hearty and filled with veggies and greens, and what I came up with was this white bean, sweet potato and kale soup!  I make soups like this a lot at work (not this exact one, but similar ones), and a lot of times they sound really good to me so I go home and make something similar.  I happened to have all of the ingredients for this on hand so it was perfect!  It always makes me happy when I don't have to spend extra money to buy more ingredients.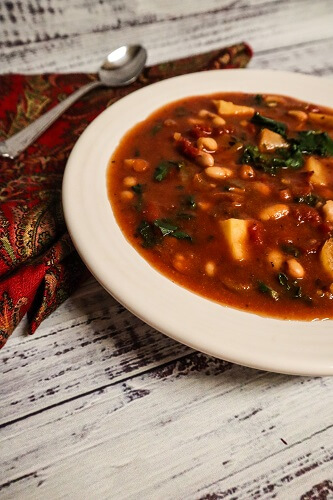 For the base, I went with home made veggie stock and tomatoes.  If you are wondering what I put in my stock, it is mostly onions and garlic (because they have the most flavor), plus a bit of celery. I know some people put carrots in their stock, but I find that they make it a bit too sweet for my liking. So I keep it to the other 3 veggies.  If you just keep your scraps in a bag in the freezer, later on when you have a lot you can whip up some stock with them.  Just simmer the veggies in filtered water on the stove on very low heat for about 4 hours, then strain and cool down.  Also, it is nice to portion out and freeze for later.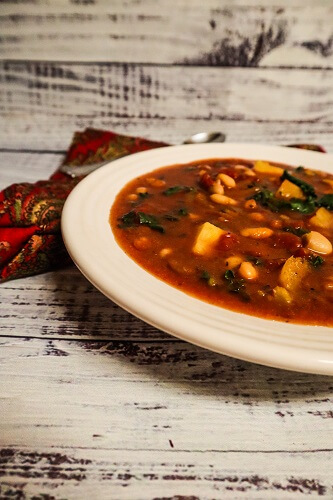 Back to the soup though, I added oregano and basil to give it an Italian flavor, as well as some red pepper flakes for a little kick.  I would usually go with regular potatoes in a soup like this but I went with white fleshed sweet potatoes this time since I had them on hand.  Lastly some white beans for protein and some kale to get my daily greens in.  I try to eat a good amount of greens several times a day, so I include them in my lunch salads, as well as stir them into my soups at the last minute so they are just wilted but retain their nutrients.  This soup turned out so good!  It was dinner for a few nights, and it was nice to have something already made when I got home.  It was packed with flavor, was nice and warming and hearty and we both felt good after eating it. If you are in need of some healthy comfort food, give this a try!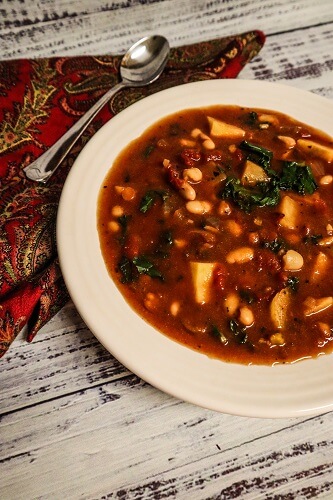 White Bean, Sweet Potato and Kale Soup
Serves 3-4
Ingredients:
1 tsp olive oil
1/4 cup diced red onion
4 stalks celery, sliced
2 garlic cloves, minced
1 tsp dried basil
1 tsp dried oregano
1/4 tsp red pepper flakes
1/2 tsp sea salt
3 cups crushed canned tomatoes or fresh roasted*
2 cups flavorful vegetable stock
sea salt
4 cups cubed white fleshed sweet potatoes
1 1/2 cups cooked white beans
2 cups fresh kale, torn into small pieces
Instructions:
Heat the olive oil in a medium pan.
Add onions and celery and sauté until tender.
Add the garlic, tomatoes, herbs, sea salt, pepper, and filtered water.
Bring to a simmer, and allow to cook until the tomatoes are very soft and the flavor has melded, about 30 minutes.
Add the sweet potatoes to the pot, and let cook for about 10-15 minutes.
When the potatoes are tender, stir in the beans and kale until kale has just wilted.
Serve!
(Visited 396 times, 1 visits today)