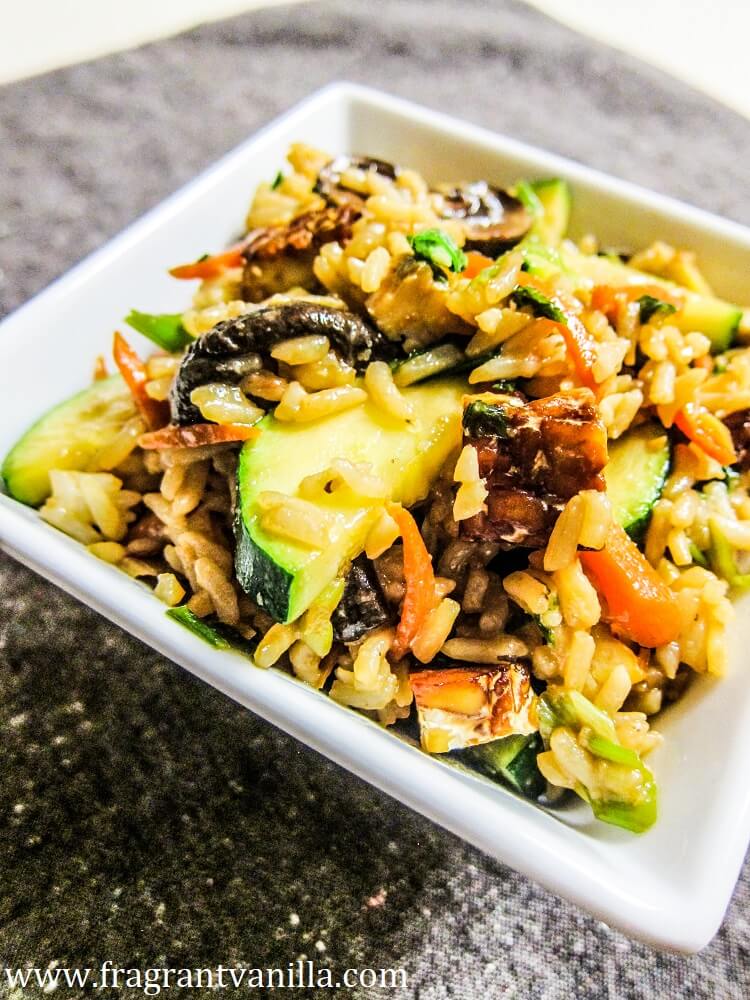 Veggie Filled Tempeh Fried Rice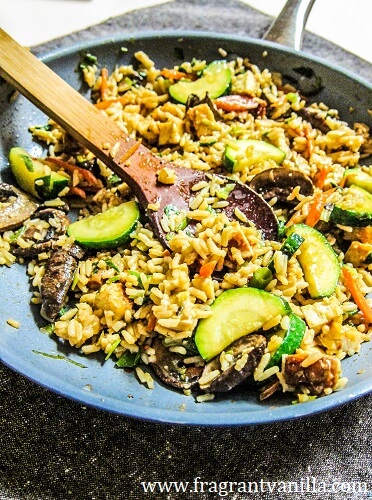 I was given an Instant Pot for Christmas, and I was pretty excited about it.  Before this year, I have never really thought about using a pressure cooker, but I had been seeing a bunch of my friends cooking things in them and posting photos on Instagram and Facebook and it got me interested. I haven't made anything super exciting in it yet, just rice and beans, but wow do they ever cook fast!  I cooked dry un-soaked garbanzo beans in 40 minutes and it normally takes me like 2 hours on the stove!  And the other day I made some rice in it because I had a tofu dish I wanted to serve it with and it came out perfect in only 10 minutes.  I have a confession to make, I am usually horrible at cooking rice on the stove. I usually end up making it too mushy, or it gets to dry because I do other things and forget to turn it down. We use a steamer at work and it is a life saver for that type of stuff so I don't have to worry about watching it.  Anyways, the Instant Pot is even faster than the steamer so I was very impressed.  I had some of that rice leftover because I made more than I needed, so I thought what better use for it, then to make some fried rice?!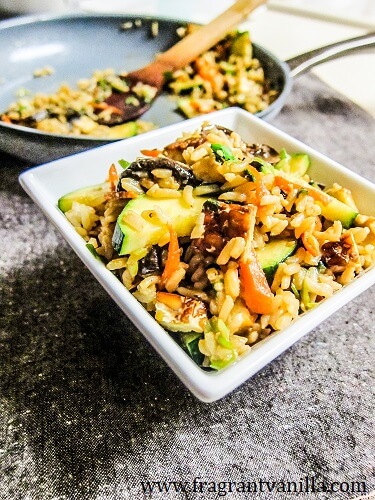 I hadn't made it in years. Well, the traditional kind at least, I made a raw version a few years back but that is different.  I like my fried rice to be filled with veggies.  None of that super greasy stuff that is mostly rice and not much else that you get at restaurants sometimes.  Shrimp fried rice used to be my favorite before I went vegan.  But anything shellfish or shrimp totally grosses me out now, not to mention the idea of eating an animal.  So, for this one I decided to use tempeh cut into little cubes.  Kind of like they do for chicken with fried rice. It was perfect!  It added protein and a nice meaty texture without being meat.  I added in plenty of veggies as well, carrots, mushrooms, green onions, and garlic.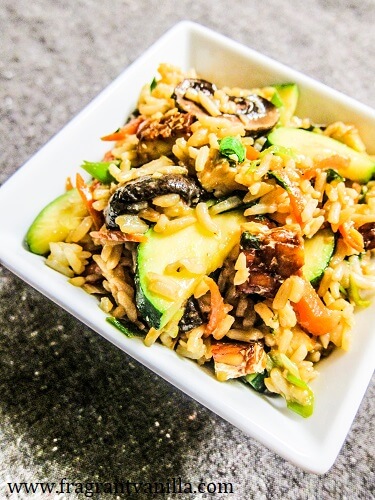 Also, I had to add flavor, so I went for a tamari, miso and mirin mixture and it was super delicious!  The best part about this is it only took me about 15 minutes to make start to finish.  You can't beat that for a quick weeknight dinner.  If you have different veggies on hand, or one of these ones is not your jam, feel free to swap them.  I am all for using what you have in the refrigerator and not wasting food.  Some of the best meals are made that way.  So, the next time you have leftover rice give this a try!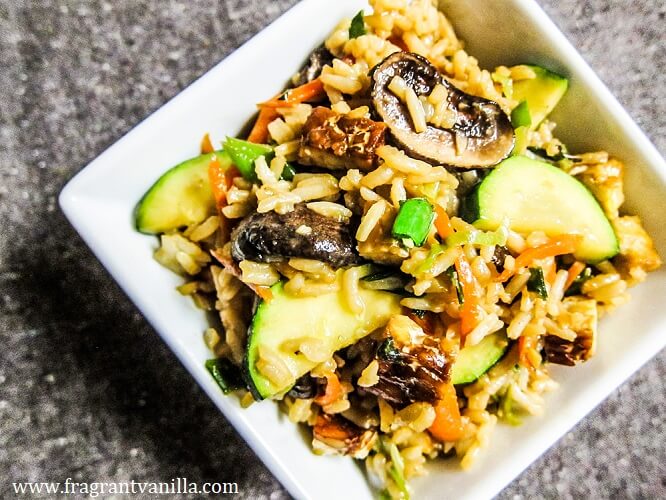 Veggie Filled Tempeh Fried Rice
Serves 2
Ingredients:
2 Tbsp avocado oil, divided
6 oz organic tempeh, cut into small cubes
2 garlic cloves, minced
2 tsp fresh ginger, minced
6 scallions, sliced very thinly
1 medium carrot, cut julienne
1 medium zucchini, cut in half lengthwise, and sliced on the bias
8 crimini mushrooms, sliced
2 tsp white miso
2 Tbsp mirin
2 Tbsp tamari
2 cups cooked rice
sea salt to taste
Instructions:
Heat 1 Tbsp oil over medium heat in a ceramic pan. Add the tempeh, and sautee it until it is starting to brown slightly.  Remove from the pan and set aside.
Add the remaining oil to the pan, along with the garlic, ginger, and scallions.  Sautee for a minute until fragrant.  Add the carrot, zucchini and mushrooms and sautee until softened, about 5 minutes.
Mix together the miso, mirin, and tamari in a small bowl, and add to the pan, along with the rice. Cook and stir together until the rice is uniform in color.  Add the tempah back to the pan and stir to incorporate.  Add a touch of sea salt if needed.
Serve!
(Visited 136 times, 1 visits today)