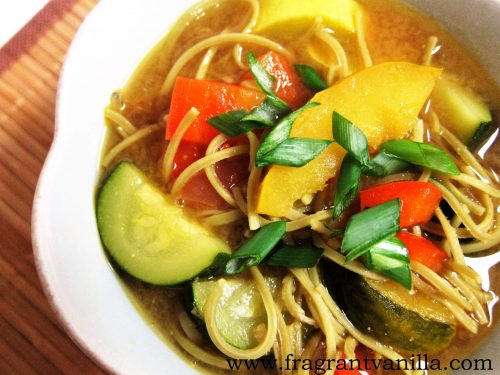 Veggie Edamame Noodle Bowl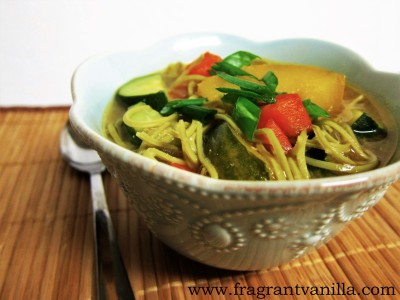 Eric was saying that a noodle bowl he saw on Facebook looked really good, so that got me to thinking I should make one.  I haven't made anything like that in years, but it is the perfect dish for dinner on a chilly winter evening.  I used the random vegetables that I happened to have on hand which were acorn squash, summer squash, red bell peppers, and scallions.  But of course if you decide to make this, use whatever you have on hand as well.  Celery, carrots, mushrooms or bok choi would make wonderful additions or swaps with the veggies I added.  I made a quick and flavorful miso broth to simmer it all in.  It smelled amazing in my kitchen.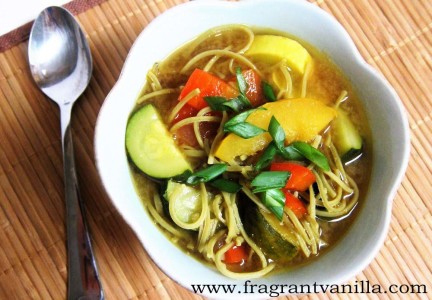 I used an edamame pasta that I have been loving lately for the noodles.  I am just not a big fan of regular wheat pasta or grain pasta, but this edamame pasta packs about 24 grams of protein per serving, and I like the flavor. If you are soy free, they have adzuki bean and other types of bean pasta in this brand as well.  Anyways, this noodle bowl turned out delicious! I shared it with of course Eric because he gave me the idea to create it. It was warming, filling, and a party in my mouth!
Veggie Edamame Noodle Bowl
Serves 2 generously
1 small onion, diced
2 garlic cloves, minced
1 small chunk ginger, minced
1 tsp red pepper flakes, or to taste (less if you don't like spicy)
1 tsp sesame oil
2 Tbsp tamari
4 cups flavorful vegetable broth, or filtered water
3 cups diced or sliced winter squash
2 cups thickly sliced zucchini
1 cup thickly sliced yellow squash
1 cup diced bell peppers
4 oz edamame spaghetti
3 Tbsp white miso
scallions, sliced
In a pot over medium heat, combine the onions, garlic, ginger, chili flakes and sesame oil. Cook for a few minutes, stirring often.  Add the tamari, vegetable broth, and squash and bring to a boil.  Lower to a simmer, and cook until squash is almost tender, then add the zucchini, yellow squash, bell peppers, and edamame pasta and cook for about 4-6 minutes more at a simmer until the veggies are tender and the noodles are done. Add the miso and cook over very low heat until it dissolves, garnish with scallions to serve!
(Visited 26 times, 1 visits today)