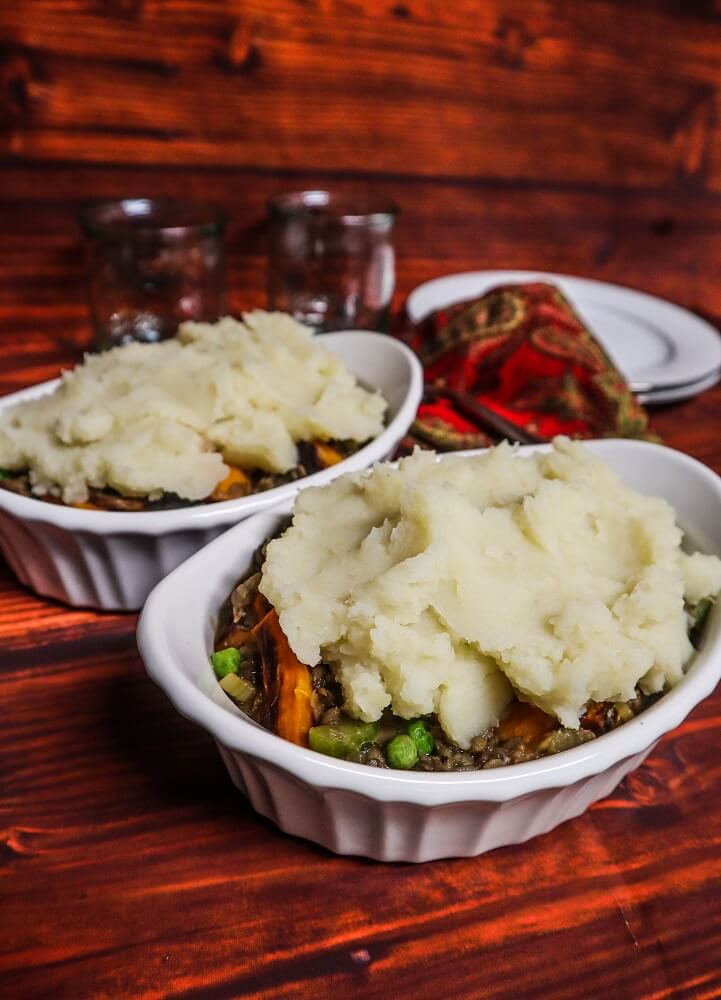 Vegan Winter Lentil Shepherd's Pie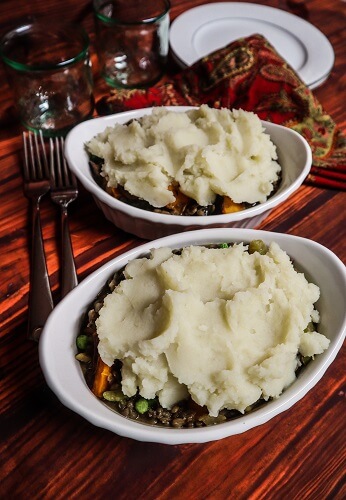 I made shepherd's pie for Thanksgiving this year, and I might make it again for Christmas because I love it so much! It is a dish that takes a little bit of time and love so it is for special occasions.  Since I tend to make quick recipes for dinner most of the time.  I made a new recipe with lentils this time for Christmas, and winter veggies, so I thought I would share the recipe.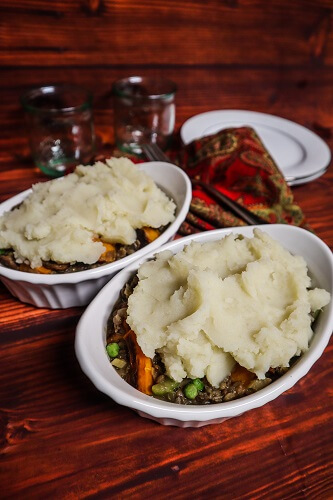 If you think that shepherd's pie has to be rich and meat filled think again.  I remember having it as a kid with ground beef, and a generic blend of veggies like peas, corn, and carrots in a meat gravy and it was ok, but not my favorite thing.  The mashed potatoes were the only part I really enjoyed at that point.  I have never been a meat lover, always choosing veggies first even before I became vegan.  So when I make my shepherd's pies, I use ingredients I love and veggies that add flavor instead of just being there.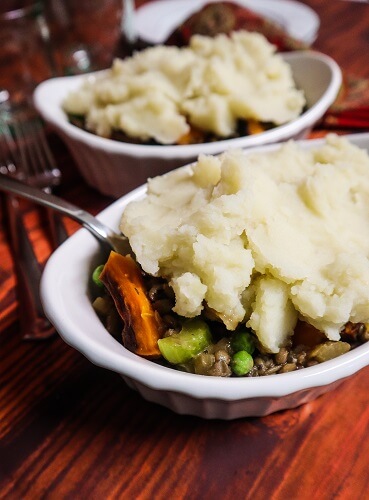 Things like leeks, squash and mushrooms plus a few others for color.  I just make the cooking broth into a sort of a gravy to keep it more simple, and it works perfect!  This time I used lentils where the meat would be.  Normally I use tempeh, but I figured I would make a recipe for those who are soy free, and I like to switch things up sometimes.  It was delicious and hearty!  I actually made a larger batch of this recipe a few days before Thanksgiving, to serve on Thanksgiving day day since I knew I wouldn't have time to cook. These reheat beautifully in an oven.  If you are going to serve the next day, skip the oven part after assembly, cover with foil, and refrigerate.  Pop in the oven for about 45 minutes to 1 hour (uncovering the last 10-15), and you have delicious dinner!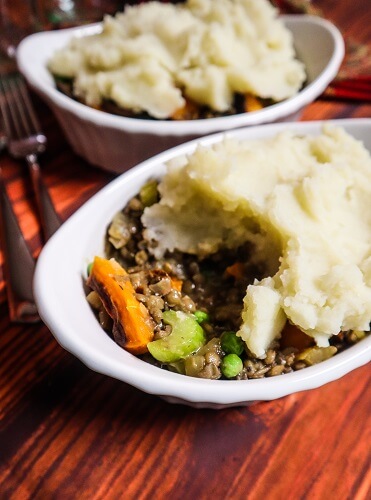 Vegan Winter Lentil Shepherd's Pie
Makes 4 Pies (or one large pie to serve 4-6)
Ingredients:
1 1/3 cups uncooked French lentils
filtered water
Veggies:
Extra virgin olive oil
2 large leeks sliced
2 cloves garlic, minced
2 cups diced butternut squash
2 cups sliced carrots
2 cups sliced celery
1 tsp dried thyme
1 1/2 cups crimini mushrooms, sliced
1/2 cup peas (frozen is fine)
2 cups flavorful veggie stock, store bought or homemade*
2 Tbsp tamari
¼ cup arrowroot starch dissolved in 1/4 cup filtered water
Topping:
6 russett potatoes, peeled and cut into 2 inch chunks
sea salt to taste
1 Tbsp coconut butter (optional)
1/4 cup coconut milk  (or as needed, you may also add water, and it will still be good)
Instructions:
Cover the lentils with the filtered water by a few inches. Bring to a boil, then lower to a simmer and cook until the lentils are tender, about 30 minutes.  Drain well, season with sea salt to taste and set aside.
Heat the olive oil in a large stockpot, and add the leeks, garlic, thyme, squash, carrots, and celery, and cook until they have softened a bit, then add the garlic, mushrooms, peas, tamari, and stock and bring to a boil.  Lower to a simmer, and place the lid on the pot.  Let cook until the veggies are tender, about 10 minutes.  Once they are tender, add the arrowroot mixture, and let cook a few more minutes while stirring until it has thickened. Remove from the heat.
Meanwhile, place the russets in a large pot of salted boiling water on the stove, and bring to a boil.  Cook until the potatoes are tender, and drain.  Add sea salt to taste, along with the coconut oil and milk and mash until soft, adding a little more milk if desired.
To assemble, spoon the veggie mixture into 4 ovenproof bowls (or one big baking dish if you prefer), then top with the lentils, and lastly with the mashed potatoes.
Place the pies in the oven and cook for about 10 minutes until bubbling.  Let cool slightly before serving.
*Veggie Stock
Makes about 1 1/2 quarts
Ingredients:
1 large onion (or about an onions worth of onion trimmings)
2 stalks celery (or 2 cups celery trimmings)
6 garlic cloves
1 cup sliced mushrooms
filtered water
Instructions:
Add the onion, celery, garlic, and water to a 2 1/2 quart stockpot and bring to a boil.  Lower to a simmer and cook for a few hours until the veggies have released their flavors.  Strain into a container, pressing the veggies against the strainer to extract all the juices.  Let cool, and store in the refrigerator for up to a week, or freeze.
(Visited 515 times, 1 visits today)