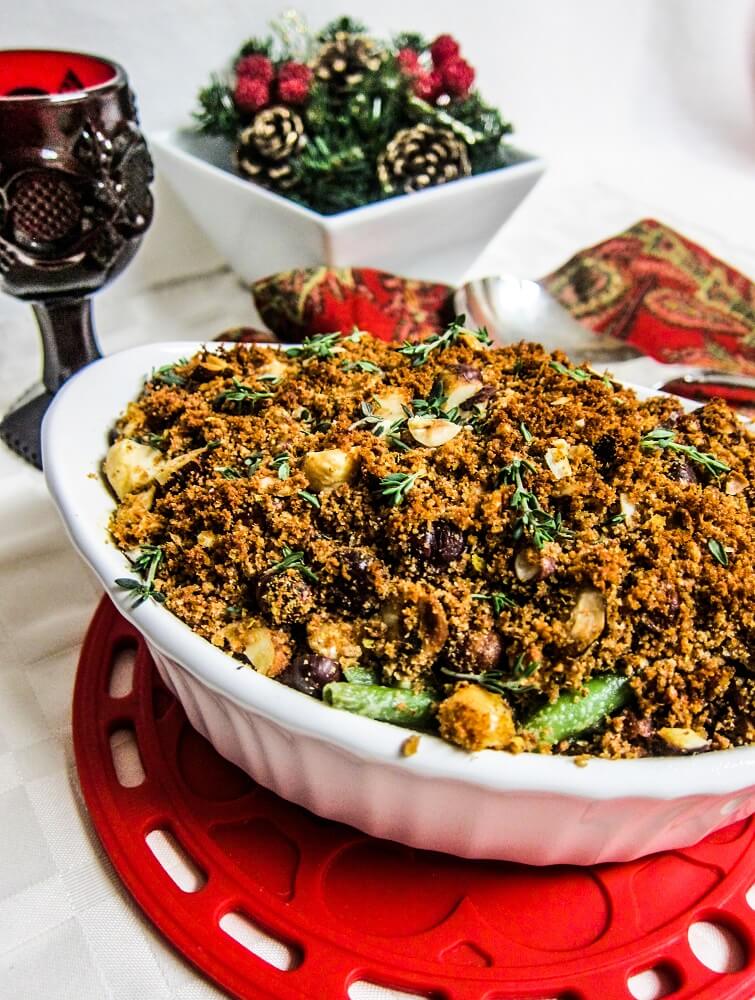 Vegan White and Green Bean Casserole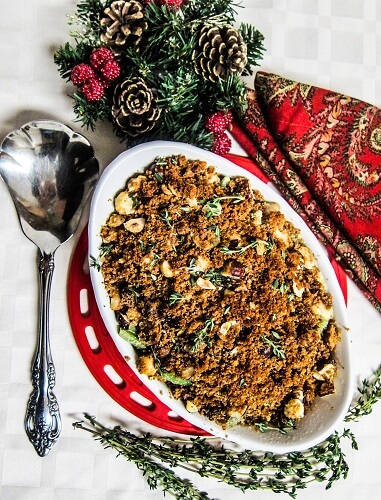 Casserole sounds so sophisticated, but in Minnesota we usually call things baked in the oven hot dishes.  So I find it funny that we don't call green bean casserole green bean hot dish here! Green bean casserole is a Holiday staple, it was pretty much at every Thanksgiving and Christmas when I was little.  But I haven't had it in many years because It usually isn't vegan, and I am not a fan of using cream of mushroom soup in things.  Surprising I haven't veganized it until now, but this year after Thanksgiving my Mom asked me if I could veganize them for her.  Also, she had a specific recipe she wanted me to veganize that had a mixture of green beans and white beans.  Because one can never have too many beans, and they have always been a big part of cooking for me and my Mom.  We used to always use them in soups and stews growing up, as well as on salads, or with pasta.  Pretty much a lot of our meals.  White beans were what we used the most, so this recipe is fitting for her.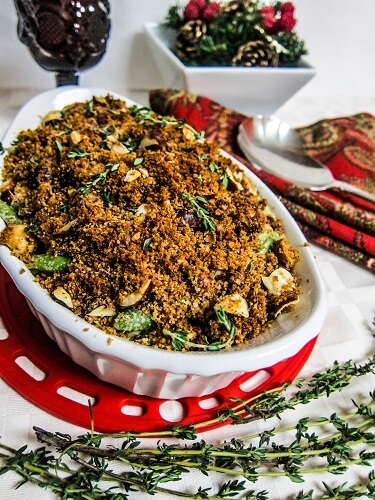 I veganized the recipe as well as made a few upgrades to make it even more delicious.  The original recipe had a bechemel sauce, but I made a creamy sauce from coconut milk and cashew butter with garlic, shallots, white wine, nutritional yeast, a touch of lemon and thyme.  It was super flavorful and delicious and you would swear that it had dairy in it!  It was perfect with the green and white beans, and tasted so much better than any cream of mushroom soup would have.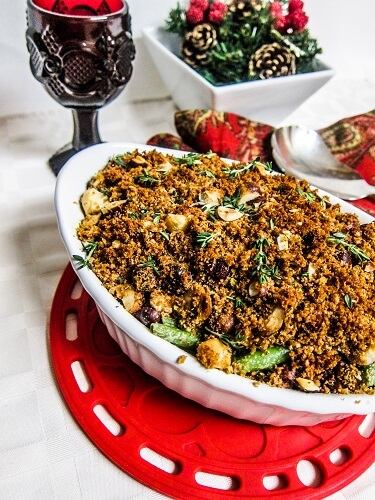 Instead of the usual fried onions, the recipe I was veganizing had bread crumbs on top.  But I decided just bread crumbs were kind of boring, and so I used my home made bread crumbs mixed with hazelnuts and nutritional yeast.  It made for a satisfying crunchy topping!  The casserole turned out super delicious!  The green bean casserole I grew up eating was just ok.  But this one was so incredibly good.  I consider this a full meal in and of itself.  I mean, you have protein and fiber from the beans, plus they are a vegetable, and why not eat them in a creamy sauce like mac and cheese and call it a dinner?  Well, my Mom loved it as well, and I think this might end up being something that we make every year for the Holidays!  If you are still looking for a delicious side dish for this Christmas and Holidays, definitely consider this!
Vegan White and Green Bean Casserole
Serves 2-4
Ingredients:
2 tsp avocado oil, or olive oil
2 small shallots, diced
2 garlic cloves, minced
1/2 tsp dried thyme
2 Tbsp white wine
3/4 cup full fat coconut milk at room temperature
3/4 cup raw cashew butter*
2 Tbsp nutritional yeast
1 tsp lemon juice
1/2 tsp sea salt (or to taste)
1/4 tsp freshly ground black pepper
pinch of cayenne (optional)
1 1/2 cups cooked cannelini beans
16 oz frozen green beans, thawed (or fresh green beans, blanched)
Topping:
1 cup breadcrumbs
1/2 cup chopped hazelnuts
2 Tbsp nutritional yeast
2 Tbsp avocado oil
1/4 tsp sea salt
Instructions:
Preheat the oven to 375F degrees.
In a large ceramic pan, heat the oil, and add the onions.  Sautee until soft and tender, about 10 minutes. Add the garlic, thyme and white wine and cook until the wine has evaporated.
Whisk together the coconut milk, brazil nut butter, nutritional yeast, lemon juice, pepper, and cayenne in a bowl, then pour over the onions and cook until heated.
Add the beans, and stir to combine.  Pour into a 2 quart oven proof baking dish.
Mix the breadcrumbs with the hazelnuts, nutritional yeast, avocado oil and sea salt in a bowl for the topping.
Sprinkle the breadcrumbs over the top of the beans, and place in the oven.  Bake until the top is browned, about 10-15 minutes.
Serve!
(Visited 131 times, 1 visits today)