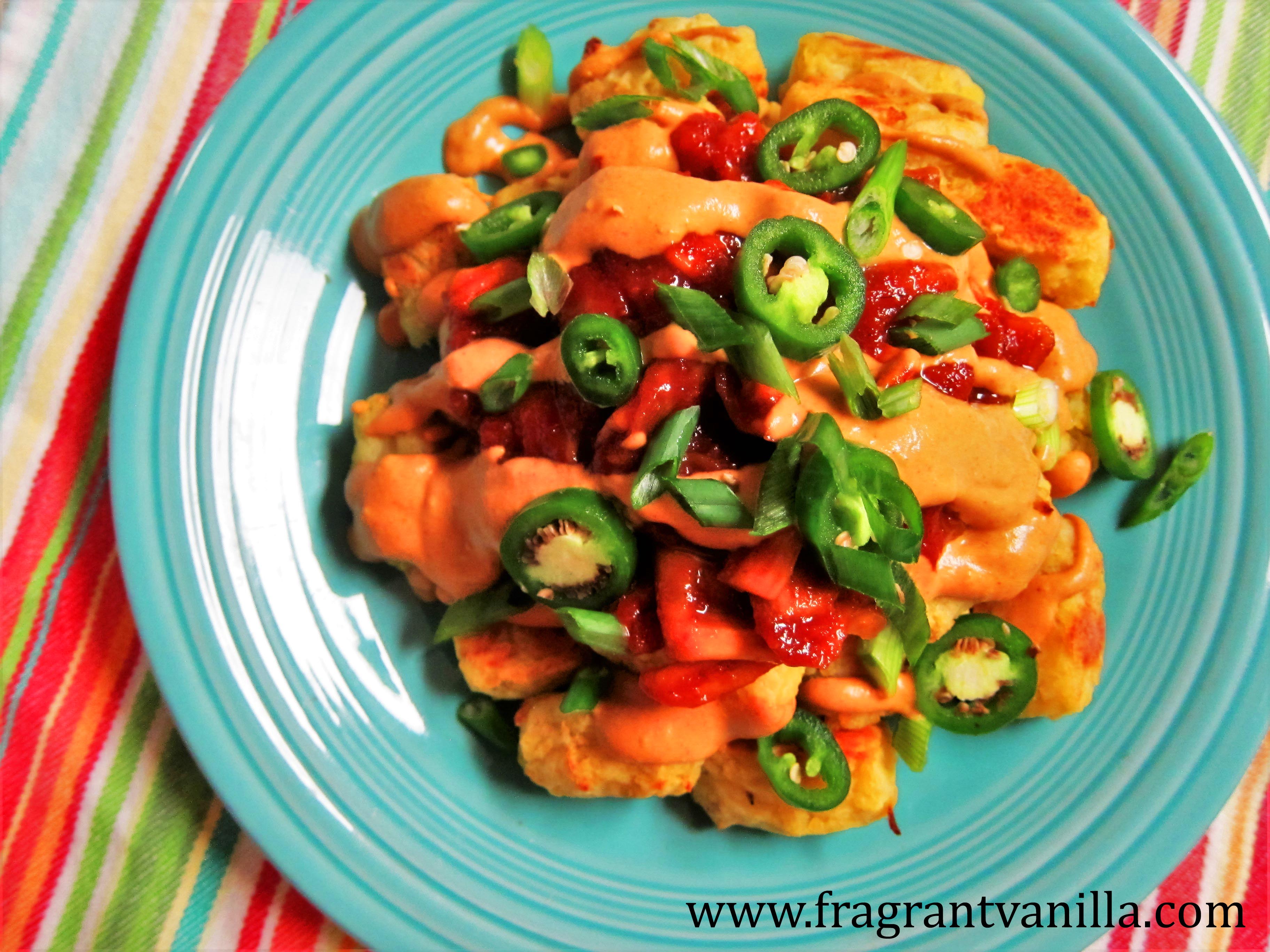 Vegan Totchos with BBQ Jackfruit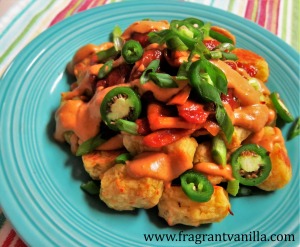 I never used to care about football.  Growing up, when my family members would have it on, I would complain..."Do we have to watch this..." But about 10 years ago, I actually started to enjoy it and get into the games.  I am a Vikings fan, loyal to the Minnesota team, and they did pretty well this year compared to other years, but did not make it to the Superbowl.  That does not mean however that I will not be watching it.  I will, because it is always exciting to watch.  If not for the football, for the entertaining commercials. And of course, it is always better when you have good food to enjoy too, right?  Well, I thought I would make something in the spirit of the Superbowl.  Some Vegan Totchos with BBQ Jackfruit.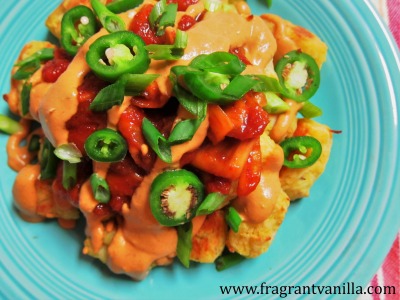 I have been wanting to make totchos for a while (tatertot+nachos, in case I am confusing you with the term).  I love my home made tater tots, and covered in nacho cheese?  Even better.  I made a sweet potato cheese sauce which was delicious, but I also made another element to these totchos. BBQ Jackfruit.  Vivapura recently sent me some of their dried jackfruit, to create a recipe with, and I was excited to use it.  I must add, it is a delicious snack as it is, just dried and sweet.  But I soaked some until it was a little soft, and made a sort of vegan pulled pork substitute. I know most people use canned for recipes like this, but soaking the dried worked too. It ended up being really delicious and a perfect pairing with the totchos.  It was all in all a big pile of deliciousness.  Of course chips, salsa and guacamole are all delicious and wonderful Superbowl foods, but totchos are even better!  If you want to get some of Vivapura's Jackfruit for yourself, you can find it HERE.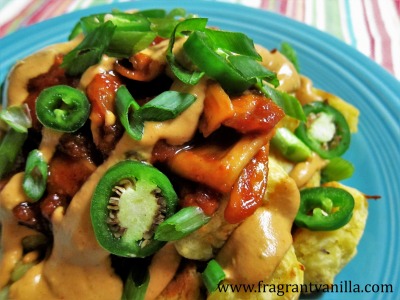 Vegan Totchos with BBQ Jackfruit
Serves 3-4
Tater Tots:
6 russett potatoes, peeled and cut into 2 inch chunks
filtered water
sea salt and pepper to taste
1 Tbsp coconut oil (optional)
Pre-heat the oven to 425F degrees. To make the tater tots, place the russets in a large pot of salted boiling water on the stove, and bring to a boil.  Cook until the potatoes are just tender but not too mushy, and drain. Let cool until able to handle the potatoes, and grate them into a bowl.  Add sea salt and pepper to taste, and shape the potatoes into tater tots.  Place on an oiled sheet pan, and drizzle with olive oil, tossing them around in it gently to coat them.  Place in the oven and bake for about 20-30 minutes until lightly browned and crisp on the outside.
Nacho Cheese:
1 small sweet potato (about 1 1/2 cups)
1 garlic clove
1/4 cup raw cashew butter
1 jalapeno, seeded
2 Tbsp cider vinegar
2 tsp ground cumin
1/4 tsp ground chipotle pepper
1/4 cup nutritional yeast (optional)
sea salt to taste
filtered water as needed
Prick the potato with a fork all over, and set in the oven on a pan.  Roast for about 45 minutes to 1 hour until tender.  Place in a high speed blender, along with all other ingredients and blend until smooth (adding water as necessary until you reach a nacho cheese like consistency.  Keep warm.
BBQ Jackfruit:
2 cups Vivapura dried jackfruit, soaked in filtered water for 30 minutes, and drained
2 cups tomato sauce
2 Tbsp maple syrup (or to taste)
1 Tbsp Dijon mustard
2 Tbsp coconut sugar
sea salt to taste
1/4 tsp chipotle powder
2 Tbsp hot sauce
2 Tbsp cider vinegar
1 garlic clove, minced
Combine all ingredients but the jackfruit in a saucepan and bring to a simmer.  Simmer for about 20 minutes, until the sauce has thickened and reduced.  Add the jackfruit, and cook another 5 minutes on low.
For Assembly:
Sliced jalapeno
Sliced scallions
To assemble, place the tater tots on a plate, then drizzle with some of the cheese, then top that off with the jackfruit, then more cheese, then sprinkle with the jalapeno and scallions.  Serve!
(Visited 79 times, 1 visits today)