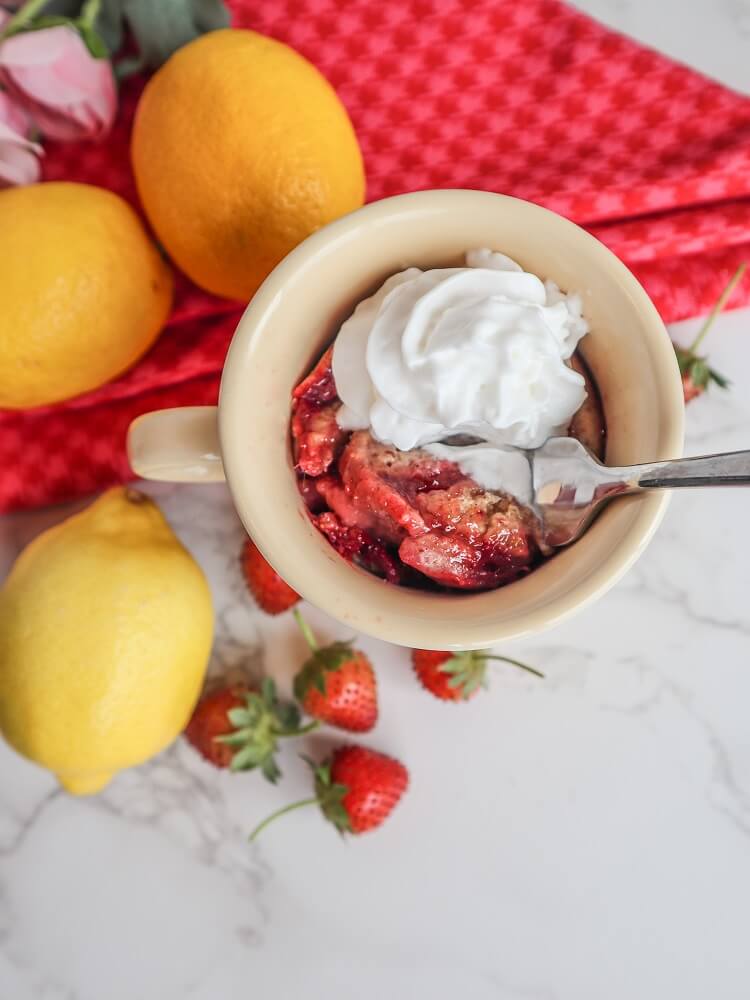 Vegan Strawberry Lemon Mug Cake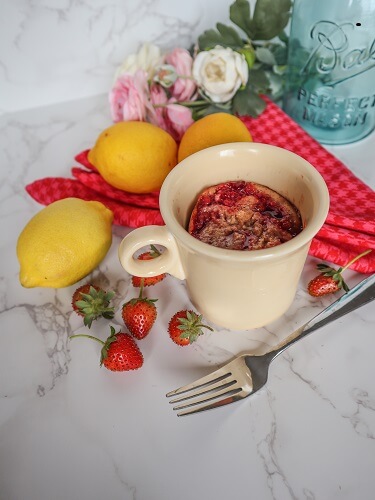 Sometimes you just want cake, but you don't want to make a whole giant cake, and go through the trouble of frosting it.  Which is where mug cakes come in!  They are perfect for a single serving of cake just for yourself and want it fast! Which is why I decided to make this Vegan Strawberry Lemon Mug Cake last weekend!  It was super easy to make and in  less than an hour (which was mainly baking and cooling time with not a lot of effort) I was enjoying it!  I love the combination of strawberry and lemon especially in cakes if you do too and you want a fancier cake you can also check out my recipe for Vegan Strawberry Lemon Layer Cake!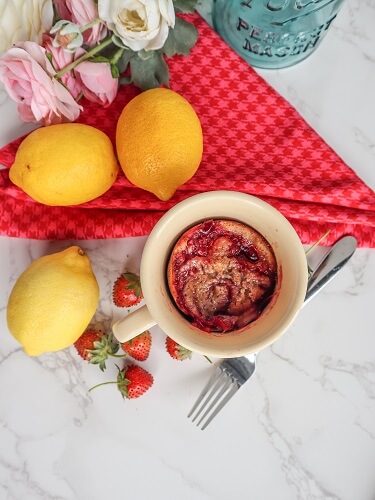 But I was not going for fancy last weekend I was going for quick and easy when the cake craving struck!  I used my vanilla cake batter, and flavored it with a touch of lemon juice and zest.  It was just enough to give it plenty of lemon flavor and aroma but not so much that it was too tart or anything. I made this with whole wheat pastry flour but if you didn't have that on hand you could also use regular all purpose flour.  If you wanted to make this gluten free, you can make it with Bob's Red Mill gluten free all purpose baking flour instead (I have made many cakes with this flour and I know it works well) or your favorite gluten free all purpose flour that you have tested and know it substitutes well for regular flour.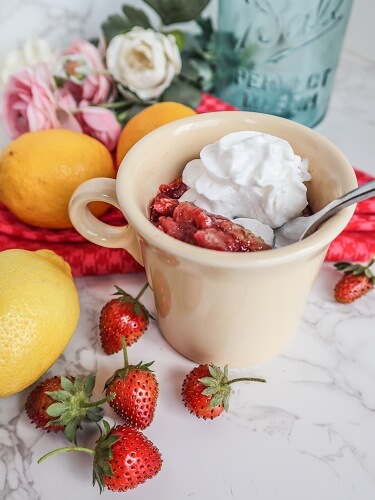 Once I had poured the lemon vanilla cake batter into the mug it was time for the strawberry.  I used some of Eric's Dad's jam, spooned it on top and swirled it into the cake a few times with a knife to create a marbled affect and balance of the lemon cake with the strawberry jam.  It smelled so heavenly while baking, I could not wait to try it!  It only took about 30 minutes to bake luckily and then I let it cool down for about 15 minutes before enjoying.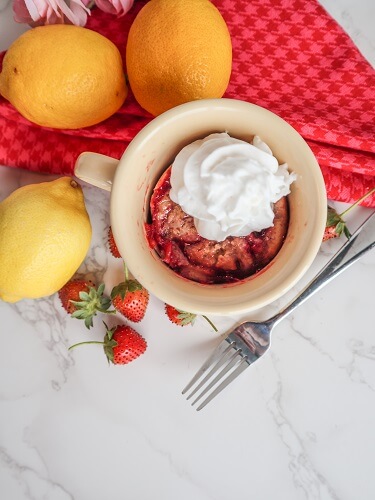 I topped it off with some vegan whipped cream (the plant based almond whipped cream from Aldi which I had on hand and made it super convenient) and it was amazing!  Soft and light with tart sweet lemon vanilla flavor and aroma and the gooey strawberry jam!  The mellow whipped cream was the icing on top of the cake!  I also think that some vegan vanilla ice cream would be awesome on top of the warm cake and I am totally trying that next time I make this if I have it on hand.  If you are in the mood for some cake, definitely give this Vegan Strawberry Lemon Mug Cake a try!
Vegan  Strawberry Lemon Mug Cake

Makes one 8 oz mug cake
Ingredients:
Cake:
1/4 cup plus 2 Tbsp  organic whole wheat pastry flour or all purpose flour
2 Tbsp granulated sugar
1/8 tsp plus 1/16 tsp baking powder
1/8 tsp sea salt
1 1/2 tsp ground flax seed mixed with 1 1/2 Tbsp filtered water
1 1/2 Tbsp avocado oil or other neutral oil
2 Tbsp plant based milk
1 tsp lemon zest
1 tsp lemon juice
1/4 tsp pure vanilla extract
2 heaping Tbsp strawberry jam
Instructions:
Preheat oven to 350F degrees, and oil a 12 oz mug.
In a large bowl, combine the flour, sugar, baking powder and sea salt and whisk to blend.
Add the flax eggs, avocado oil, milk, lemon juice and zest and vanilla and beat with an electric mixer for about a minute (or 3 minutes if doing it by hand with a whisk).
Pour the cake batter the prepared mug.
Spoon the jam over the cake batter and swirl with a knife a few times.
Place the cakes in the oven and bake for about 25-30 minutes until the cake is done in the center (you are able to insert a toothpick into the center and it comes out almost clean with a few moist crumbs).
Remove from the oven and let cool at least 15minutes, then top with some plant based whipped cream (I used almond whipped cream from Aldi) and enjoy warm!
(Visited 206 times, 1 visits today)