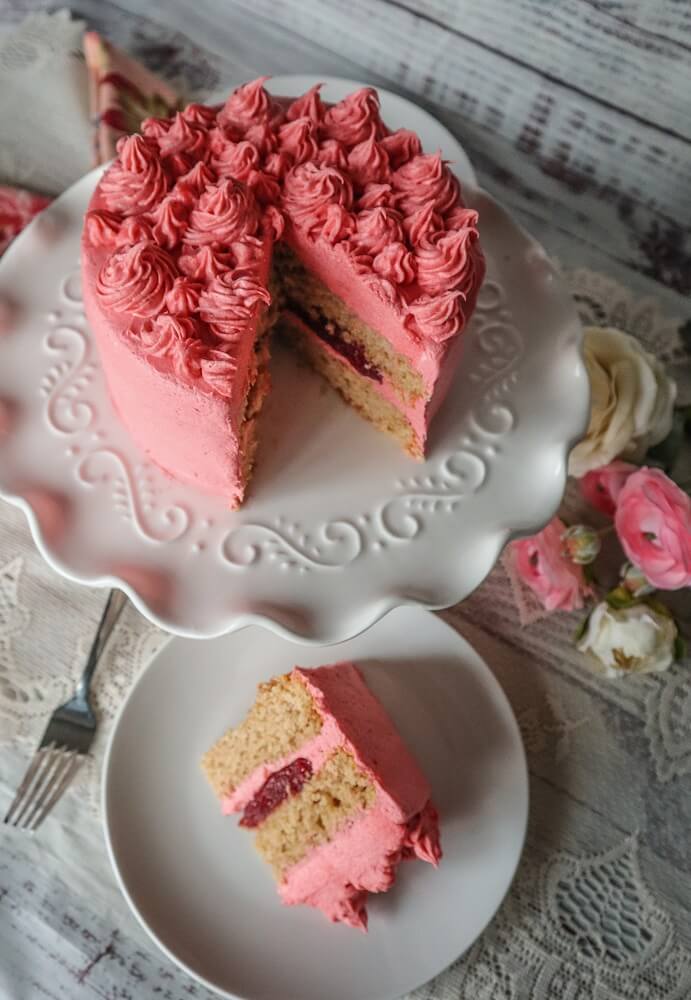 Vegan Strawberry Lemon Layer Cake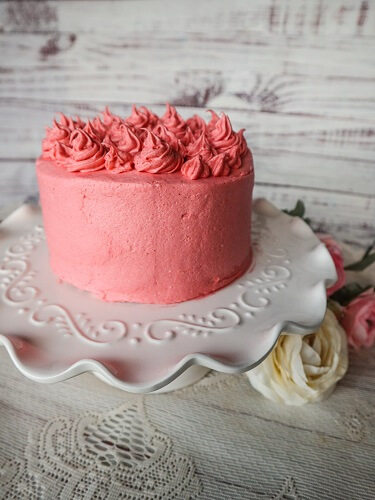 The weather here in Minnesota just seems to want to stay cold, in fact we had snow for Easter last weekend, and earlier in the week.  But that isn't stopping me from enjoying the flavors of spring and looking forward to a warmer season.  We don't really get strawberries here until the end of May usually, but I decided to make a Strawberry Lemon Layer Cake for Easter last weekend because I was craving them.  Luckily I just needed freeze dried strawberries to flavor the frosting and I had some strawberry jam that Eric's Dad made with the fresh strawberries from his garden last year.  I love a lemon berry combination this time of year it is just so fresh and the perfect thing to make when you want to leave winter in the past.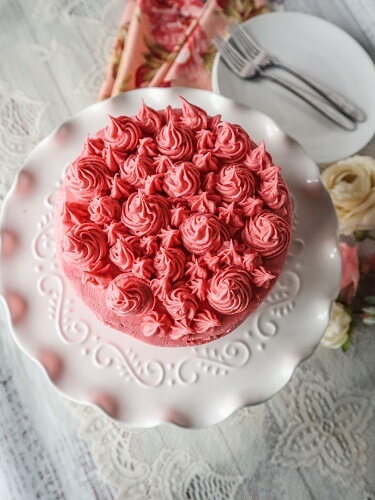 For the cake layers, I used a vanilla cake batter that I have made before with flax eggs, but to flavor it with lemon I added lemon juice and zest in place of some of the water for the flax eggs (so I didn't add extra moisture). I used whole wheat pastry flour for this, but if you wanted the cake to be lighter in color and texture you could use regular all purpose flour or even cake flour for the lightest cake.  I just used what I had on hand but I know everyone has different preferences with how they prefer their cakes.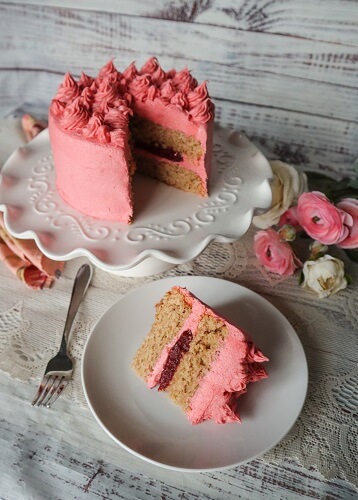 The cakes smelled heavenly as they baked, and they baked up nicely!  I could not wait to try them, but they had to cool first and of course I had to add the strawberry element in the filling and frosting. I actually made my cakes the day before I frosted them because I was making them after work (I almost always do this so that they have plenty of time to cool).  But it is important that you remove them from the pans after they cool about 20 minutes so they don't become to moist and can cool properly.  Once they have cooled completely I just wrap them with parchment in between and refrigerate them overnight so they are ready to go the next day.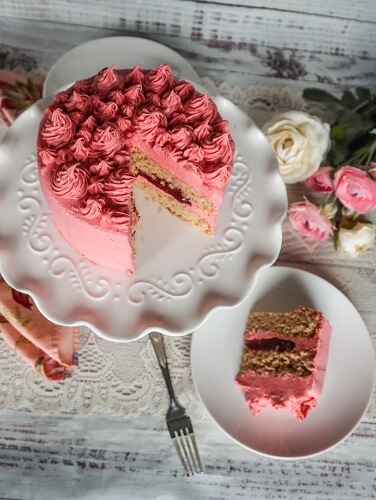 For the frosting I made a vegan buttercream with a hint of lemon plus plenty of strawberry flavor thanks to the freeze dried strawberry powder I used.  This is a great way to flavor frosting without adding moisture. The frosting was heavenly!  I sandwiched the cake together with it and some of Eric's Dad's strawberry jam and it was sooo good!  The cake was sweet, and a little tart thanks to the lemon, the cake layers soft and tender and the frosting rich and creamy.  If you are in the mood for something strawberry definitely give this Vegan Strawberry Lemon Layer Cake a try!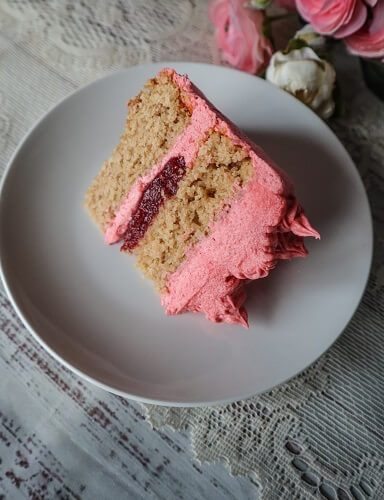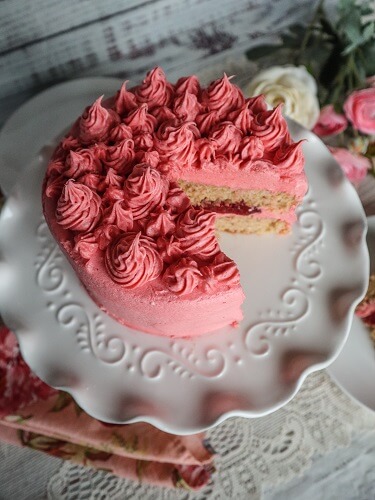 Vegan Strawberry Lemon Layer Cake
Makes one 2 layer 6 inch cake
Ingredients:
Cake:
1 1/2 cups whole wheat pastry flour
3/4 cup plus 2 Tbsp maple sugar or granulated sugar
3/4 tsp baking powder (1/2 tsp plus 1/4 tsp)
1/2 tsp sea salt
2 Tbsp ground flax seed
1/4 cup lemon juice
1 Tbsp lemon zest
2 Tbsp filtered water
1/4 cup plus 2 Tbsp avocado oil
1/2 cup oat milk (I used Oatly) or other plant based milk
1 1/2 tsp pure vanilla extract
Frosting:
1 1/2 cups vegan butter, I used Earth Balance (at room temperature)
1 Tbsp lemon juice
2-3 Tbsp oat milk (I used Oatly, but you can use what you prefer), add 3 then if needed add another if frosting comes out too stiff
1 tsp pure vanilla extract
1/2 cup freeze dried strawberries, blended in a blender until they are fine powder
4 cups powdered sugar
Filling:
Preheat oven to 350F degrees, and line 2 6 inch round cake pans with parchment on the bottom and oil the sides.
In a large bowl, combine the flour, sugar, baking powder and sea salt and whisk to blend.
Mix together the ground flax seed, lemon juice and zest, and water.
Add the flax mixture, avocado oil, oat milk, and vanilla to the flour mixture and beat with an electric mixer for about a minute (or a little longer if doing it by hand with a whisk).
Pour the cake batter into the prepared pans, dividing evenly between them.
Place the cakes in the oven and bake for about 30 minutes until the cakes are done in the center (you are able to insert a toothpick into the center and it comes out almost clean with a few moist crumbs).
Remove from the oven and let cool 20 minutes, then remove the cakes from the pans by cutting around the sides, placing a plate on top then inverting it and tapping on it.  Allow them then to cool completely once they are out of the pans.
To make the frosting, beat the butter with the milk, lemon juice, and vanilla until fluffy.
Add the strawberry powder, and then powdered sugar 1 cup at a time, and beat until completely mixed and light and fluffy (if the frosting is too stiff add that other Tbsp of milk).
When ready to frost, Place one cake layer on a plate, spread about 1/4 inch thick layer of the frosting over that, then pipe a frosting barrier around the edge of the cake so that the filling does not ooze (tall enough so that it will be thicker than the filling).
Spoon the jam into the middle of it and spread out evenly to the barrier frosting.  Place the next cake layer on top.
Spread the remaining frosting on the top and down the sides of the cake evenly, then place the rest of the frosting in a pastry bag and use it to decorate the top.  This frosting recipe makes enough that you should be able to do some generous piping decorations on top, because I like a lot of frosting!
Serve the cake and enjoy!
Notes:
If you would like to make a 9 inch round cake, double the entire recipe, and bake it in two 9 inch round pans, increasing the baking time slightly until the cakes are baked through about 30-35 minutes.
(Visited 956 times, 1 visits today)