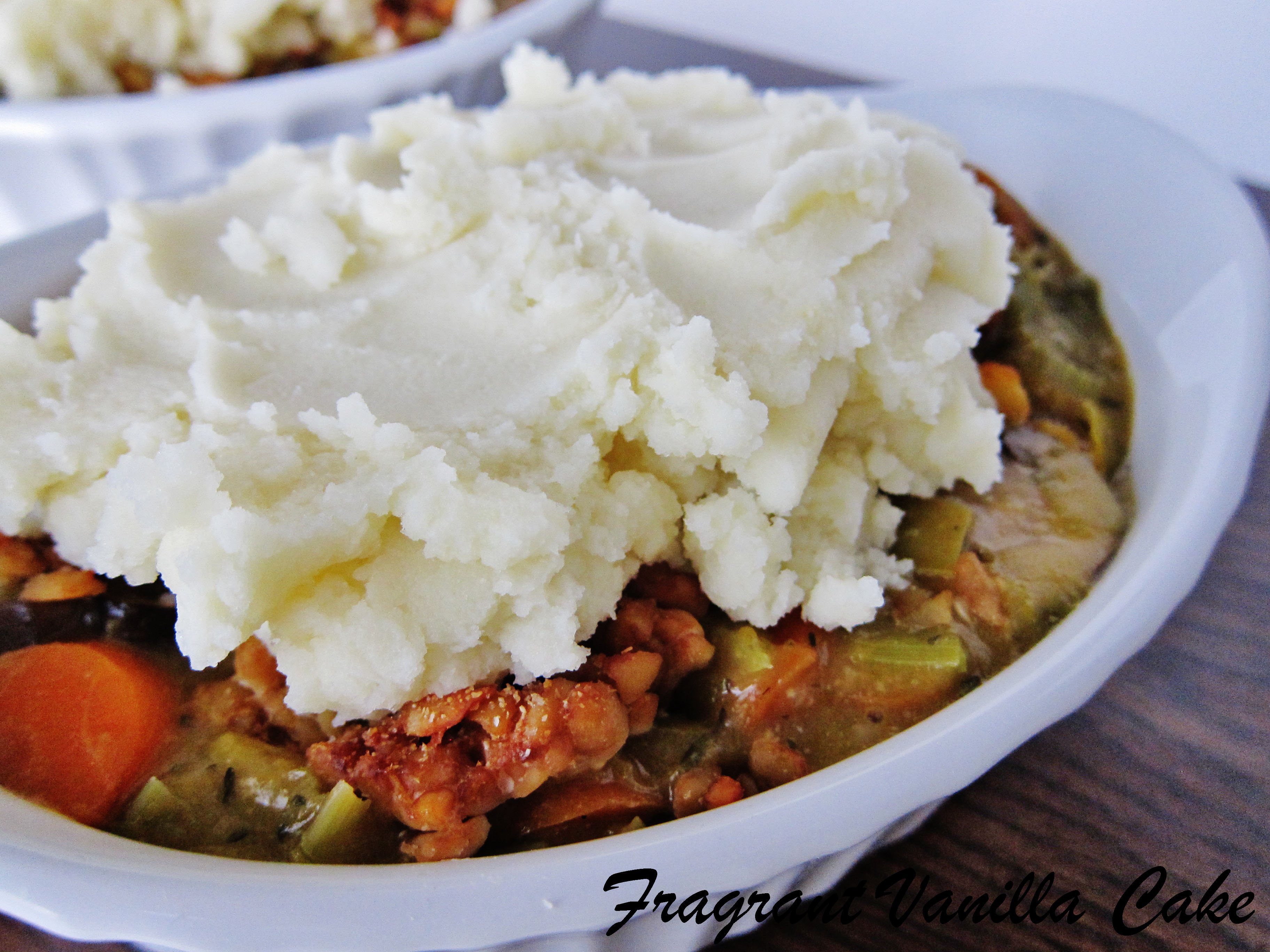 Vegan Spring Shepard's Pie

It is probably not traditional, but I wanted to make shepard's pie this year for St. Patrick's Day.  I actually made one a few weeks back using veggies I had on hand, and it was so good I wanted to make another to enjoy on the Holiday and that I could share with you all.  I had actually never made or tried a shepard's pie up until a few weeks ago when I made the first one.  One of my coworkers makes them and people love it so I wanted to see what all of the fuss was about.  No meat or dairy in sight thought with mine and it was not needed.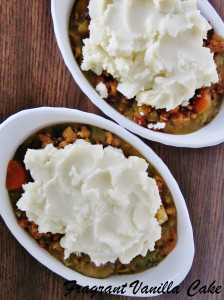 I included lots of veggies, peas, carrots and celery for the more traditional, leeks, asparagus and mushrooms for my twist.  I created a simple sauce that tasted like the most amazing gravy, sprinkled crumbled browned tempeh over that, and topped it off with the most luscious coconut enriched mashed potatoes. Before you go thinking that coconut in mashed potatoes sounds weird, it is amazing!  My Mom said that my mashed potatoes were even better than my Grandma's and that is a big complement.  This pie is a bit of work, but so worth it!  It can be made ahead of time and reheated in the oven too which is what I did with the ones I didn't eat the first day.  They taste amazing and you will not miss the meat one bit!

Vegan Spring Shepard's Pie
Makes 4 Pies
Veggies and Tempeh:
Extra virgin olive oil
2 8 oz pkgs tempeh, crumbled
2 large leeks sliced
2 cloves garlic, minced
2 cups diced sweet potato
2 cups sliced carrots
1 cup celery
1 tsp dried thyme
1 cup asparagus
1 cup crimini mushrooms, sliced
1/2 cup fresh peas
2 cups filtered water
2 TBsp tamari
2 Tbsp nutritional yeast
1 TBsp miso
¼ cup arrowroot starch dissolved in 1/4 cup filtered water
Topping:
6 russett potatoes, peeled and cut into 2 inch chunks
sea salt to taste
1 Tbsp coconut oil (optional)
1/4 cup coconut milk  (or as needed)
Heat the olive oil in a large stockpot, and add the tempeh.  Cook until browned, and season with a little sea salt.  Remove from the pan and set aside.  Add a little more olive oil to the pan.  Add the leeks, garlic, thyme, sweet potato, carrots, and celery, and cook until they have softened a bit, then add the garlic, asparagus, mushrooms, peas, tamari, nutritional yeast, miso, and water and bring to a boil.  Lower to a simmer, and place the lid on the pot.  Let cook until the veggies are tender, about 10 minutes.  Once they are tender, add the arrowroot mixture, and let cook a few more minutes while stirring until it has thickened. Remove from the heat.
Meanwhile, place the russets in a large pot of salted boiling water on the stove, and bring to a boil.  Cook until the potatoes are tender, and drain.  Add sea salt to taste, along with the coconut oil and milk and mash until soft, adding a little more milk if desired.
To assemble, spoon the veggie mixture into 4 ovenproof bowls, then top with the crumbled tempeh, and lastly with the mashed potatoes.
Place the pies in the oven and cook for about 10 minutes until bubbling.  Let cool slightly before serving.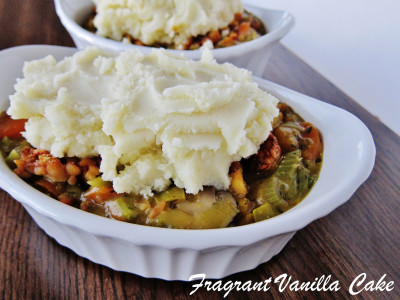 (Visited 40 times, 1 visits today)