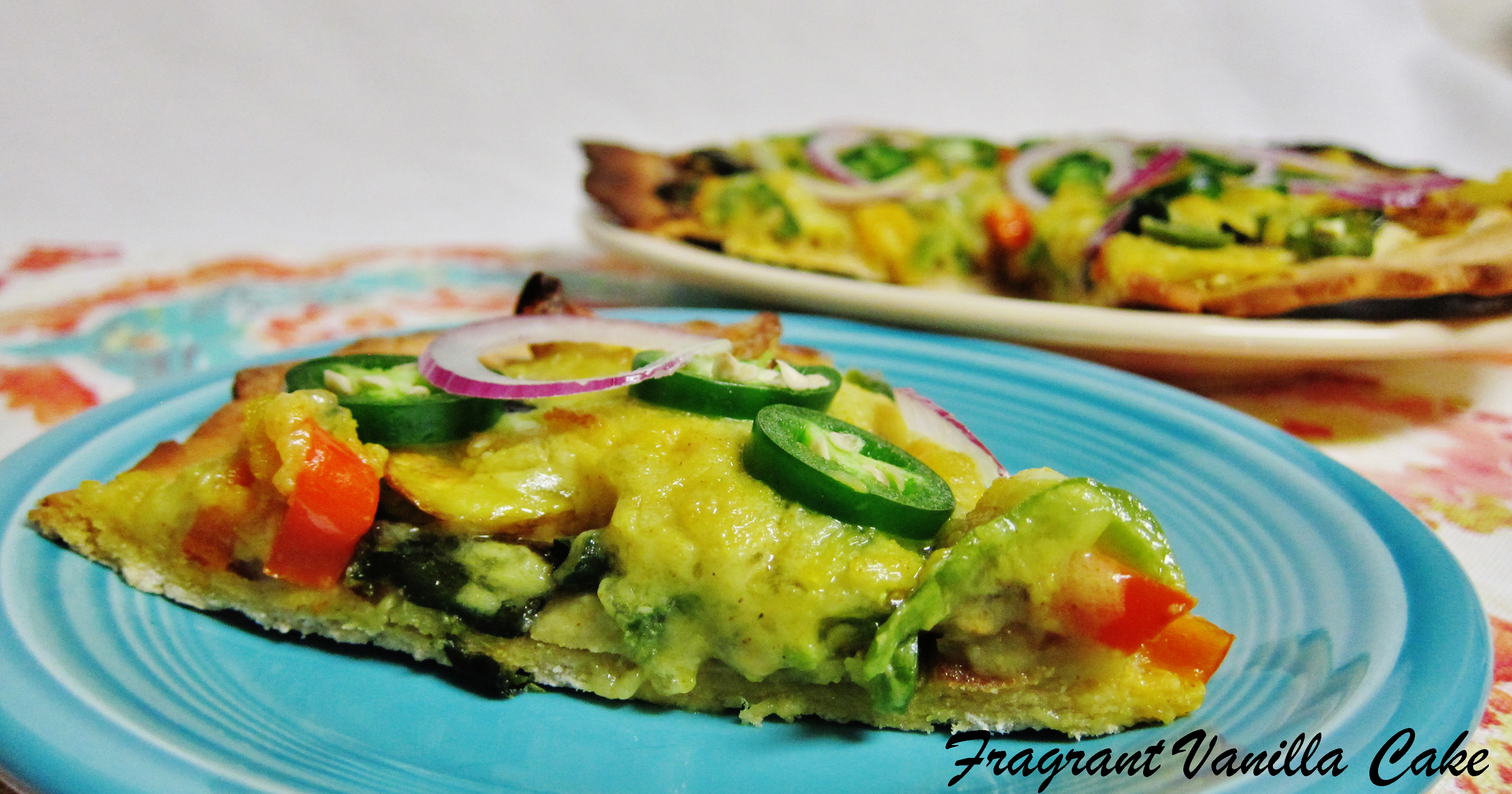 Vegan Spicy Roasted Potato and Jalapeno Pizza

I saw a jalapeno popper pizza on a menu, and I decided that I needed to veganize it, or at least make something similar.  I knew I wanted it to have cheese and jalapenos of course, but it ended up being a bit more than just that, because I am a huge fan of piling veggies on pizza.  So, I decided to include roasted potatoes as well to make it more substantial, and since I have always wanted to try potatoes on pizza.  Eric was all for it, since he loves spicy things just as much as I do if not more.

I made my usual gluten free crust, because I prefer to have a blank palette for that and leave all of the flavor to the toppings.  I next topped that off with a vegan "cream cheese" because if this was sort of like jalapeno popper pizza it needed that. Plus it was way more delicious than a red sauce in my opinion. I piled on the jalapenos, some roasted poblanos and sweet red peppers, and of course the roasted potatoes, and lastly some vegan cheddar cheese to melt over it all.
 
No, this is not a diet pizza...so before anyone says it, I just did.  We all need to indulge once in a while and have a treat.  OMG was this pizza good.  And spicy.  Not for those who can't handle heat, but if you love jalapeno poppers and french fries, this tasted like that.  I honestly never miss regular pizza with dairy cheese on it thanks to creations like this!

Vegan Spicy Roasted Potato and Jalapeno Pizza
Makes one 14 inch pizza
Vegan Cheddar Cheese:
1 15 oz can full fat organic coconut milk
1 clove garlic, minced
1/4 tsp turmeric
2 Tbsp arrowroot starch
1/4 plus 1 Tbsp filtered water
3 Tbsp agar flakes or 1 Tbsp agar powder
2 tsp lemon juice
1 tsp sea salt or Himalayan salt
1 Tbsp virgin coconut oil
1 tsp guar gum
To make the cheese, heat the coconut milk in a saucepan with the garlic, turmeric, until it comes to a simmer.
Meanwhile, dissolve the arrowroot starch in the water and set aside.
Once the coconut milk has come to a simmer, add the agar flakes, and heat until they are dissolved (mine took about 8 minutes, if you are using the powder, it should dissolve within one minute).
Next, add the lemon juice and sea salt to the coconut milk.
Mix the coconut oil with the guar gum so that the guar gum does not clump up.
Turn off the heat and add the arrowroot mixture, guar gum and coconut oil. Whisk for about 30 seconds, then pour into a silicone mold (I used a loaf pan, but if you had another shape you would like to use go ahead). Refrigerate for a few hours until firm, then pop out of the mold. You will need half the cheese for this recipe, reserve the other half for another use in the fridge, wrapped in an airtight container.  Shred the half you will be using into a bowl, and keep in the refrigerator until ready to use.
Cream Cheese:
1/2 cup coconut milk
1/3 cup raw cashew butter or macadamia butter
1 Tbsp nutritional yeast
1/4 tsp sea salt
1/2 tsp cider vinegar
1 garlic clove
To make the cream cheese, combine all ingredients in a blender until smooth.  Set aside.
Pizza Dough:
1 1/2 cups gluten free all purpose flour
1 Tbsp olive oil
1/2 tsp sea salt
1/2 tsp xanthan gum
1/2 cup plus 1 Tbsp filtered water
To make the pizza crust, combine the flour, xanthan gum and sea salt in a bowl, and whisk until well blended. Add the oil and water, and mix in until you have a soft dough.
Turn out onto a sheet of parchment paper with a light dusting of flour, and roll out into a 14 inch circle.  Set aside.
For Pizza Assembly:
olive oil
4 medium thinly sliced Yukon gold potatoes
1 poblano pepper, diced large
olive oil
a few thin slices red onions
1/2 cup sliced mini red peppers or diced bell peppers
2 large jalapenos, thinly sliced
Pre-heat the oven to 400F degrees.  Toss the potatoes and peppers with the olive oil and spread out on an oiled sheet pan. Place in the oven and roast for about 30 minutes.  Remove from the oven.
Set a pan on the center rack with an upside down sheet pan, or a pizza stone set on it. Brush the crust with olive oil, sprinkle with sea salt, and slide the parchment with the crust on it onto the stone.
Bake crust for 10 minutes, then remove the crust from the oven (still on the parchment). Top the crust with the cream cheese spreading around evenly. Then the potaotes and poblanos, onions, mini peppers, jalapenos, then the cheddar cheese, making sure it is all evenly distributed.
Place the pizza in the oven, turn up the temperature to 475F and bake for 20-25 minutes until the cheese is bubbling and starting to brown (keep an eye on it after 15 as some ovens cook faster than others). Remove the pizza and parchment from the oven, slide pizza onto a cutting board or plate, scatter scallions over the top, slice and enjoy!
(Visited 42 times, 1 visits today)