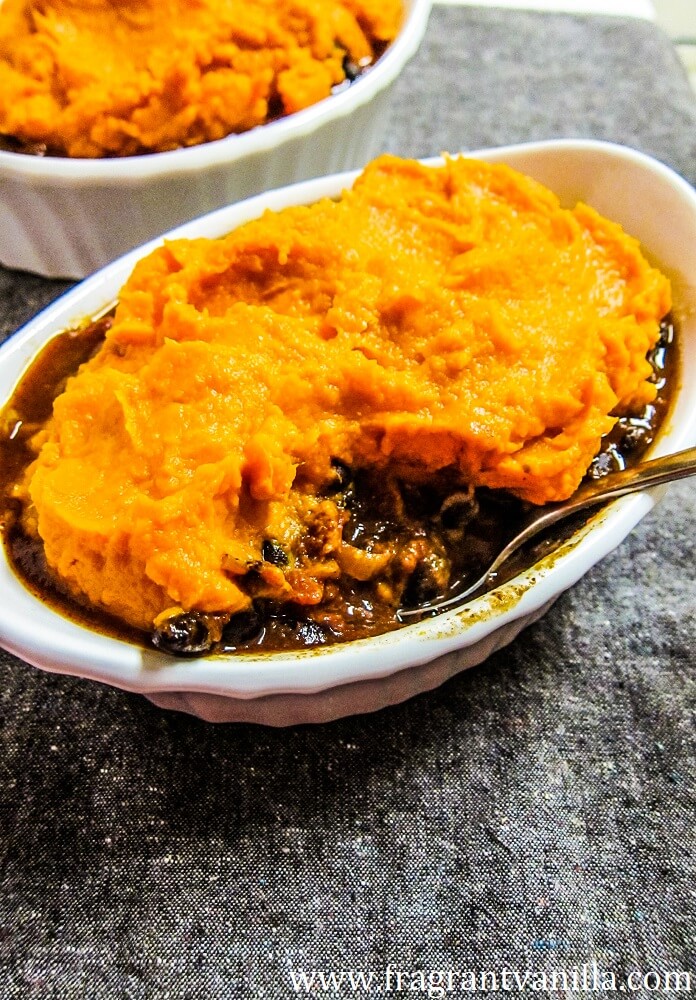 Vegan Southwest Shepherd's Pie Chili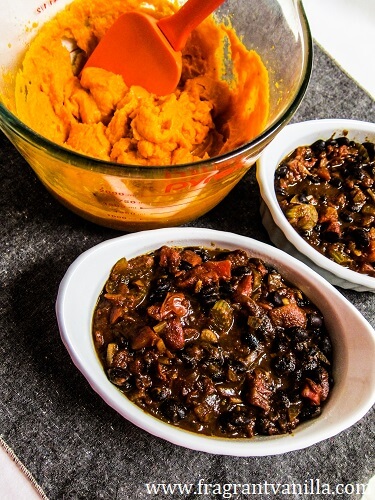 I made my Sweet Potato lasagna the other day, but I have had another sweet potato recipe floating around in my head for a while that I wanted to try out. It is definitely comfort food type weather here, so warming food is needed so badly.  I have been wanting to make a sweet potato topped shepherd's pie for a while.  I usually just make the classic shepherd's pie with gravy, loads of veggies, lentils instead of the meat and mashed potatoes on top, very Minnesotan and not spicy at all.  But I have been dreaming of a version with a spicy chili on the bottom and mashed sweet potatoes on top.  I figured I would make a batch and share it with Eric because he loves chili, beans, and anything spicy.  I actually was going to make this for New Years eve, because we are staying in and staying warm this year.  So, I thought it would be a good test run.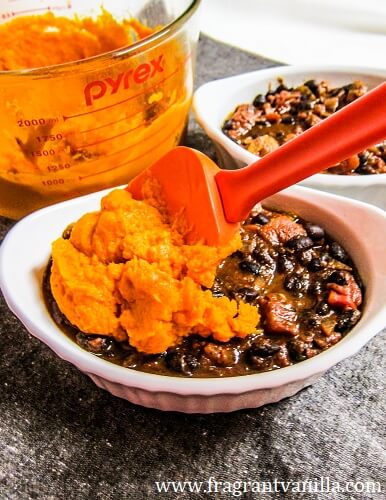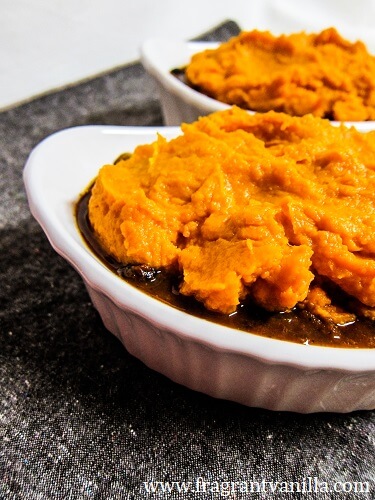 I made a simple chili for the bottom portion, it cooked up quickly, and I added plenty of spice in the form of chili powder, cumin, cinnamon, chipotle powder and smoked Spanish paprika. It smelled wonderful while cooking.  It cooked up quickly as well, because I already had some cooked black beans on hand.  I don't buy canned beans because it is more wasteful and I like the texture of my own home cooked ones better plus they are cheaper when I buy dried.  I them in the bulk section at the store, then I just cook up a big batch, then freeze them in containers, pulling them out when I need them. Which works perfect for things like this.  The chili tasted delicious, and of course you could eat it just like that if you didn't want to mess with the topping, but this was to be a beautiful shepherd's pie.  So I baked up some sweet potatoes to top it off.  Although you could steam them if you were in a hurry, they taste so much better roasted, all of the flavor intensified and caramelized into them.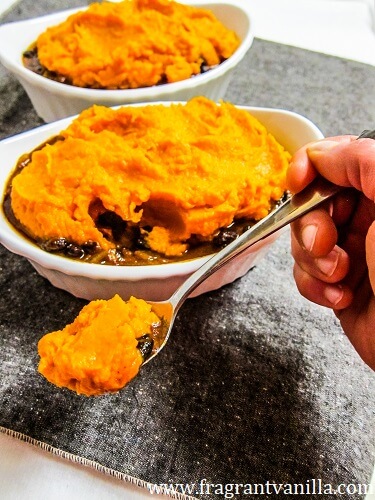 I like to add a little lime juice and sea salt, a trick I learned from a vegetarian cookbook a long time ago when I was learning to cook.  It is sooo good, even just as a side dish.  But even better when topping spicy chili like this!  It turned out so good!  The perfect savory dinner for a chilly night!  The best part is, this was easier and faster to make then the usual shepherd's pie and that is always a win!  I hope you are all staying warm this Winter!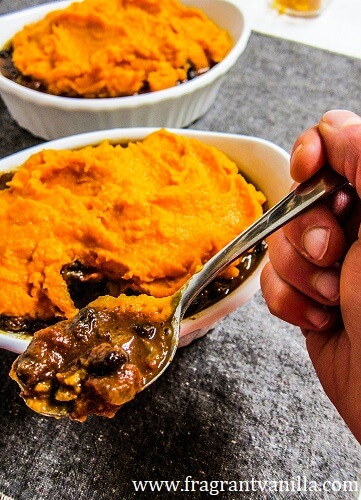 Vegan Southwest Shepherd's Pie Chili
Serves 2-4
Ingredients:
2 large sweet potatoes or yams, cut in half lengthwise
2 Tbsp lime juice
1/4 tsp sea salt or to taste
Chili:
1 small onion, diced
1 carrot, cut in half  lengthwise and sliced
1 stalk celery, sliced
2 garlic cloves, minced
3 cups diced tomatoes (canned are fine)
1 Tbsp chili powder
2 tsp ground cumin
1/4 tsp chipotle powder (or 1/2 if you really want it spicy)
1/2 tsp cinnamon
1 Tbsp Spanish paprika
1/2 tsp sea salt or to taste
1 1/2 cups cooked black beans
Instructions:
Preheat the oven to 400F degrees, and place the sweet potatoes cut side down on an baking sheet lined with parchment.  Bake until tender, about 45 minutes to 1 hour. Let cool until you can handle them to take the skin off. Place the flesh in a bowl, and add the lime and sea salt.  Mash together until smooth.  Set aside.
Meanwhile, in a pot, combine all ingredients but the beans.  Bring to a boil, and lower to a simmer.  Cook on low heat for about 20 minutes or until the veggies are getting tender. Add the beans, and cook for about 10 minutes more until they soak up the flavor.  Once everything is cooked, remove from heat, and spoon into a casserole dish, or two smaller ones.
Spoon the sweet potatoes over the top of the chili, place in the oven and bake for about 10-15 minutes at 400F degrees until bubbling.
Remove from the oven, let cool for about 10 minutes, and enjoy!
(Visited 524 times, 1 visits today)