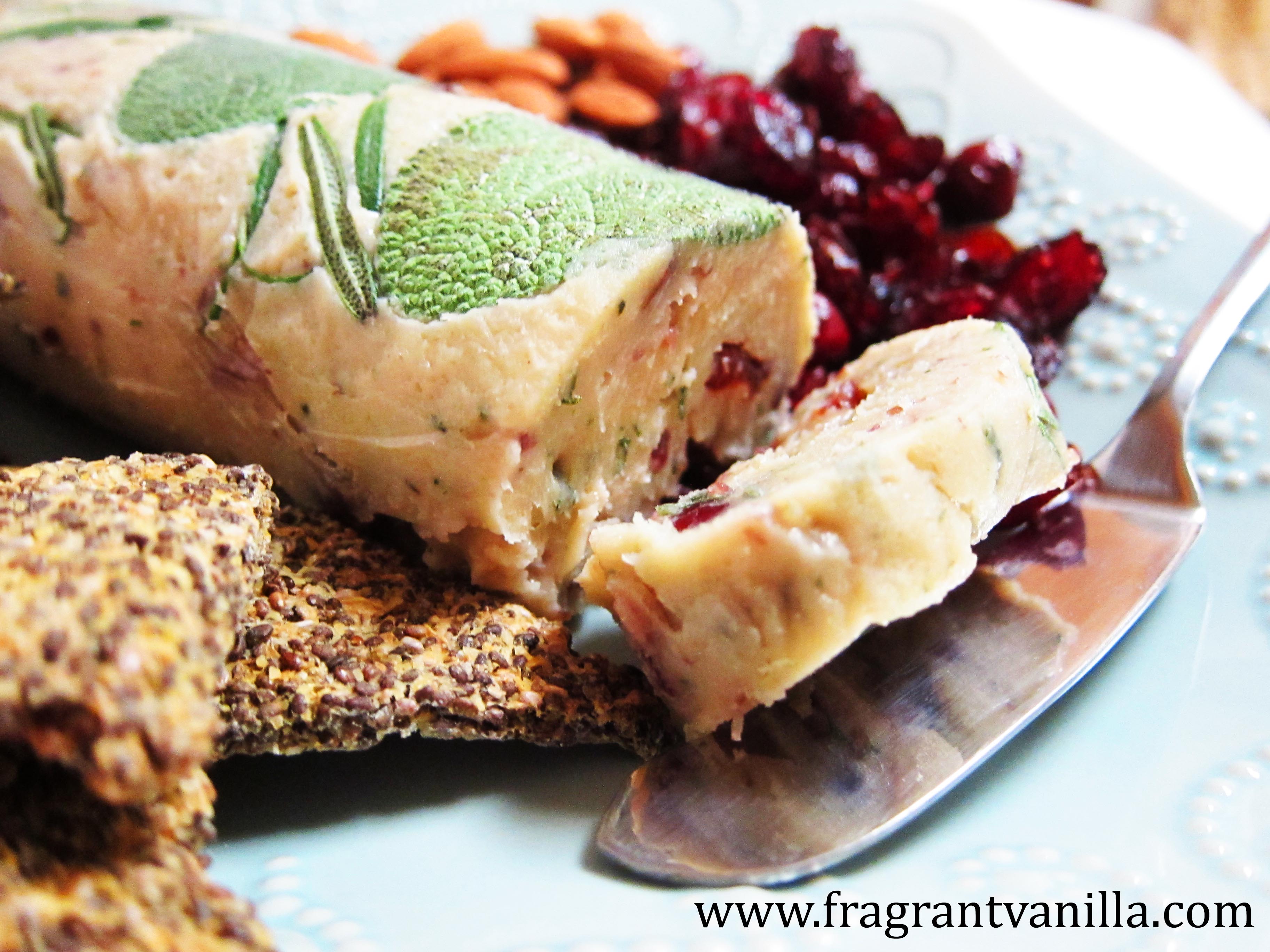 Vegan Rosemary Sage Cranberry Chevre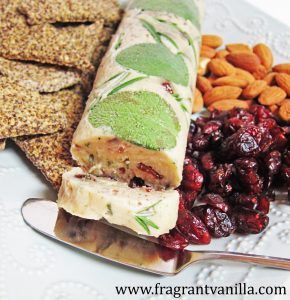 I used to be a huge cheese eater before I decided to go vegan.  In fact, I had said "I could never give up cheese, people who have to live without it must be so sad".  But I could not have been further from the truth.  The fact is, there are many great vegan cheeses out there, or recipes for them, and you just have to find the ones that suit you.  If I am buying a cheese, I like Punk Rawk Labs, or Miyoko's Kitchen the best.  One of my favorite cheeses was always chevre, so when I make vegan cheese, I make that type the most.  Also, it is easy to make, some of the others involve more complicated steps.  This one is pretty much blend, shape and chill.  I like it with crackers, or crumbled on top of a salad, or even with some fruit for dessert (that was my favorite way to eat the dairy variety back in the day).  I hadn't made any cheese in a while, so I decided to last week because I was craving some.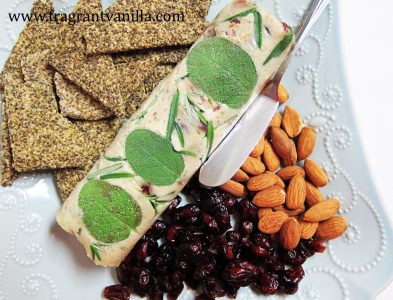 I wanted something seasonally flavored, so I decided to add some herbs to it.  My Mom had given me an herb pot over the Holidays with rosemary, sage, and thyme, and it is still looking so lovely, so I thought, why not? I picked the rosemary and sage this time, because thyme is usually my go to Winter herb and I decided to switch it up.  Rosemary and sage are so fragrant, and a little goes a long way.  I don't know about you, but the smell of those herbs brings back good memories of Holiday feasts.  The herbs added pretty little flecks of green, but I decided it would be even more lovely with some red and a little sweetness, so I added cranberries.
It was easy to make, and so delicious!  Aromatic, cheesy, melt in your mouth, with a hint of herbs.  This is good with apples or pears on a salad (or just the fruit), with crackers of course, or even crumbled over pasta (a butternut squash pasta would be perfect). Vegans are sooo not deprived when it comes to good food.  We can have delicious cheese too, without animals being abused for it!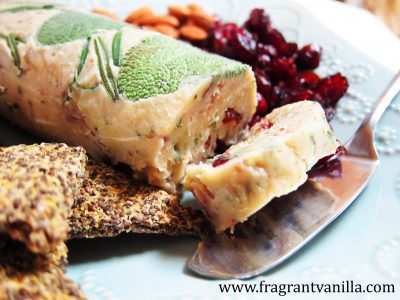 Vegan Rosemary Sage Cranberry Chevre
Serves 10
2 cups raw cashews, soaked for 4 hours, and drained
1/4 cup filtered water
1 Tbsp lemon juice
2 tsp white miso (optional
1/2 tsp sea salt (or to taste)
1/3 cup raw coconut butter, warmed to liquid
1 Tbsp fresh rosemary leaves plus additional for coating
2 large fresh sage leaves plus additional for coating
1/3 cup dried cranberries
In a high speed blender combine the soaked cashews, filtered water, lemon juice, miso, salt and coconut butter and blend until smooth. Add the herbs and cranberries, and pulse in the blender at a low speed until chopped (alternatively, chop by hand and stir it in).  Pour into a bowl, place in the freezer for about 10-15 minutes until it is easier to work with, then scrape onto a piece of plastic wrap, and shape into a log while wrapping tightly. Place in the freezer for about 15 minutes until more firm (you want it to hold shape, but still stick to the herbs). Place the rosemary and sage for coating on a plate, then roll the log in the herbs. Place in the refrigerator until firm, a few hours. Then enjoy!
(Visited 171 times, 1 visits today)