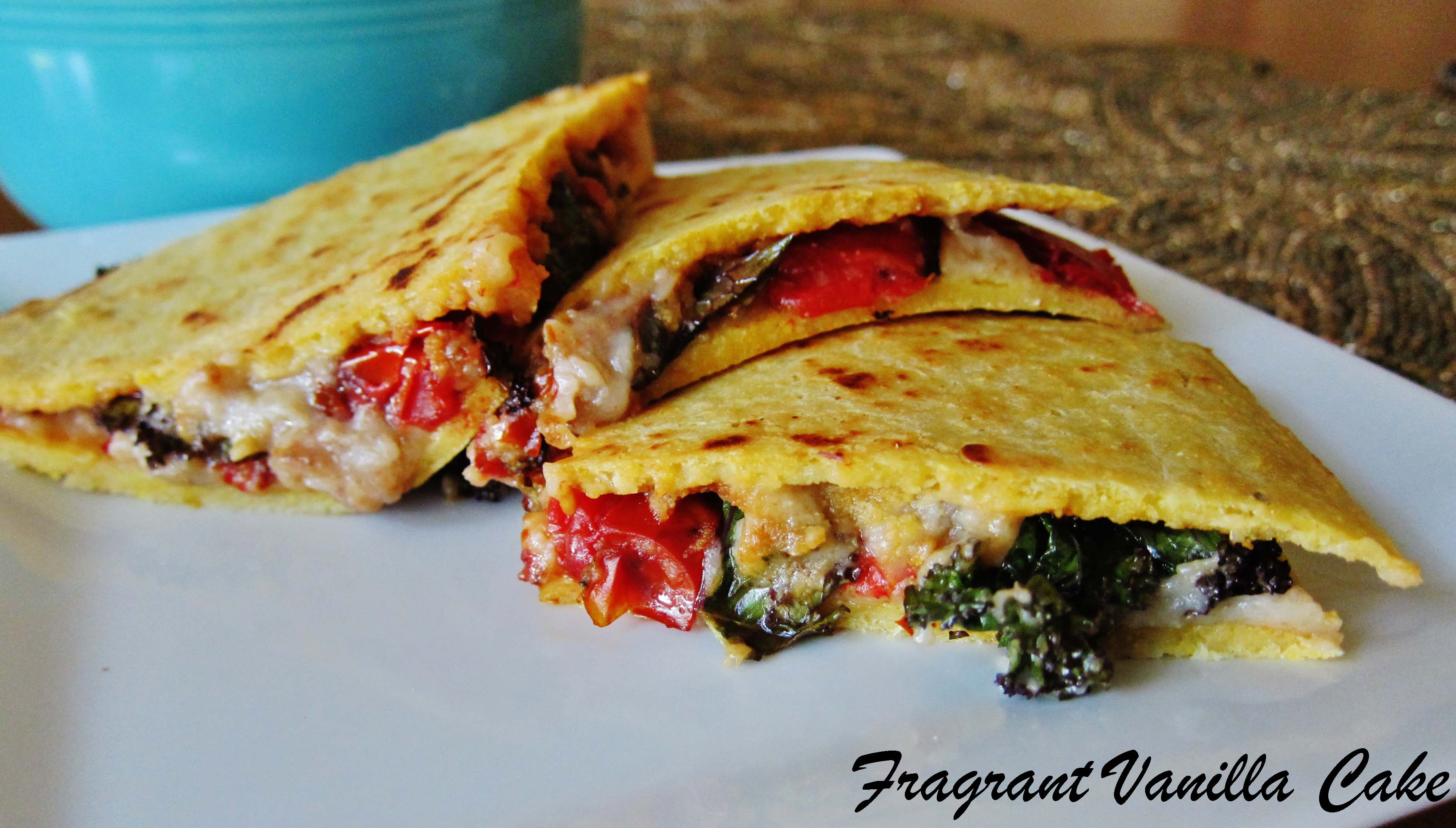 Vegan Roasted Tomato and Kale Quesadillas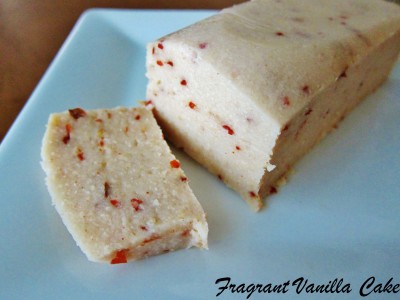 I used  to be a huge cheese lover.  My favorite sandwich (and all I would order in a restaurant for years) was always good old grilled cheese.  But I would never say no to a quesadilla.  To me, it was just good old grilled cheese with tortillas.  It was actually the first thing I ever "cooked" on my own too in middle school.  I decided last week that I wanted some quesadillas.  I have not had any in years, and I dislike most of the vegan melty cheeses in the stores and that was why I had not made any since I went vegan.  But, now that I know how to make my own, I had to make quesadillas.  I decided to make some vegan pepperjack cheese because I wanted something with a kick.  I included both chipotle powder and red pepper flakes to give it just the right amount. And, guess what?  It is nut free.  Don't get me wrong, I love nuts, but I know they do not agree with everyone.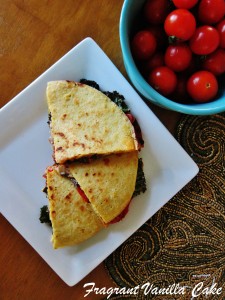 For the quesadillas, I was going to make something a little more traditional, but then I decided that I wanted to just use what I had and not buy extra ingredients so these were a little bit unusual. First off, I did not have tortillas so I made sort of quasi tortillas that were cooked like crepes with chickpea flour and cornmeal. But they were delicious and they gave me a little boost of extra protein.  I actually liked them way better than flour tortillas.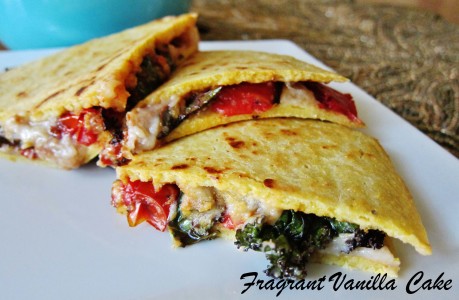 For the filling, I had fresh tomatoes from my Grandpa's garden, which I roasted to bring out the flavor and some sautéed local kale from my CSA box.  Once they were all assembled and the cheese was melted to gooey deliciousness they were amazing.  I never thought I could have melty cheese again when I went vegan. I am glad I was wrong.  I shared these with Eric because he loves this sort of thing.  Even though he always gives me crap about my Mexican food not being authentic (he is from Arizona).  But...I never said these were Mexican!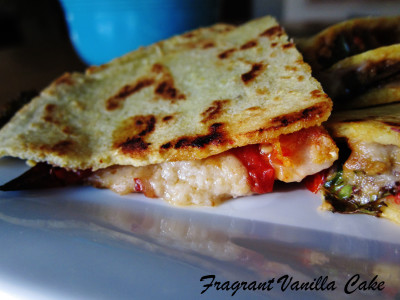 Vegan Roasted Tomato and Kale Quesadillas
Serves 4
Vegan Pepperjack:
1 15 oz can full fat organic coconut milk
1 clove garlic, minced
1 Tbsp red pepper flakes
1/4 tsp ground chipotle powder or cayenne pepper
2 Tbsp arrowroot starch
1/4 plus 1 Tbsp filtered water
1 Tbsp agar powder
2 tsp lemon juice
1 tsp sea salt or Himalayan salt
1 Tbsp virgin coconut oil
1 tsp guar gum
To make the pepperjack cheese, heat the coconut milk, garlic, chipotle and red pepper flakes in a saucepan, until it comes to a simmer.
Meanwhile, dissolve the arrowroot starch in the water and set aside.
Once the coconut milk has come to a simmer, add the agar powder, and heat until it is dissolved about a minute.
Next, add the lemon juice and sea salt to the coconut milk.
Mix the coconut oil with the guar gum so that the guar gum does not clump up.
Turn off the heat and add the arrowroot mixture, guar gum and coconut oil. Whisk for about 30 seconds, then pour into a silicone mold (I used a loaf pan, but if you had another shape you would like to use go ahead). Refrigerate for a few hours until firm, then pop out of the mold. You will need half the cheese for this recipe, reserve the other half for another use in the fridge, wrapped in an airtight container.  Shred the half you will be using into a bowl, and keep in the refrigerator until ready to use. You will be shredding it for the quesadilla recipe, and you will need 1 cup.  Save the rest for another use.
Chickpea "Tortillas":
1 cup chickpea flour
1/4 cup cornmeal
1/2 tsp sea salt
1 1/3 cups filtered water
Whisk together all ingredients until smooth.  Heat a non-stick skillet to medium, and add a little coconut oil.  Pour 1/4 cup of the batter into it, and swirl the pan, tilting it to get a thin layer on the bottom.  Cook for about 3 minutes on the first side, then flip over and cook the second.  You want it to be lightly colored.  Remove from the pan and set aside on a plate.  Repeat with the remaining batter.  You should end up with 4 "tortillas".
Vegetables:
2 medium tomatoes, cut into wedges
olive oil
4 large kale leaves
To prepare the vegetables, spread out the tomatoes on a sheet pan, drizzle with olive oil and roast in the oven at 400F degrees for about 20-30 minutes until soft, and starting to brown.  Season with a little sea salt. Let cool.
For the kale, add a little olive oil to a pan, then cook over medium heat until the kale has wilted.  Season with a little sea salt.
For Assembly:
To assemble the quesadillas, lay out two of the tortillas*, then top each with the tomatoes and kale, then each about 1/2 cup shredded pepperjack cheese.  Place another tortilla on top of each.  You can cook them two ways.  First, you may cook them in the skillet.  Just heat a little olive oil, then cook on one side for about 4 minutes, then flip over and cook 4 minutes more or until the cheese is melted (you can cover it with a pan even when turned off to melt the cheese). Or, you may cook them in the oven the non-traditional way, and just set them on a sheet pan in a 350F degree oven and allow the cheese to melt.  Either way, cut each into 4 wedges, and serve!
*you may use regular tortillas if you do not wan to make the chickpea ones.
(Visited 58 times, 1 visits today)