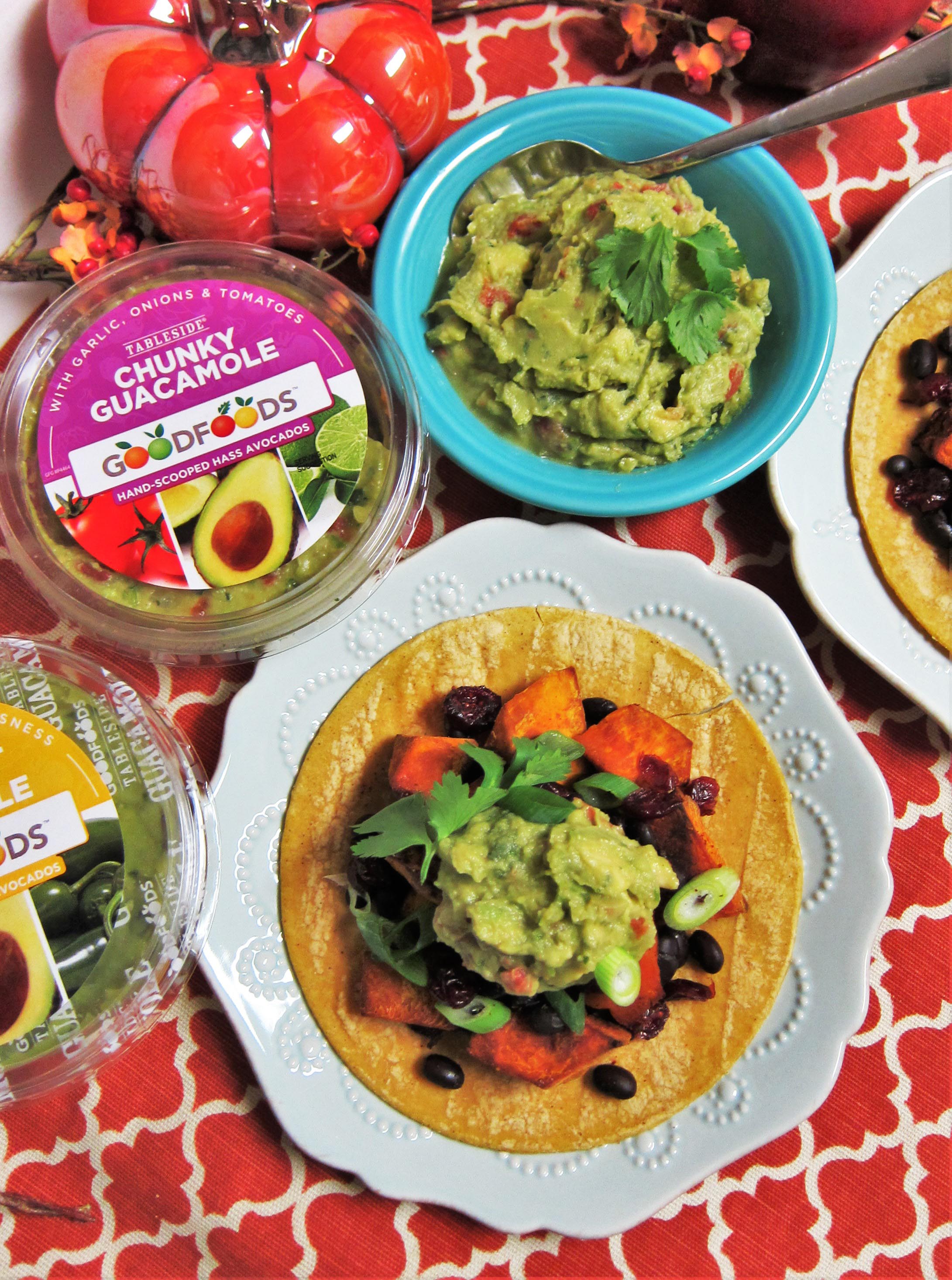 Vegan Roasted Squash Black Bean Tacos Recipe with GOODFOODS Guacamole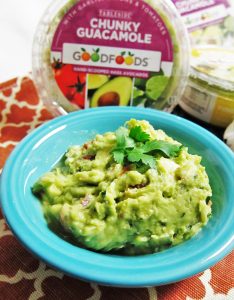 Vegans love their avocadoes.  So, it comes of no surprise that we scope out the best guacamole!  Because sometimes we want to just grab it and go, not sit and scoop out avocadoes and add all of the seasonings.  This is why I am happy I discovered GOODFOODS guacamole!  I picked some up at Super Target (in the deli area of the store) earlier this week, two different varieties, Chunky Guacamole and Pineapple Poblano Guacamole.  They other varieties to try as well, which I will be picking up next time, because I love my guac!  Why did I pick this brand?  Well, simple, it is made with good ingredients.  Nothing you can't pronounce, no preservatives, chemicals or additives.  Just avocadoes, and veggies (or fruit if you get the pineapple) which is really important to me!  I want to be putting good things into my body and GOODFOODS guacamole fits the bill!  This stuff is packed with nutrients to keep you feeling good, and it is always fresh, never heated because they use a special process. Not only is it made with good ingredients, but these guys care about the environment as well, they compost all of their avocado skins and pits and hope to become a zero waste to landfill facility! It is not often you hear about companies that do that.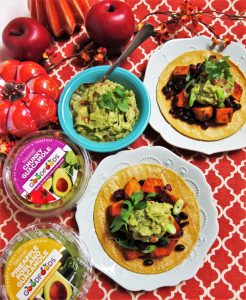 Their guacamole is wonderful for snacking with chips, but it is also good for Holiday entertaining.  Whip out a container of this for your guests with some chips and veggies, and I can guarantee they will be happy.  So easy! My Grandma always used to set out tables of snacks before our Holiday meals while she prepared them, and this would have been a good and healthy addition.  I always love it when snacks are healthy, guilt free, AND good. But not only is it a good snack for the Holidays, it is going to be a part of my main dish as well!  So, how does guacamole fit into my Thanksgiving meal?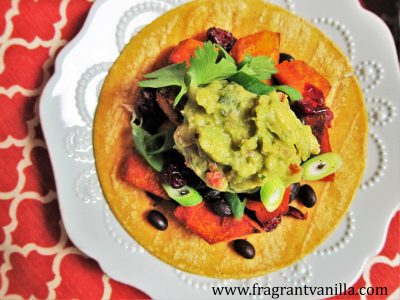 Well, although this is a wonderful time of the year, the beautiful season, getting together with friends and loved ones you haven't seen in a while, and good meals.  But it can also be kind of stressful if you are the host for Thanksgiving (or any other Holiday meal) and you have to prep and cook all of the food.  I don't know about you, but I would rather focus on the spending time with the people I love part.  Which is why in past years I have simplified my Thanksgiving meal with one great main dish, maybe a side and dessert.  Now, I know it is traditional to cook a meal with many different dishes, but I am a little non-traditional and creating new traditions is ok too.  So, this year I am going with something a little creative, but everybody loves, tacos.  I mean, who doesn't love tacos?!  You can be creative with them, fill them with all sorts of different ingredients and toppings, and even use seasonal ones!  Which is what I am doing.  Roasted Squash and Black Bean Tacos with GOODFOODS guacamole to top them off, which I am sharing the recipe for at the end of the post!  Because in my opinion ALL good tacos contain guacamole, and I love that I can just open a container, and not have to make it myself.  These tacos are pretty simple to make, and would go great with either of the GOODFOODS guacamoles that I bought, the Pineapple Poblano if you are extra feeling festive or the Chunky Guacamole if you want it more traditional.  Also, I might add, this Thanksgiving meal will leave you feeling good, and not in a food coma.  So you can spend quality time with your family after dinner as well!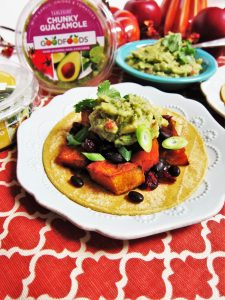 If you are not into the whole serving tacos on Thanksgiving day thing, how about the next day if you have guests staying over that you need to feed in between shopping on black Friday?  Either way get yourself some GOODFOODS guac!  I encourage you to find some GOODFOODS guacamole in your area!  You can locate a store near you that carries them on their website HERE. They are in many stores including Target, Costco and Walmart among others, it is not hard to get your hands on.  Make this guacamole part of your Holidays!  Share the Goodness with GOODFOODS!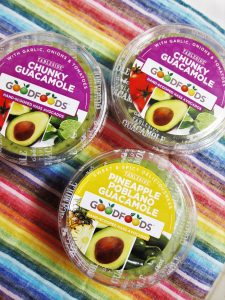 Vegan Roasted Squash Black Bean Tacos Recipe with GOODFOODS Guacamole
Serves 6
Ingredients:
Squash:
2 large butternut squash, peeled and diced
olive oil
sea salt to taste
Beans:
2 cups cooked black beans
1 Tbsp olive oil
sea salt to taste
1 Tbsp chili powder
1 tsp cumin
1/8 tsp chipotle powder
1 garlic clove, minced
Assembly:
12 organic corn tortillas
1/2 cup dried cranberries
1/2 cup sliced scallions
fresh cilantro leaves
hot sauce
Directions:
Preheat the oven to 400F degrees.
Toss the squash with just enough olive oil to coat then spread out on a sheet pan, and sprinkle with sea salt. Place in the oven and roast for about 30 minutes until the squash is tender and starting to brown at the edges.
Meanwhile, toss the black beans together with the olive oil, spices and garlic and set aside.
When the squash is done roasting, to assemble the tacos, spoon some of the beans and squash onto each tortilla, then sprinkle with cranberries, top off with GOODFOODS Guacamole, sprinkle with some scallions, garnish with cilantro, and drizzle with hot sauce.  Serve!
(Visited 1 times, 1 visits today)