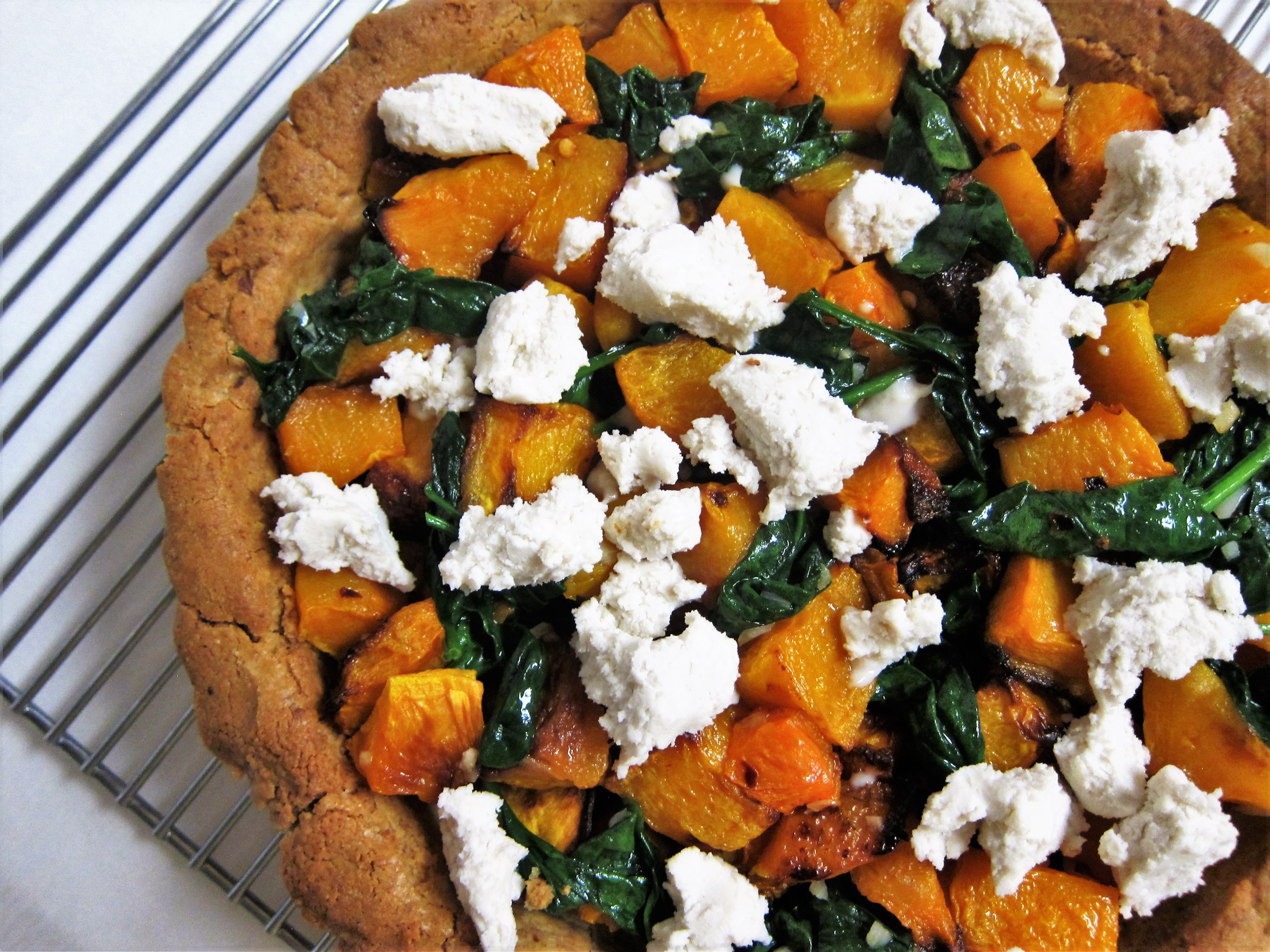 Vegan Roasted Squash and Chevre Tart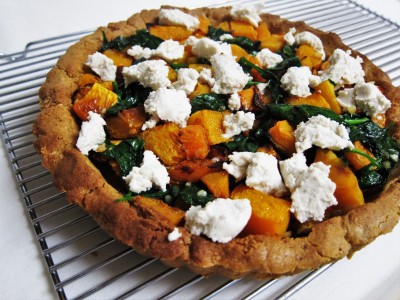 I used to eat so much squash when I was younger, that I got what my Mother called a squash tan.  I had it every day.  A whole squash of some sort, almost every single night.  I was addicted to it because it was so good.  Especially kabocha or butternut.  My favorite dish was a sort of French onion soup with roasted squash with toasted bread and cheese broiled on top.  So good.  After a while I branched out and ate other things, and I can't say that I eat squash every day now, but I still love it.  Mostly just roasted with a little sea salt.  It gets so sweet it is like candy.  I am kind of on a pie and tart making kick right now, so I decided to make a squash tart a few nights back.
It was really quite simple to make, just requiring time to roast the squash and bake the pie shell since I already had the chevre to top if off with on hand.  I included spinach as well, since I include greens in at least one meal every day.  It had really good flavor, not needing much to accent the squash but a little sea salt, garlic and red pepper.  The chevre was a nice addition to it, giving it a nice richness.  Being able to have delicious squash in the fall and winter makes up for the fact that I miss things like berries and tomatoes from the summer.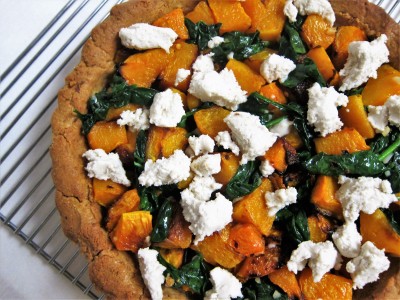 Vegan Roasted Squash and Chevre Tart
Makes 16
Chevre:
2 cups raw macadamia nuts (or cashews), soaked in water for 4 hours and drained
1/4 cup lemon juice
1 tsp cider vinegar
1 tsp sea salt (or to taste)
2-3 Tbsp filtered water
Crust:
2 cups all purpose gluten free flour
1/2 cup ground walnuts
1/2 tsp sea salt
3/4 cup coconut oil in its solid state
about 6-7 Tbsp cold water
Filling:
1 large butternut squash, cut into cubes
olive oil
1 large handful spinach
1 garlic clove, minced
1/4-1/2 tsp red pepper flakes
To make the chevre, combine all ingredients in a high speed blender or food processor, and blend until smooth adding a Tbsp or two of water as needed to create a chevre like consistency (do not add too much or it will be too thin).  Place in 2 layers of cheesecloth, wrap up, and place in the refrigerator overnight to firm up.
To make the crust, in a large bowl, mix together flour, and sea salt. Cut in coconut oil with a pastry blender or 2 knives until it is in pea sized pieces. Mix in  just enough water to create a smooth dough that holds together but isn't too sticky. Add more water if needed, and knead slightly until a smooth dough is created. Roll out into a rectangle using floured parchment underneath and floured rolling pin. Roll into a 10 inch circle.  Oil a 9 inch tart pan well with coconut oil and fit the circle into it. Shape to fit the pan, don't worry if it tears, just press the dough back together. Set aside in the refrigerator.
Preheat oven to 375F degrees, then place the tart crust in the oven and bake for about 30 minutes until lightly brown.  Remove from the oven and let cool.
To make the filling, toss the squash with just enough olive oil to coat it, then spread out on a sheet pan, and place in the oven.  Roast for about 45 minutes, or until starting to brown and tender.
Meanwhile, heat a small amount of olive oil in a skillet with the spinach and garlic, and cook just until the spinach has wilted and the garlic is fragrant.
Place the cooked squash and spinach in a bowl, and toss together with the red pepper flakes and sea salt to taste.  Spread out in the prepared crust, then sprinkle the top with some of the chevre.  Serve at room temperature.
(Visited 9 times, 1 visits today)