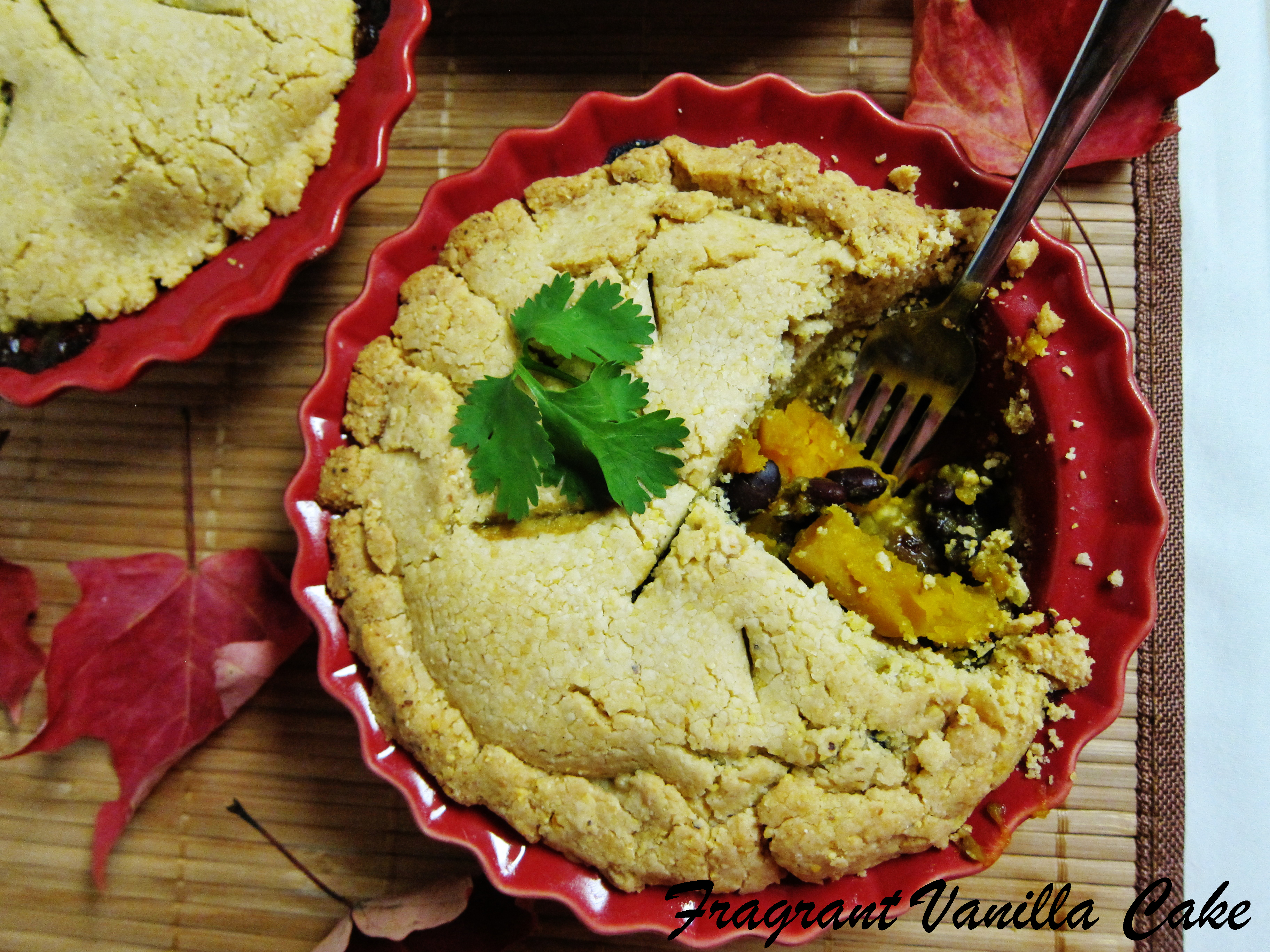 Vegan Roasted Squash and Black Bean Pot Pies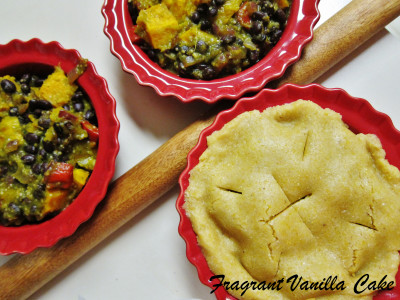 I got my last CSA box of the season and it had some really good stuff in it.  Most of all, the butternut squash, black beans, and tomatillos.  Those 3 ingredients were just begging to be used in some sort of delicious Mexican inspired dish for dinner.  Mondays are my day off, so that was the day I decided to make this dish.  It changed a few times...what I was making, and I finally decided on pot pies.  Eric has been saying I should make pot pie for a while and I finally decided to give in.  This past weekend was so perfect, it was 80 degrees and sunny and the colors are beautiful outside this time of the year, so we went on a hike and enjoyed the day on Sunday.  But then when we woke up Monday it was chilly, drizzling outside and super windy.  So the perfect day for pot pies.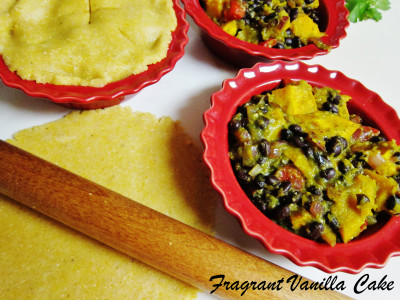 I decided that I wanted to make a tangy sauce from the tomatillos so I roasted them, then combined them with cilantro, garlic, jalapeno and lime juice.  The sauce was so delicious it would have made the perfect salsa but I had better plans for it. I roasted the butternut squash, then combined it with that delicious sauce, some black beans, and a few other veggies for flavor.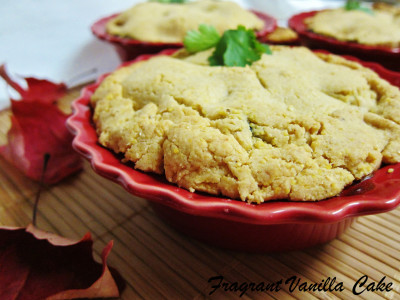 I topped it all off with a cornmeal crust that turned out nice and flaky just how a pot pie should be.  The filling was super flavorful, and definitely crave worthy with that crust.  This is the perfect dish to enjoy on a dreary day, it is bright in flavor, but warm and comforting.  I hope you all are enjoying your Autumn as much as I am enjoying mine.  I love this time of the year when I can make warm comfort foods on my day off!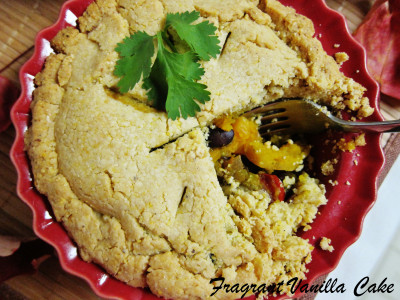 Vegan Roasted Squash and Black Bean Pot Pies
Makes 3 pies
1 medium butternut squash, diced (about 4 cups)
olive oil
1 small red onion, diced
1 small bell pepper, diced
2 cups cooked black beans
Sauce:
4 cups tomatillos, halved
olive oil
1/2 cup filtered water
1 jalapeno pepper, seeded (or not if you want it spicy)
1 garlic clove
juice of one large lime
sea salt to taste
1/4 cup cilantro
Crust:
3/4 cup all purpose gluten free flour
3/4 cup cornmeal
1/4 tsp sea salt
6 Tbsp coconut oil in its solid form
2-3 Tbsp cold water or to taste
To make the squash, pre-heat the oven to 400F.  Toss the squash with just enough olive oil to coat, and spread out on a sheet pan.  Roast until tender, about 45 minutes.  Remove from oven and place in a bowl.
Heat a little olive oil in a pan over medium heat, and add the onion and pepper.  Sautee until softened, about 10 minutes. Add the bowl with the squash, and the black beans as well.  Set aside.
To make the tomatillo sauce, toss the tomatillos with olive oil, and spread out on a sheet pan.  Roast for about 20-25 minutes until tender.  Remove from the oven and place in a blender with the rest of the sauce ingredients.  Blend until smooth and pour over the veggies and beans in the bowl.
Spoon the mixture into 3 oiled 4 wide inch deep dish pie dishes.
To make the crust, in a large bowl, mix together flour, cornmeal, and sea salt.  Cut in coconut oil with a pastry blender or 2 knives until it is in pea sized pieces.  Mix in just enough water to create a smooth dough that holds together but isn't too sticky.  Add a touch of water if needed, and knead slightly until a smooth dough is created.  Divide into 3 balls.
Roll each out into about a 4 1/2 inch round using parchment underneath and floured rolling pin.  Use the parchment to assist putting it on top of the filling, and fit to the edges (no need to be perfect, it is ok if it looks rustic). Pierce the top crust a few times with a knife to make vents.  Place in the oven and bake for about 45 minutes until hot and bubbling  the top is starting to brown lightly.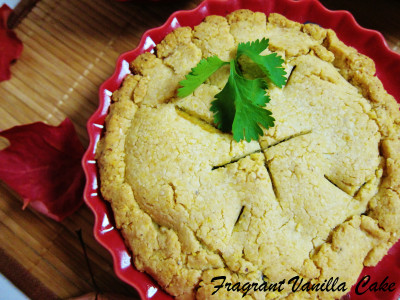 (Visited 47 times, 1 visits today)