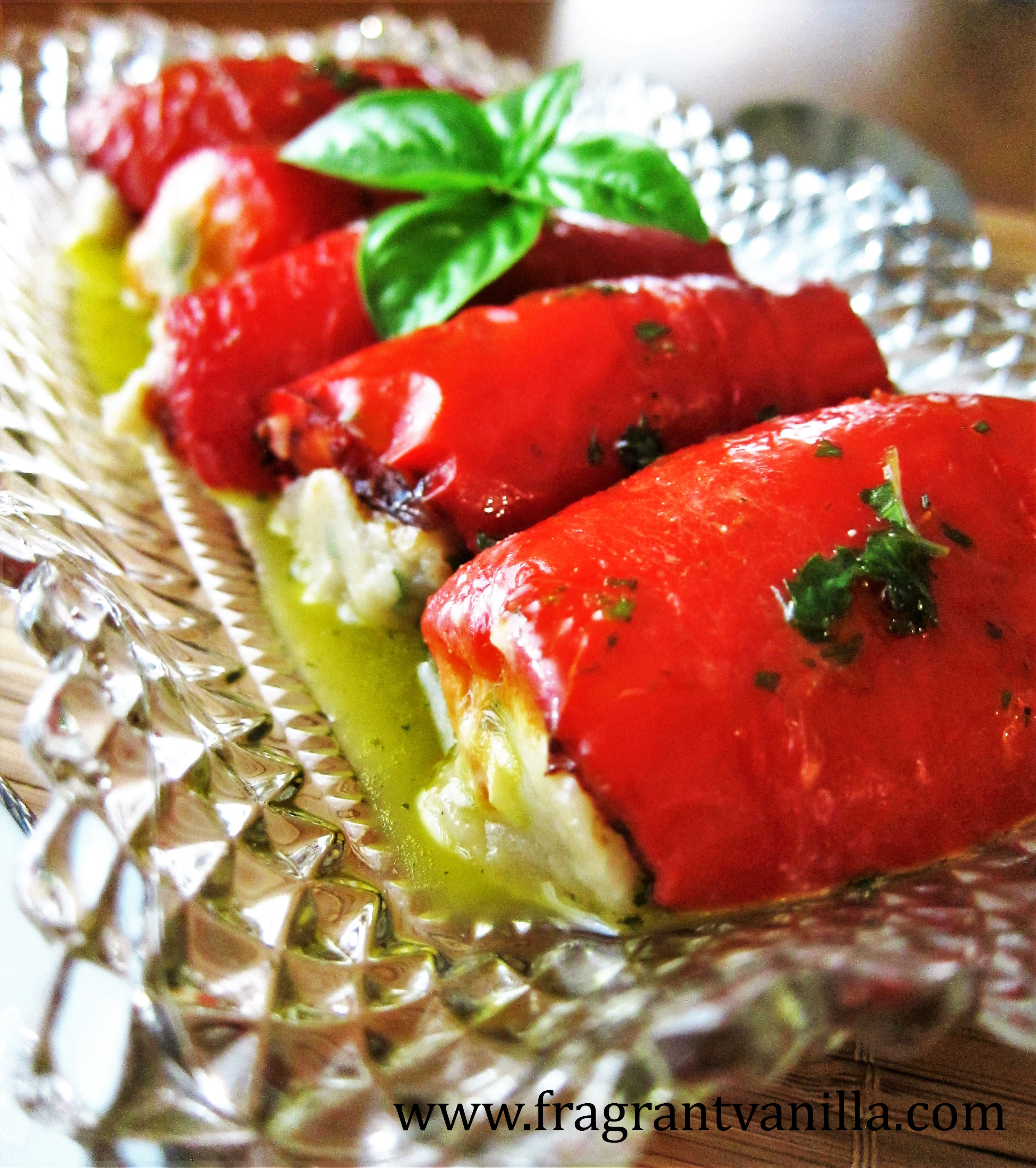 Vegan Roasted Red Pepper Basil Chevre Roll Ups
When I was in college, my Mom and I liked to go to a Spanish tapas restaurant that served these amazing, flavorful little plates (tapas), and the best part about it was being able to try a bunch of different things and share them with each other. I liked them all, but there were a few that were my favorites. They had these cheese stuffed roasted red peppers that stood out to me as the tastiest. I have always loved roasted red peppers, they are easy to make yourself at home, but you can also find them at most grocery stores. Just make sure they are organic ones made with quality ingredients and no bad preservatives. I have made the cheese stuffed peppers at home before (this was before I was vegan actually), and they were wonderful. Of course like everything else I put my own spin on them. Kind of surprising I have never recreated them in a vegan version, but I was given a few red bell peppers from the reject pile for free at work (they were slightly damaged, but hey, they were beautiful in my eyes because I got to create something with them) and decided to go for it!  The peppers they used at the restaurant were not bell peppers, they were these little red ones, but I thought bell would work just as well if I rolled them up into little packages.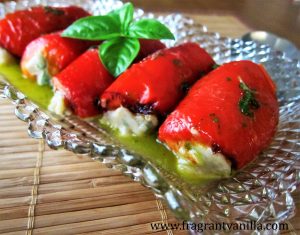 I roasted them in my oven to flavorful perfection, skinned them, and they were ready to roll!  I made w basil chevre with fresh basil from my patio, lemon juice and some scallions for flavor.  It was delicious stuff, and I could have eaten a bowl of it with chips but it was even better once it was paired with the sweet and savory red peppers.  They made the cutest little roll ups!  I drizzled a little lemon juice mixture over them to give them a pop of flavor and they were wonderful!  Savory little pockets of deliciousness describes them perfectly.  I was always a cheese lover before I went vegan and now I am a vegan cheese lover.  I think non-vegan me would not have known this wasn't real cheese, because it was sooo good in the peppers!  These would be so pretty to serve as an appetizer at a party.  But of course, you can be like me, the extreme introvert who doesn't throw many parties, and just eat them at home and share with your boyfriend if you want.  At any rate, they are delicious no matter who you share them with, so give them a try!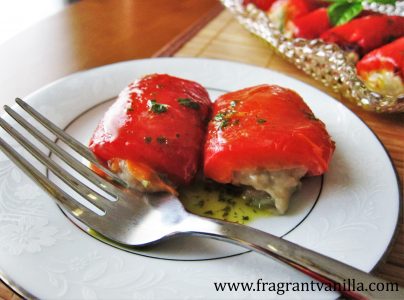 Vegan Roasted Red Pepper Basil Chevre Roll Ups
Serves 4
Peppers:
2 large bell peppers, cut in half lengthwise, and seeded
olive oil
Filling:
3/4 cup raw cashew butter
1/4 cup coconut butter, warmed to liquid
1/3 cup filtered water
2 tsp lemon juice
1/4 tsp sea salt
2 Tbsp chopped fresh basil
1 scallion, sliced
To finish:
1 Tbsp lemon juice
1 Tbsp olive oil
1 tsp finely chopped basil
good pinch sea salt
Instructions:
1. Preheat the oven to 400F degrees.
2. oil a sheet pan, and the peppers (with just enough oil to coat but not too much) with the olive oil, and place the peppers cut side down on the pan. Place in the oven, and roast for about 30 minutes until they are softened and they are beginning to brown at the edges. Remove from the oven and let cool until cool enough to handle. Remove the skins carefully.
3. To make the chevre, whisk together all ingredients in a bowl until well blended. Set aside.
4. When ready to assemble, cut each pepper half in half (top to bottom). Spread some of the chevre over each piece about 1/4 inch thick, then roll up and secure with a toothpick. Place on a plate.
5. Whisk together the lemon juice, olive oil, basil and sea salt and drizzle over the roll ups. Serve!
(Visited 193 times, 1 visits today)