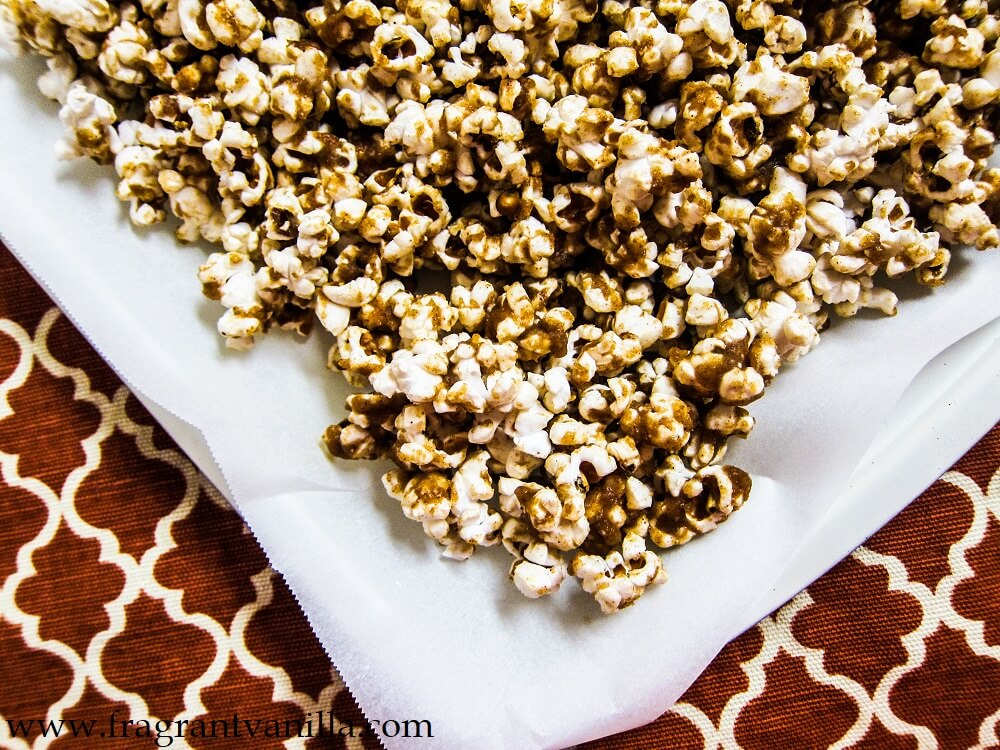 Vegan Pumpkin Spice Caramel Corn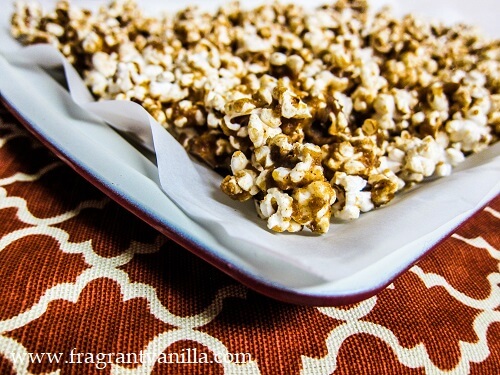 It is fun to find things you didn't know you had.  Like the 20 dollar bill in your coat pocket from last year.  Or your sunglasses you thought you lost in the luggage you hadn't used in 5 years.  I found a big bag of popcorn I had bought a while back from the bulk section that got pushed to the back of the cupboard.  I had since bought another bag, so I have loads of popcorn now and have been making it a lot.  I love popcorn and it made me sad I forgot that bag back there.  Luckily it was not stale and still usable.  I hate throwing food away. I made some vegan cheddar bacon popcorn a couple times last weekend, and some with just sea salt and it was really good as always.  And, I made another delicious sweet flavored caramel corn yesterday, and I think that was my favorite so I decided I needed to share the recipe with you in case you want to enjoy the deliciousness too.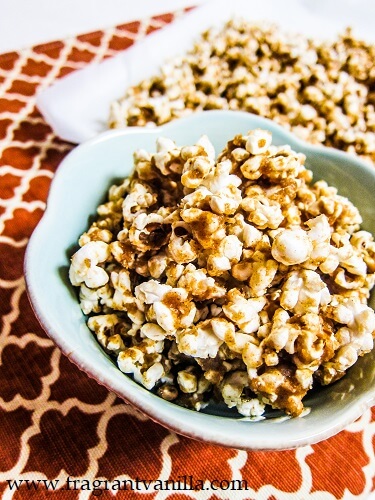 I often times draw inspiration for things while I am at the store. I see something and say to myself, "I can veganize that, and make it healthier without fake ingredients."  That is exactly what happened when Eric and I were at Aldi a few days back and I saw some pumpkin spice popcorn.  I looked at the ingredients an there was a lot of refined sugar, so I wouldn't buy it but I was inspired to make my own healthier version.  This has happened to me a few times at Trader Joes too.  They have a lot of stuff that sounds good but isn't vegan or is sugary but I have made it to suit my needs, like these pumpkin pie pop-tarts.  There really is a lot of inspiration at the store.  Anyways, Eric said that the pumpkin spice pop corn sounded gross, but I knew it wouldn't be so I went with it.  I mean, spiced caramel corn sounds amazing!  So, I popped a good amount of popcorn in the Whirly Pop and got to work.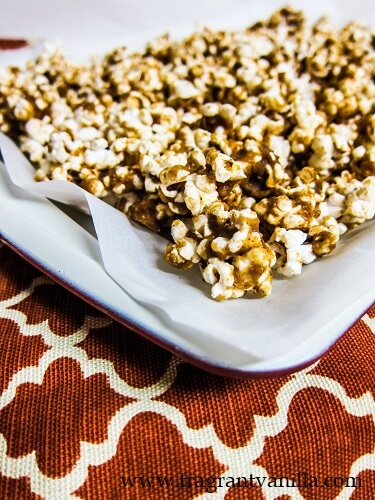 It is actually pretty simple to make if you have the ingredients on hand.  The base isn't technically real caramel which would be butter and sugar.  It is coconut butter to allow it to harden on the popcorn, in place of the butter, and pecan butter and maple syrup to give it that sweet caramel flavor. Of course it has to have sea salt as well, I mean salted caramel is one of the most delicious things ever!  And of course the pumpkin pie spice.  No, this does not actually have real pumpkin in it, it just uses pumpkin pie spice. But if you honestly taste the caramel before you pour it over the popcorn it will remind you of actual pumpkin pie.  This is super delicious.  Like you need to go back for a second bowl, or half the pan is gone and you don't know what happened delicious.  So, if you need a sweet and salty snack, give this a try!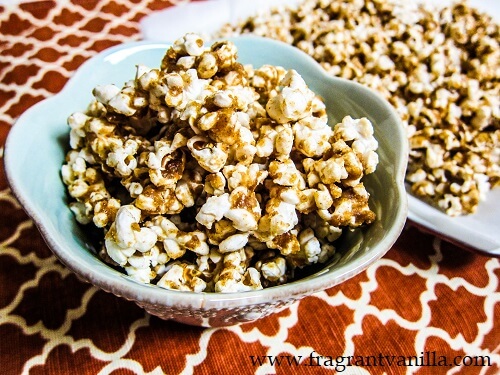 Vegan Pumpkin Spice Caramel Corn 
Makes 8 cups
Popcorn:
1/3 cup maple syrup
1/3 cup coconut butter, warmed to liquid
1/3 cup pecan butter (or almond butter)
1/2 tsp sea salt
1 tsp pure vanilla extract
1 Tbsp pumpkin pie spice
8 cups plain organic popped corn
Instructions:
To make the popcorn, in a glass measuring cup (or bowl) whisk together the maple syrup, coconut butter, pecan butter, sea salt and pumpkin pie spice, vanilla until well blended. Pour over the popcorn in a large bowl and mix well. Spread out onto a lined sheet pan, and place in the freezer until it is hard.
Enjoy!
(Visited 58 times, 1 visits today)