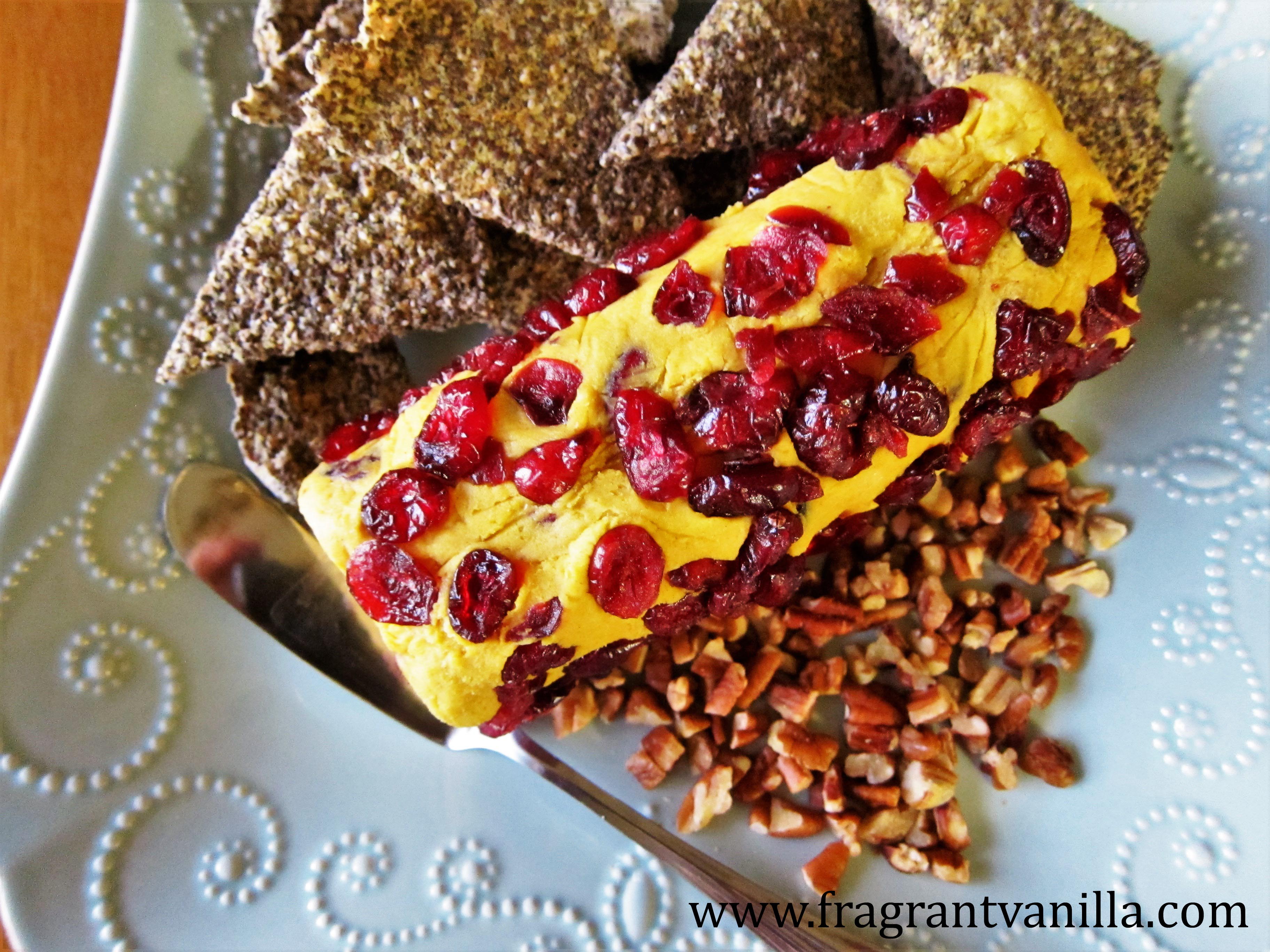 Vegan Pumpkin Cranberry Chevre
It has been beautiful here lately!  Normally in November it is about 20 degrees cooler and we are all bundling up in hats and coats, but I actually am able to go out for my runs in shorts, wear t-shirts during the day, and enjoy the season!  The sunsets have been awesome, and I have taken out my road bike a lot lately to tour the scenery.  It has been especially beautiful, the colors on the trees seeming to hang around longer than usual and only just starting to come to an end.  I am just thankful for all of this because here in Minnesota we definitely get enough winter whether it lasts 3 months or 5.  So, I will take all of the colorful warmer days and enjoy them to their fullest!  I am also sooo into all of the flavors of fall.  Apples, pumpkins, root veggies, brussels sprouts, squash and cranberries making frequent appearances in my home.  I am always up for creating new recipes using them, because I wait all year for this!  I saw a pumpkin chevre at the store this week, and I was inspired to create a vegan version.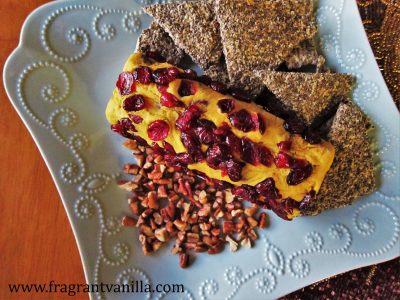 I used to be a huge cheese eater before I went vegan.  In fact, every week I would go to a local cheese shop that had hundreds of different kinds of cheeses, pick out a few to try and learn about them.  I had a few favorites, but one that I had to buy over and over again was always just simple chevre.  I thought I would have to give it up when I went vegan but that is far from the case.  I have figured out how to make vegan chevre that is even better than any of the dairy varieties.  Even skeptics have tried the chevre that I make and agree it is good.  Real dairy actually kind of grosses me out now that I know the process the animals go through and what it actually is.  Just not something that makes me feel good at all, so I will take my vegan cheese thank you very much!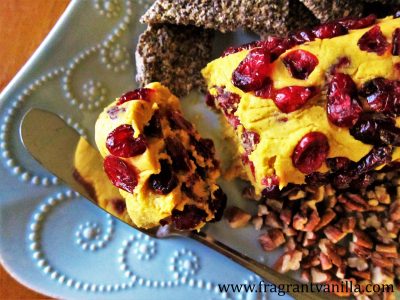 So, back to this pumpkin chevre, it sounded interesting and really tasty so I had to make some!  For the base, I used a combination of cashews and coconut milk to make it rich like real cheese.  I added in a little coconut butter to thicken it properly, and dates to sweeten it.  The classic pumpkin pie spices were also included, although in an amount light enough for it to still taste like chevre and not just pumpkin pie.  I was going to make it plain like that but decided that dried cranberries would make it much prettier and festive.  This cheese was bomb!  Sooo delicious, and I am sure way better than the dairy version.  This is good with crackers of course, or apples, or crumbled atop a fall salad, or just good for snacking on in general!  So, if you are craving cheese, you know what to make!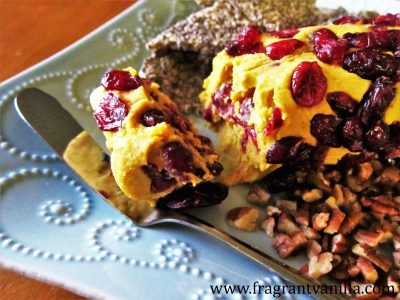 Vegan Pumpkin Cranberry Chevre
Serves 8-10
Ingredients:
1 cup raw cashews, soaked in filtered water for at least an hour and drained well
½ cup full fat organic coconut milk*
1/4 cup pumpkin puree
1/2 cup raw coconut butter, warmed to liquid
1/3 cup soft, pitted medjool dates
¼ tsp sea salt
1 tsp cinnamon
1/2 tsp ginger
1/8 tsp cloves
1/8 tsp nutmeg
2 tsp apple cider vinegar
1/2 cup dried cranberries
Directions:
In a high speed blender, combine the cashews, coconut milk, pumpkin, coconut butter, dates, sea salt, lemon juice, and blend until smooth. Mix in the cranberries.
Pour into a bowl, and place in the freezer for about 30 minutes until more firm, them scoop onto a piece of plastic wrap and roll into a log.  Place in the refrigerator until firm, a few hours.
Once chilled enough,
*If you want to make this raw, you may use raw coconut milk and use 1/4 cup very finely chopped raw pumpkin, squash or carrot instead of the pumpkin puree.
(Visited 85 times, 1 visits today)