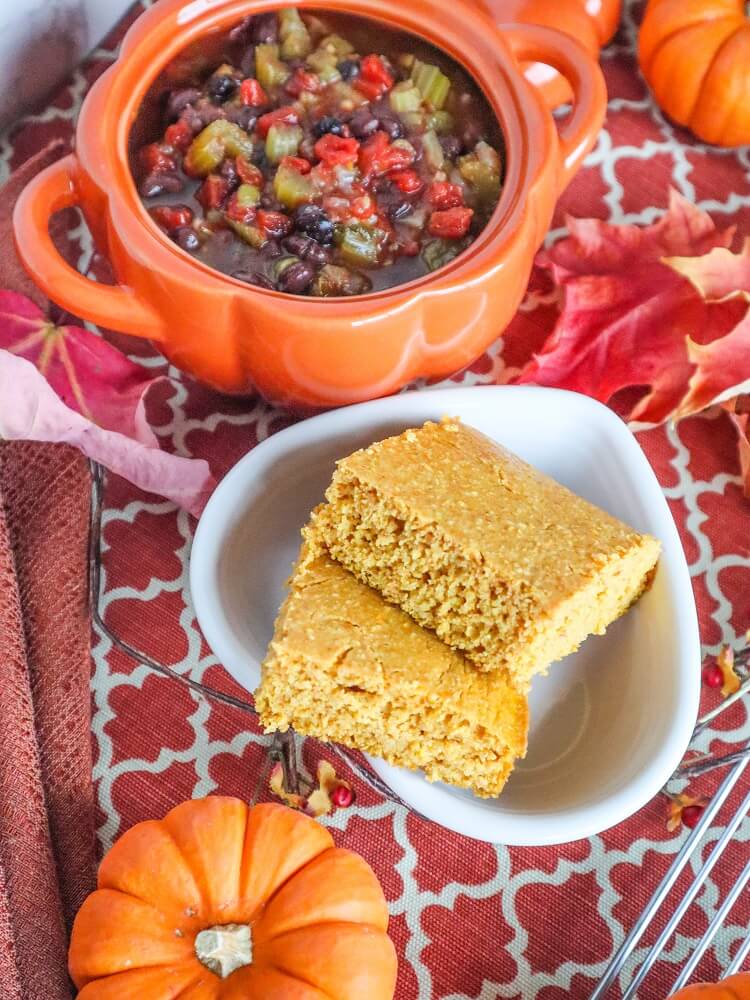 Vegan Pumpkin Cornbread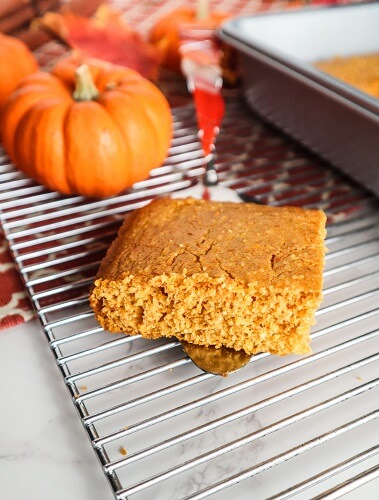 I make chili almost every week.  It is usually with rice on top and avocado, but last time I made it Eric told me that he prefers his with cornbread, so I said I would make some soon.  I used to always make cornbread with my chili back in the day, and serve it topped with sour cream and cheese before I went vegan.  But I didn't always want to make bread and rice was an easier option, and now I add avocado instead of the cheese and sour cream and like it just as much.  For Eric though, I made the cornbread.  It is not that difficult to make after all, not like you have to knead it and let it rise like you would a yeast bread and that is the beauty of it.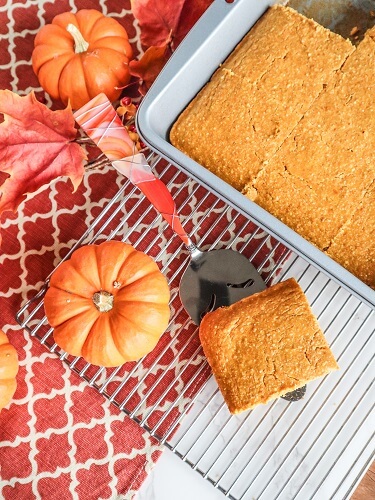 This time I decided to make it with pumpkin because I had an open can of pumpkin on hand and needed to use it in something.  Why not?  It is pumpkin season after all, and I love adding sneaky veggies to things.  Also, I wanted this cornbread to be fairly healthy too, so I wanted it free of refined oils and sugars.  I know some people like their cornbread super sweet and almost cake like but that is not at all how I like mine.  If I am serving it with chili especially I want it savory.  So 1 Tbsp of maple syrup for a hint of sweetness is all I needed to add.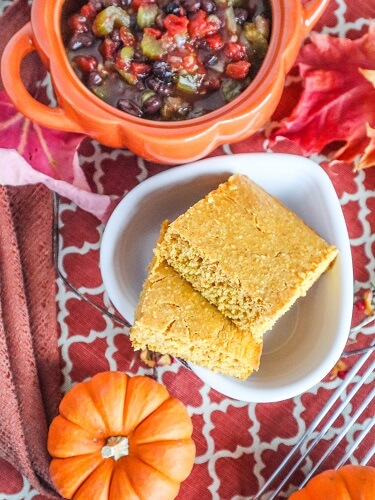 The pumpkin helps to keep the bread moist, so I didn't add any oil to it.  Just full fat coconut milk for richness, and it did the trick! I made this with a combination of cornmeal and whole wheat pastry flour, because I prefer whole grain flours but if you wanted to make this gluten free, you could sub Bob's Red Mill gluten free all purpose baking flour 1:1 for the whole wheat pastry flour.  I have had good results with this brand.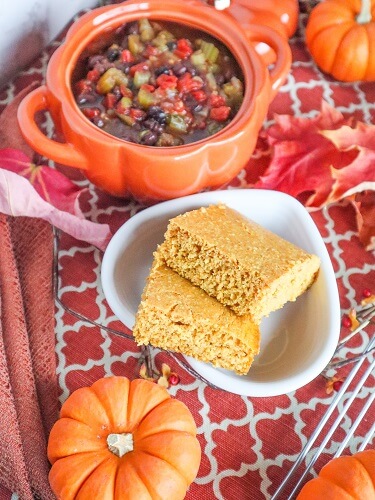 The corn bread smelled wonderful while baking!  I haven't made it in ages and I had forgotten about how amazing it smells.  I could not wait to try it!  But I had to wait for it to cool enough to cut and for my chili to finish cooking as well. It was perfect! Moist and fluffy, the perfect thing to break into pieces on top of your chili or dip into it (as I prefer).  I think this would even be a good thing to make to go with your Thanksgiving meal instead of rolls if you want an easy home made bread.  Either way, give it a try next time you have leftover canned pumpkin or mashed pumpkin!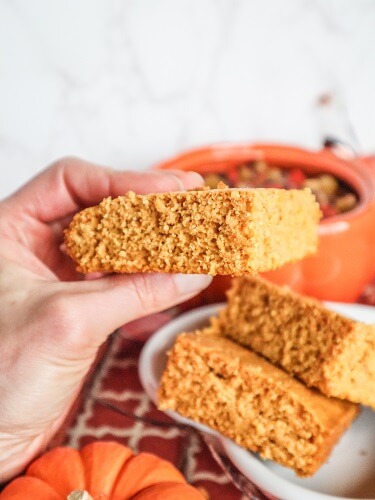 Vegan Pumpkin Cornbread
Makes 1 loaf
Ingredients:
1 cup organic medium grind cornmeal
1 cup organic whole wheat pastry flour
1 1/2 tsp baking soda
1 tsp baking powder
1 tsp sea salt
1 cup plus 2 Tbsp full fat coconut milk
1/2 cup pumpkin puree
1 Tbsp maple syrup
1 Tbsp cider vinegar
Instructions:
Preheat the oven to 375F degrees. Oil an 8x8 inch square pan.
In a large bowl, whisk together cornmeal, flour, baking soda, baking powder, sea salt.
Whisk in coconut milk, squash, and maple syrup until well combined.
Whisk in cider vinegar quickly until just combined, then pour into prepared pan.
Bake for 15-20 minutes until lightly golden on top and a toothpick inserted into the center comes out clean. Cool a few minutes before turning out from pan.
(Visited 748 times, 1 visits today)