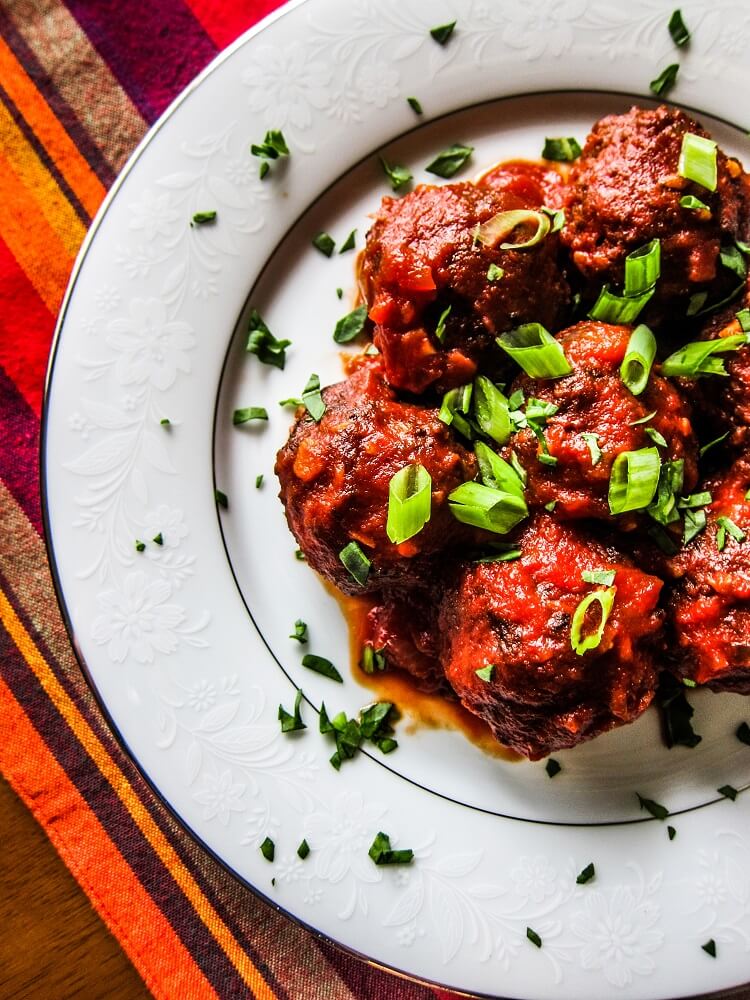 Vegan Porcupine Meatballs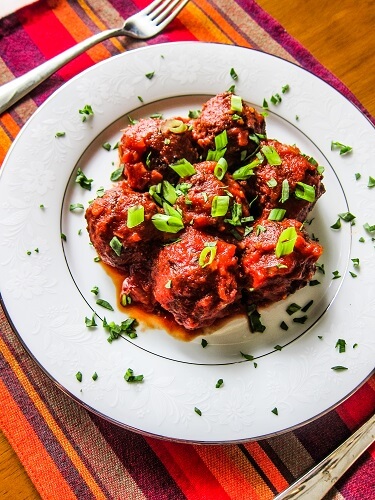 Growing up, I never realized how much work goes into making meat balls. I mean all the mixing and rolling them into a gazillion balls, that takes work! It's no wonder we ate frozen meatballs growing up most of the time and not home made. Once in a while though my Mom would make some really good home made meat balls and they were a real treat. It is kind of the same way with me making my vegan meatballs, they are a few steps I won't lie about that, but they are so worth it in the end.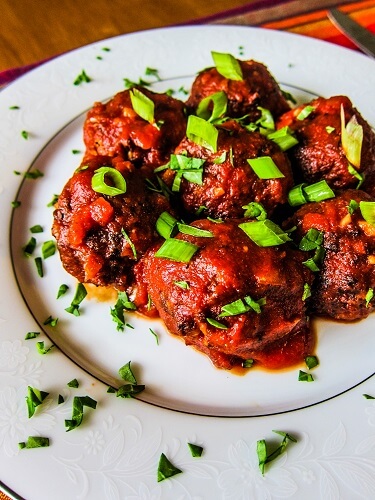 My Mom loves my vegan meatballs. Although she isn't vegan, she tries not to eat very much meat. Every once in a while she asks me to make my vegan meatballs for her, and she says she likes them better than ones made with real meat. Well, last weekend she asked me if I could make some vegan porcupine meatballs, like they used to serve at her school when she was little. She even showed me the recipe in one of her church cookbooks. I had to make them!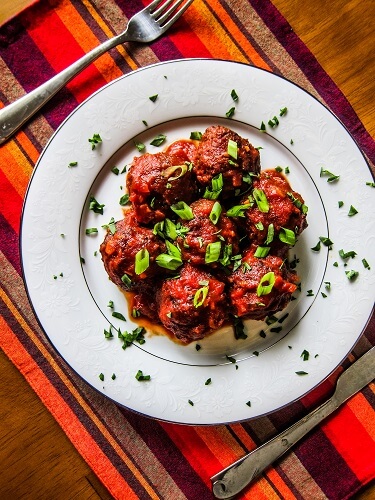 If you have never heard of porcupine meatballs, they are meatballs made with rice mixed into them in a sweet and tangy tomato sauce. They sounded good to me! I tweaked my classic vegan meatball recipe and it worked perfect! I used the same lentils and walnuts as the base, but swapped the rolled oats I normally use for the rice. This sounds kind of weird but the meatball mixture before I formed it and baked it was actually really good! I had to taste it because it needs to taste good before it goes into the oven or it won't taste good when it comes out and I wanted to get the flavors right. Lucky they are vegan and I am not dealing with raw meat here that I would have to cook to sample.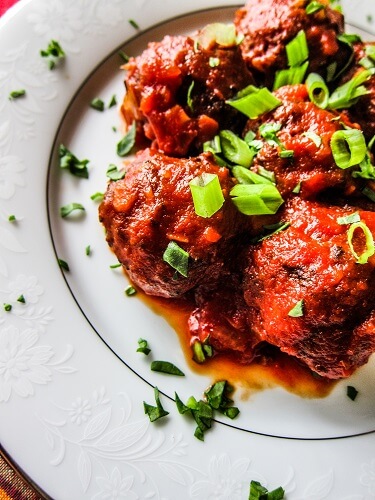 The usual sauce is usually tomato sauce and brown sugar with a few other things, but I swapped the brown sugar for a little maple syrup and a few other ingredients and it was perfect! It was so good on the meatballs! I almost wish I had made these sooner, they are fantastic! My Mom enjoyed them as well, and I think you will too should you choose to give them a try!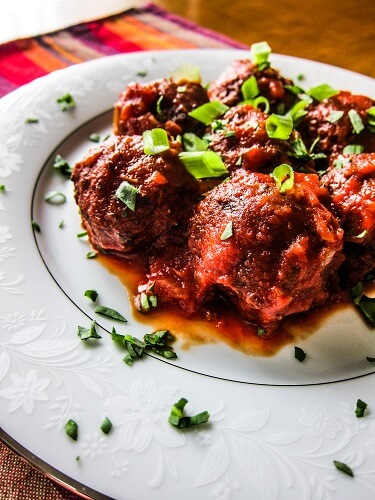 Vegan Porcupine Meatballs
Serves 4
Meatballs:
2/3 cup uncooked French lentils
filtered water
1 tsp olive oil
1 small onion, diced
2 garlic cloves, minced
2 Tbsp tamari or shoyu
1/4 cup organic tomato paste
1/4 tsp sea salt
1/4 tsp black pepper
1/4 tsp red pepper flakes
2 cups chopped walnuts
2 1/2 cups cooked white rice
Sauce:
2 tsp olive oil
1/4 cup chopped onion
2 garlic cloves, minced
1/4 tsp red pepper flakes
1 15 oz can tomato sauce
1/2 cup tomato paste
1/2 cup filtered water
1/4 cup maple syrup
1 Tbsp tamari
1 Tbsp cider vinegar
1 tsp dijon mustard
1/2 tsp sea salt (or to taste)
Garnish:
chopped fresh parsley
sliced scallions
Instructions:
To make the meat balls, add the lentils to a pot, and cover them with enough water to have a few inches above the lentils.  Bring to a simmer, and cook for about 30-40 minutes until the lentils are just tender but not mushy.  Drain very well, and set aside.
In a pan, heat the olive oil and onions, and cook until the onions are softened and tender, about 5 minutes.
Add the garlic and sautee a minute more until fragrant.
Add to a food processor, along with lentils, and all other meatball ingredients.  Pulse until everything is blended but not completely smooth.
Preheat the oven to 375F degrees.  Roll the meatball mixture into one and a half inch balls (they may be a little soft), and place them on a lined baking sheet. Place in the oven and bake for 30 minutes or until firm, but still soft in the middle.
Meanwhile, to make the sauce, heat the oil in a non-stick skillet, and add the onions.  Sautee for about 5 minutes until softened, over medium heat, then add the garlic and red pepper and cook a minute more.  Add the tomatoes, water, maple syrup, tamari, vinegar, mustard and sea salt, and bring to a simmer.  Cook for about 10-15 minutes until the flavors have combined.
When the meatballs have finished cooking, toss them (very gently because they will fall apart if you are rough) with the sauce just before serving, and serve garnished with scallions and parsley!
(Visited 3,252 times, 1 visits today)