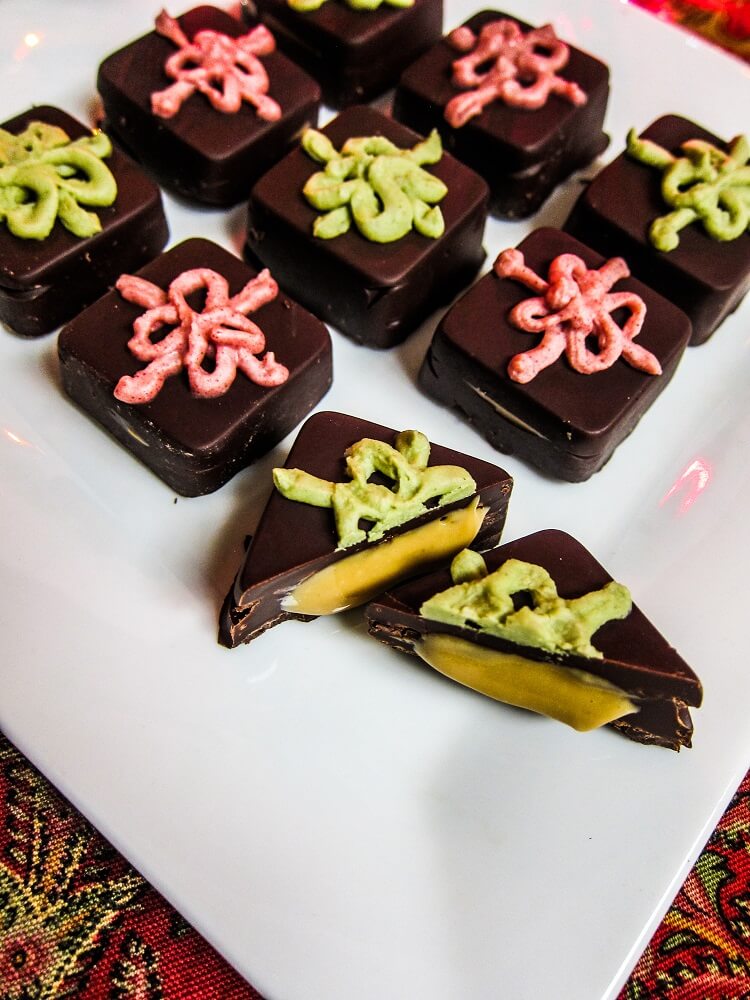 Vegan Peanut Butter Cup Presents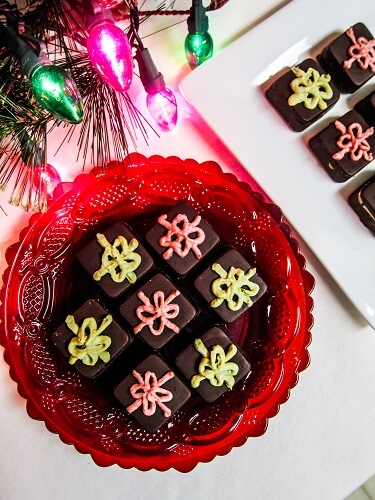 I am obsessed with chocolate and peanut butter, it is no secret as I have probably 40 recipes featuring the combo on my blog.  But you know what my favorite chocolate and peanut butter dessert is? Just plain old PB cups.  Well, not plain, it is actually a party in my mouth when I eat one.  So for every holiday pretty much I find excuses to make some festive ones.  I have been seeing Reese's peanut butter cups and peanut butter trees commercials, so that made me want some too.  But I don't just got to the store and buy them, I make them at home because not only is it easy, they taste so much better in my opinion.   Well, I thought it might be nice to gift some as well this year, so I whipped up a batch.  I wanted to make them cute though, so I decided to make little peanut butter presents using square molds (well, actually it is a silicone mini brownie pan but same deal).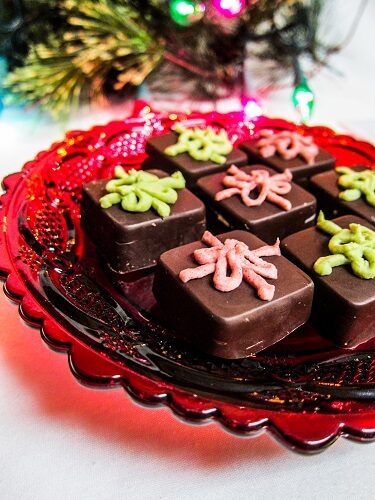 These didn't take long to make at all!  I melted down some good quality dark vegan chocolate to keep it simple, but of course if you wanted to make your own, by all means go right ahead (you can find a recipe to make your own HERE, just double the recipe, and leave out the hazelnuts and hazelnut butter).  I used my own home made peanut butter as well, and since I like a salty and sweet combo I didn't even sweeten the filling at all, because the chocolate is sweet enough and I like the peanut butter just as is.  Of course if you like things a little sweeter, feel free to add a dash of maple syrup to it.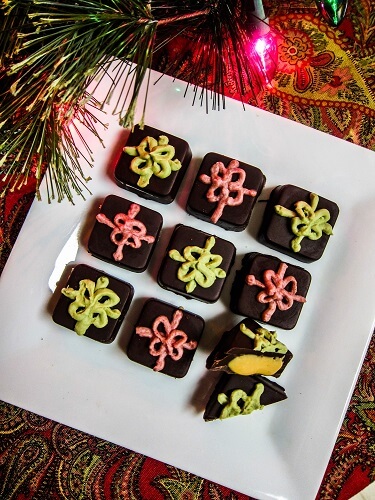 The little chocolates came out lovely and I made some quick white chocolate colored with beet powder and matcha powder to pipe into bows on top of them so that they looked like little presents.  Don't worry, you can't taste the powders they just give them a lovely pastel color.  These peanut butter cups were so good!  The rich dark chocolate with the salty peanut butter is amazing, but that little dash of white chocolate on top makes them a little more mellow and creamy. I almost didn't want to share.  Yes, and this recipe makes 20.  But of course, I am not greedy so I shared some.  If you know someone who loves peanut butter cups, impress them and make these for them for the Holidays!  Or maybe just for yourself, that is ok too. I would love to be gifted a box of these!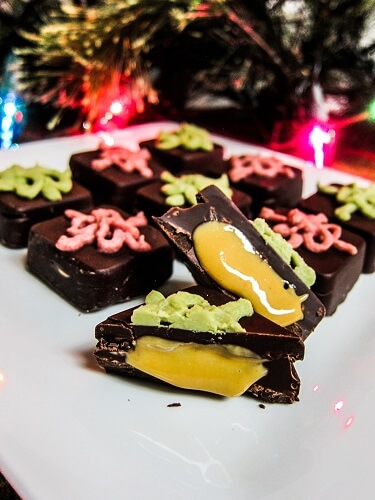 Vegan Peanut Butter Cup Presents
Makes about 20 candies
Chocolate:
Filling:
about 1/4 cup organic peanut butter refrigerated
White Chocolate Bow:
1 Tbsp raw cashew butter at room temperature
2 Tbsp Dastony coconut butter warmed to liquid
1/4 tsp pure vanilla extract
1 1/2 tsp maple syrup at room temperature
pinch sea salt
red beet powder or matcha green tea powder for coloring
Instructions:
Melt the dark chocolate in the top of a double boiler until smooth.
Spoon a little chocolate into the bottoms of 20 small square candy molds set on a tray, filling them about 1/4-1/3 full.  Place in the freezer until hard, about 10 minutes.
Place the peanut butter in a pastry bag (or ziplock bag with the tip of corner cut off) and pipe into the center of the hardened dark chocolate layer (not too much though or it will ooze to the sides), then pour the remaining dark chocolate over it in the cups until the peanut butter is covered, and tap the tray on the counter to level it.  Place in the freezer to harden for about 15-20 minutes. Once hard, unmold and place back in the freezer while you prepare the white chocolate.
To make the white chocolate bow, combine coconut butter, cashew butter, vanilla, maple syrup,  sea salt, and either a little bit of beet powder or matcha powder to color it (start with about 1/4 tsp and add more if you want it darker) in a bowl, and whisk until smooth.
Take the white chocolate and put it in a ziplock bag, and cut off the corner to create a small hole.  Pipe the white chocolate into a bow onto the top of each square of chilled chocolate.
Place them in the freezer until set, about 5 minutes.
Enjoy! Store any extra in the refrigerator.
(Visited 84 times, 1 visits today)