Vegan Peanut Butter Banana Cream Pie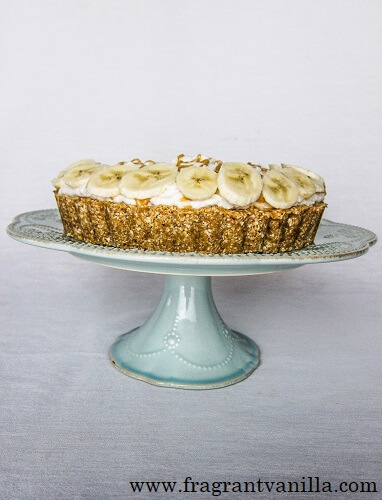 I think banana cream pie is an under rated dessert.  I mean, apple pie, pumpkin pie and key lime pie get all of the attention.  Don't get me wrong, I love all of those pies, and I love pie in general but banana cream pie is bomb, and I don't see it around very often.  Maybe people are intimidated by the layers or cooking the filling or something.  I know I kind of used to be.  Before I was vegan, I remember I made a banana cream pie with a cooked pudding like filling and I wasn't sure if it would turn out but it was well worth the time and effort.  Well, guess what?  The banana cream pies that I make now require absolutely zero cooking!  So less to screw up, right?  I decided last weekend that I wanted to make one.  It had been way to long since I had done so, my favorite recipe being this Raw Banana Macadamia Coconut Cream Pie.  But I wanted a little less complicated recipe this time that didn't require cracking open young coconuts.  So, I made a Vegan Peanut Butter Banana Cream Pie instead.  Peanut butter is just as good with bananas as the macadamias and so much cheaper.  You know me, I am always trying to work peanut butter into my recipes.  I love the stuff so much I would eat a whole jar if I could.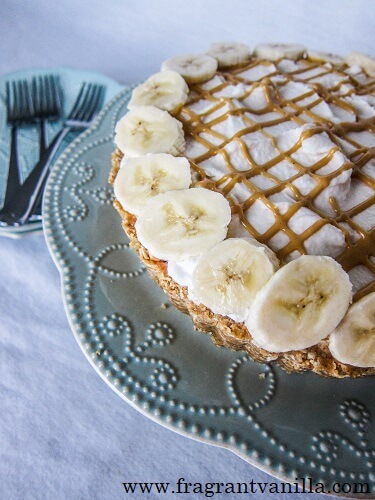 Anyways, this pie turned out bomb!  So I wanted to share the recipe with you all.  It is feeling Spring like here and the snow is melting, so I feel like a cream pie is the perfect dessert!  I don't know why but they always remind me of Spring.  Maybe because I like to serve desserts like this at Easter celebrations. For the crust, I went simple and no bake.  A peanut laced crunchy cookie like crust was the result when it was all blended and pressed into the pan. I actually used a removable bottom tart pan for this because I figured it would be easier to get out, but an 8 inch pie plate would work too.  For the filling, I made a no bake banana peanut butter cream, and put bananas over that.  Next, a peanut butter cream layer, then a vanilla cream layer. Coconut milk was the "cream" for this, it is my favorite whipped cream substitute.  I used So Delicious original culinary coconut milk because it is already nice and thick.  I wanted this baby piled high.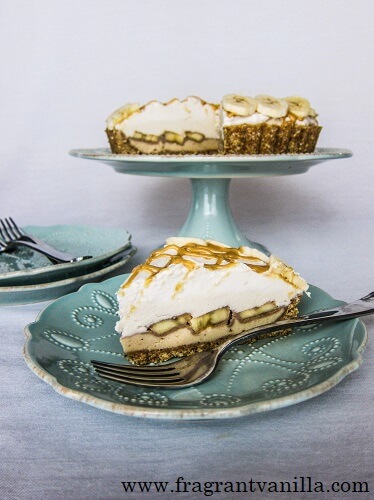 It was a sight to behold, almost to pretty to eat but of course it smelled amazing and I was hungry so I didn't hesitate to cut it. It cut nicely and the layers turned out lovely!  It tasted amazing as well!  I was expecting it to be good, but it was damn delicious!  If you are a banana cream pie fan, give this a try!  Trust me it is awesome, and it would make the perfect dessert for serving at Easter.  If you are not a peanut butter fan, feel free to substitute your favorite nut and nut butter in the crust and filling.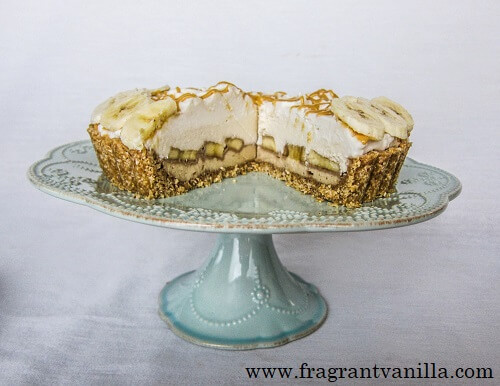 Vegan Peanut Butter Banana Cream Pie
Makes one 8 inch pie
one 8 inch pie pan, or removable bottom tart pan
Ingredients:
crust:
Filling:
1 cup mashed organic banana
2 Tbsp organic peanut butter
1/4 cup plus 2 Tbsp coconut butter, warmed to liquid
2 Tbsp maple syrup
1/4 tsp sea salt
2 organic bananas sliced
Topping:
For garnish:
organic peanut butter (if is not runny enough, whisk in a little water)
sliced organic banana
Instructions:
To make the crust, combine all the ingredients in a food processor and process until finely chopped and starting to hold together.  Press the mixture into the 8 inch pie pan or 8 inch removable bottom tart oiled with coconut oil.  Place in the freezer while you prepare the filling.
For the filling, combine all ingredients except the 2 sliced bananas in a blender and blend until smooth.  Pour into the prepared crust, and top with the banana sliced in an even layer. Place in the freezer while you prepare the cream topping.
To make the topping, add the coconut milk to a bowl, whisk in the maple syrup, vanilla, and sea salt.  Then whisk in the coconut butter until it is thick (but don't over-mix) Divide between two bowls, and whisk the peanut butter into one of them.
Spread the peanut butter whipped cream over the pie, then the plain whipped cream, and place in the refrigerator to set for about 30 minutes.
Drizzle the top of the pie with peanut butter, garnish with banana slices and serve!
Store any leftover pie in the refrigerator.
*Note: If you can not get the So Delicious Culinary Coconut Milk, substitute 2 15 oz cans full fat coconut milk (the kind with mostly cream in them not a lot of water, like Thai Kitchen full fat coconut milk), 1/4 cup plus 2 Tbsp maple syrup, same amount of sea salt and vanilla as above, and 1 cup plus 2 Tbsp coconut butter.  Blend it in the blender until smooth and well combined, and place it in the freezer to firm up to the consistency of heavy cream, then divide between 2 bowls, whisk the 2 Tbsp peanut butter into one, and continue with the recipe.
(Visited 1,046 times, 1 visits today)