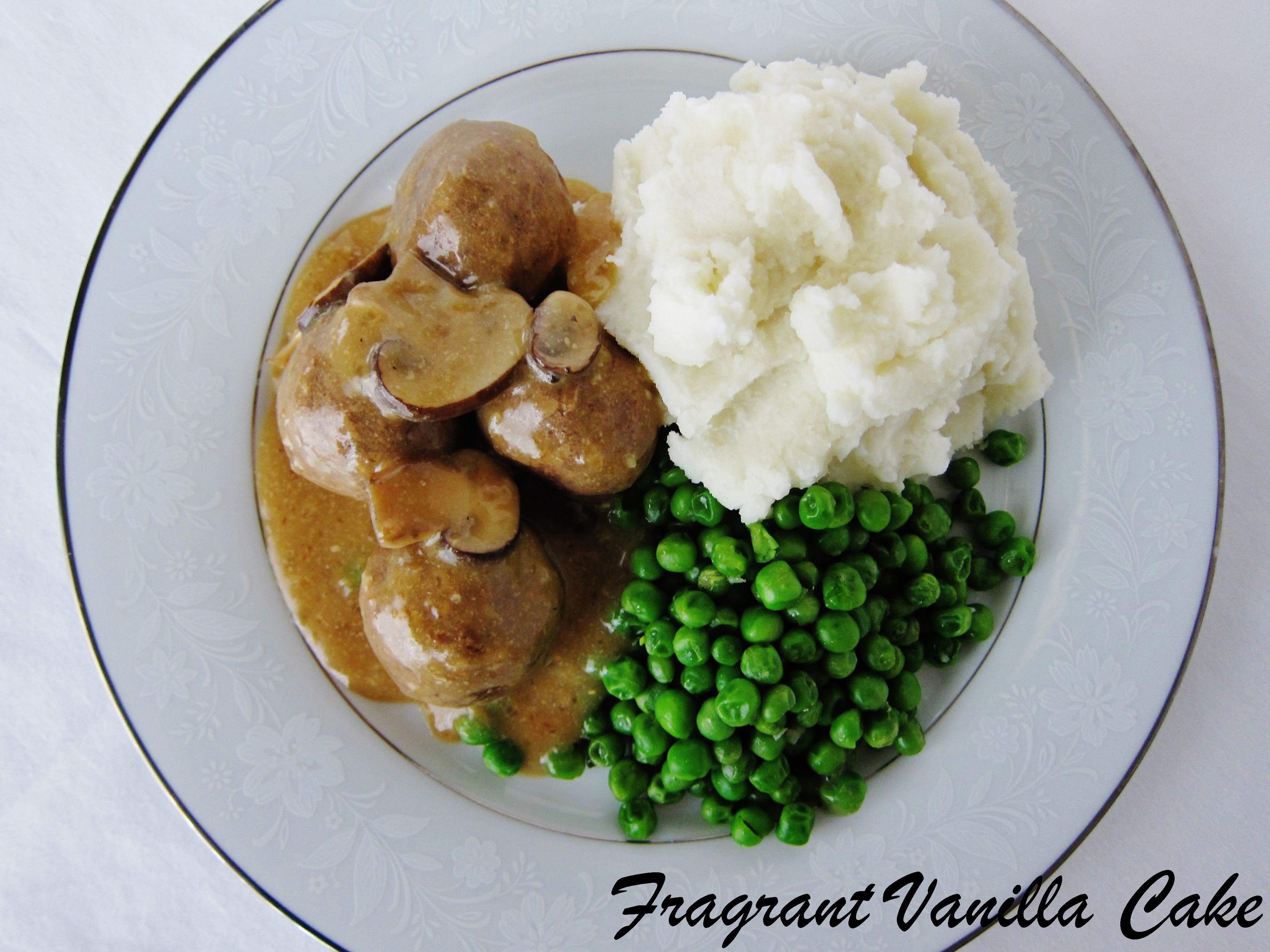 Vegan Mushroom Walnut "Meatballs" with Gravy and Mashed Potatoes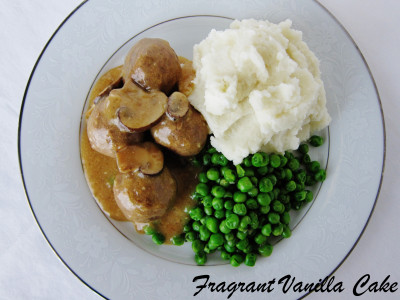 My Mom's Birthday was a few weeks back, and she didn't ask for a cake, but instead vegan meatballs.  You see, I have made mushroom meatballs before and my Mom loved them so much she requests them every so often for special occasions. I made some for Christmas last year.  I usually make them with red sauce, but this time she wanted them in a gravy. Also, she wanted mashed potatoes.  She loves my mashed potatoes so much she says they are even better than my Grandma's, which is a huge compliment. I don't know if I agree, but coming from her it means a lot.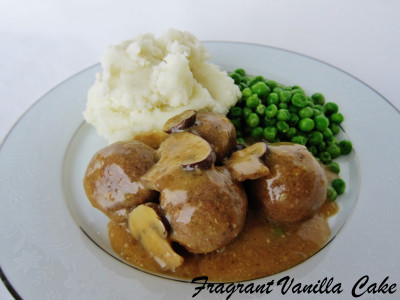 What I ended up making was a mushroom gravy with the mashed potatoes, because I feel like mushrooms add so much delicious flavor, and it echoed the flavor of the meatballs themselves.  For the mashed potatoes, I made them creamy and fluffy with coconut milk.  I served it with peas because it seemed right for this veganized classic comfort food meal.  Mom loved it, and that made me happy!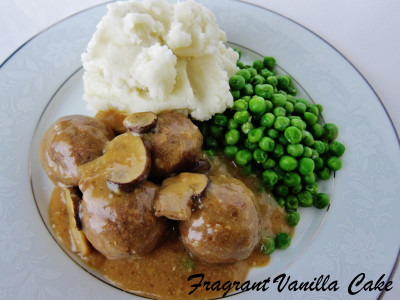 Vegan Mushroom Walnut "Meatballs" with Gravy and Mashed Potatoes
Serves 3-4
Meatballs:
1 Tbsp olive oil
1 cup chopped red onion
3 cups chopped crimini mushrooms
1 1/2 cups toasted walnuts
1 1/2 cups gluten free rolled oats, or as needed
3 Tbsp nutritional yeast
2 tsp sea salt
Mashed Potatoes:
4 cups cubed russet potatoes
sea salt to taste
1/4 cup coconut milk or as needed
Gravy:
1 tsp olive oil
1 garlic clove, minced
1 cup mushrooms, sliced
2 cups filtered water
1 1/2 Tbsp tamari
1 Tbsp nutritional yeast
1 Tbsp white miso
3 Tbsp arrowroot starch dissolved in 3 Tbsp water
1 Tbsp coconut butter
Preheat the oven to 400F.  To make meatballs, heat 1 Tbsp olive oil in a large non-stick skillet over medium heat.  Add onion, and saute until softened, about 5 minutes, then add the mushrooms and saute until soft, about 3 minutes.  Add garlic and saute another minute until fragrant, then remove from heat.  Place mixture in a food processor along with walnuts, oats, nutritional yeast, and sea salt.  Process until smooth.  Add a little more oats if too sticky, then shape into 16 little balls and place on a baking sheet lined with foil and sprayed with non-stick spray.  Bake for about 15-20 minutes until heated through, and starting to brown.
Meanwhile, place the russets in a large pot of salted boiling water on the stove, and bring to a boil. Cook until the potatoes are tender, and drain. Add sea salt to taste, along with the coconut milk and mash until soft, adding a little more milk if desired.
To make the gravy, sauté the mushrooms and garlic in the olive oil over medium heat, then add the remaining ingredients except the arrowroot starch and coconut butter. Bring to a simmer, and simmer for about 10 minutes.  Add the arrowrootstarch mixture and cook until thickened, whisking.  Then add the coconut butter and whisk until melted.
Once the meatballs have finished cooking, place them in the gravy and toss to coat.  Serve with the mashed potatoes.
(Visited 926 times, 1 visits today)