Vegan Mushroom Stroganoff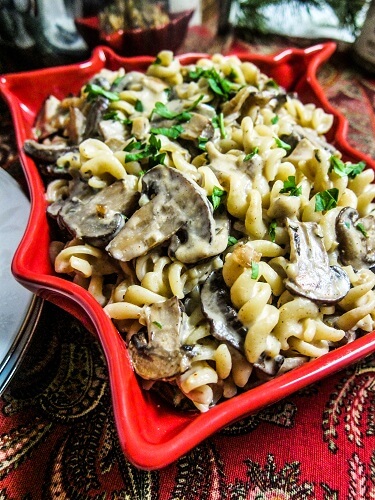 Stroganoff is a dish that is big here in Minnesota.  People usually make it with venison or beef, and it is considered comfort food and who doesn't need comfort food when it is 20F degrees below zero in the Winter?!  I grew up eating it and actually liked it, mostly because of the noodles and creamy sauce, not the meat and because I thought it was kind of fancy since we didn't eat it often.  Back when I was vegetarian I used to make a meat free version of it once in a while that still had dairy that was good.  But up until now I hadn't veganized it.  Surprising because it is kind of a classic!  Well, last week my Mom asked if I could veganize it and so I finally made some.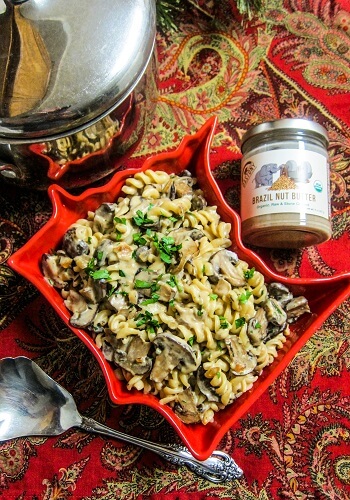 It was a win all around because I feel like the vegan version is so much easier to make and less fussy than the original and even the vegetarian recipes were.  In place of the meat, I used plenty of meaty mushrooms.  I love mushrooms.  I know they are kind of a polarizing food that people either love or hate but I love their earthy  umami flavor and meaty texture.  They give this dish so much good flavor along with the garlic and onions I included in it.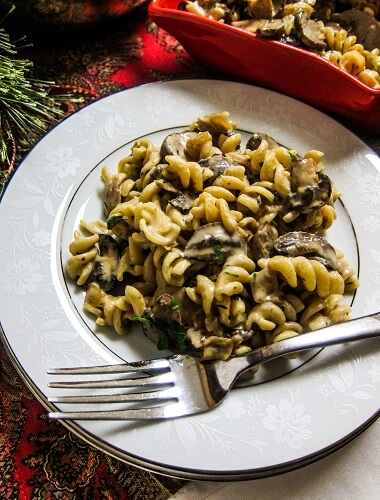 For the sauce, it had to be silky and rich, so I added some coconut milk to it as well as some Dastony brazil nut butter from Raw Guru.  I know that may sound like an odd combo, but the brazil nut butter is perfect for savory dishes just like cashew butter is, it is rich, creamy  and silky smooth.  I used a gluten free pasta made from chickpeas, so this had protein in it as well, and was a complete satisfying meal!  Yes it is rich, and something I would consider serving for a special occasion with maybe a light salad on the side.  Maybe for the Holidays!  It was super delicious though!  I enjoyed it way more than the meat version I ate as a kid.  This comes together in about 35 minutes, so it is also a good weeknight dinner option. It certainly made the snowy day we had the night I made it seem a little less chilly!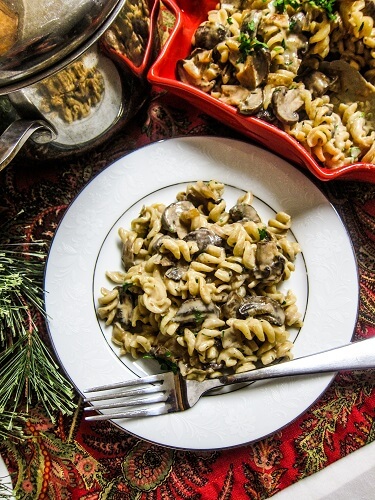 Vegan Mushroom Stroganoff
Serves 2-4
Ingredients:
2 tsp avocado oil, or olive oil
1 small onion, diced
4 cups sliced organic mushrooms (I used crimini, button and shiittake mushrooms)
3 garlic cloves, minced
1/2 tsp dried thyme
2 Tbsp white wine
3/4 cup full fat coconut milk at room temperature
3/4 cup Dastony brazil nut butter* or raw cashew butter
2 Tbsp nutritional yeast
1 tsp lemon juice
1/2 tsp sea salt (or to taste)
1/4 tsp freshly ground black pepper
pinch of cayenne (optional)
3 Tbsp freshly chopped parsley
Instructions:
Cook the pasta according to package directions, drain, place back in the pan, cover and set aside on the stove.
Meanwhile in a large ceramic pan, heat the oil, and add the onions and mushrooms.  Sautee until soft and tender, about 10 minutes. Add the garlic, thyme and white wine and cook until the wine has evaporated.
Whisk together the coconut milk, brazil nut butter, nutritional yeast, lemon juice, pepper, and cayenne in a bowl, then pour over the mushroom mixture and cook until heated.
Pour the mushroom mixture over the pasta in the pot, and stir to combine.
Add the parsley and mix until incorporated.
Serve!
*If you do not have brazil nut butter, you can use the same amount of raw cashew butter in the recipe.
(Visited 255 times, 1 visits today)