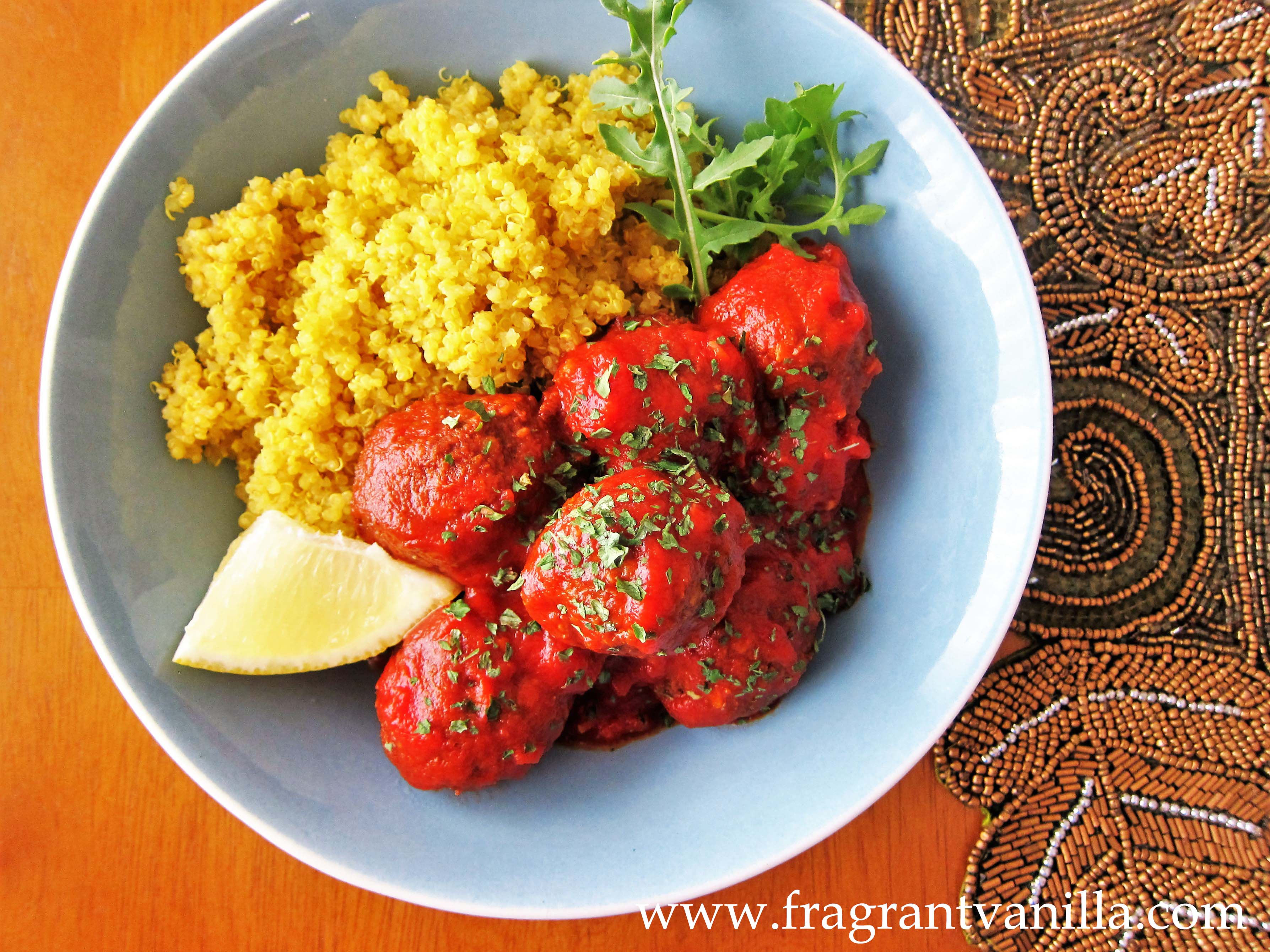 Vegan Moroccan Lentil Meatballs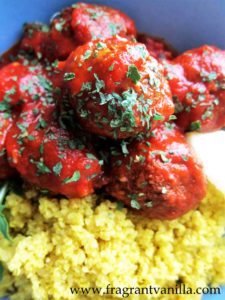 My Mom really enjoys the Moroccan meatballs at a local restaurant (she is not vegan), and she was saying recently that I should make some vegan ones.  I have made her other vegan meat balls in the past, and she actually prefers them to the ones made with meat, so I thought this would be easy, and fun!  It really was pretty simple, and I have a feeling many a meat eater could be won over with the meatballs I made.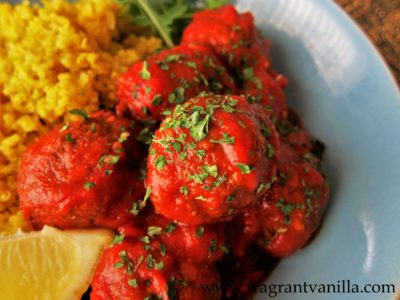 I used a lentil walnut base bound together with oats, and they turned out tender and delicious as they should be.  Not mushy or too tough at all like some plant based meatballs.  I spiced the mixture with Moroccan aromatics like cinnamon, cumin and paprika.  It was good even before I baked it, so I knew these were going to be awesome.  I made a sauce with those same flavored echoed in it.  All together, it was a delicious combination.  I served it with some saffron quinoa, and it was a lovely meal.  My Mom loved it, and said the "meatballs" were even better than the ones at the restaurant.  I love it when I can recreate a vegan dish better then the original!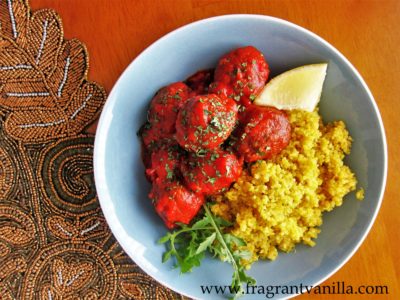 Vegan Moroccan Lentil Meatballs
Serves 4
Meatballs:
2/3 cup uncooked French lentils
filtered water
1 tsp olive oil
1 small onion, diced
2 garlic cloves, minced
2 Tbsp tamari or shoyu
1/4 cup organic tomato paste
1 Tbsp miso paste
1/4 tsp sea salt
1/2 tsp ground cumin
1/4 tsp cinnamon
1/2 tsp smokey paprika
2 cups chopped walnuts
1 cup gluten free rolled oats
Sauce:
2 tsp olive oil
1/4 cup chopped onion
2 garlic cloves, minced
1/2 tsp ground cumin
1/2 tsp cinnamon
1 tsp smokey paprika
1/4 tsp red pepper flakes
1 15 oz can diced tomatoes
1/2 cup tomato paste
3/4 cup filtered water
1/2 tsp sea salt (or to taste)
1 Tbsp maple syrup
2 Tbsp lemon juice
chopped parsley or dried parsley for garnish
To make the meatballs, add the lentils to a pot, and cover them with enough water to have a few inches above the lentils.  Bring to a simmer, and cook for about 40 minutes until the lentils are tender.  Drain, and set aside.
In a pan, heat the olive oil and onions, and cook until the onions are softened and tender, about 5 minutes.  Add the garlic and sautee a minute more until fragrant.  Add to a food processor, along with lentils, and all other meatball ingredients.  Pulse until everything is blended but not completely smooth.
Preheat the oven to 375F degrees.  Roll the meatball mixture into one and a half inch balls, and place them on a lined baking sheet. Place in the oven and bake for 30 minutes or until firm, but still soft in the middle.
Meanwhile, to make the sauce, heat the oil in a non-stick skillet, and add the onions.  Sautee for about 5 minutes until softened, over medium heat, then add the garlic and spices and cook a minute more.  Add the tomatoes, water, and sea salt, and bring to a simmer.  Cook for about 10-15 minutes until the flavors have combined.
When the meatballs have finished cooking, toss them with the sauce, and serve garnished with parsley!
(Visited 1,454 times, 1 visits today)