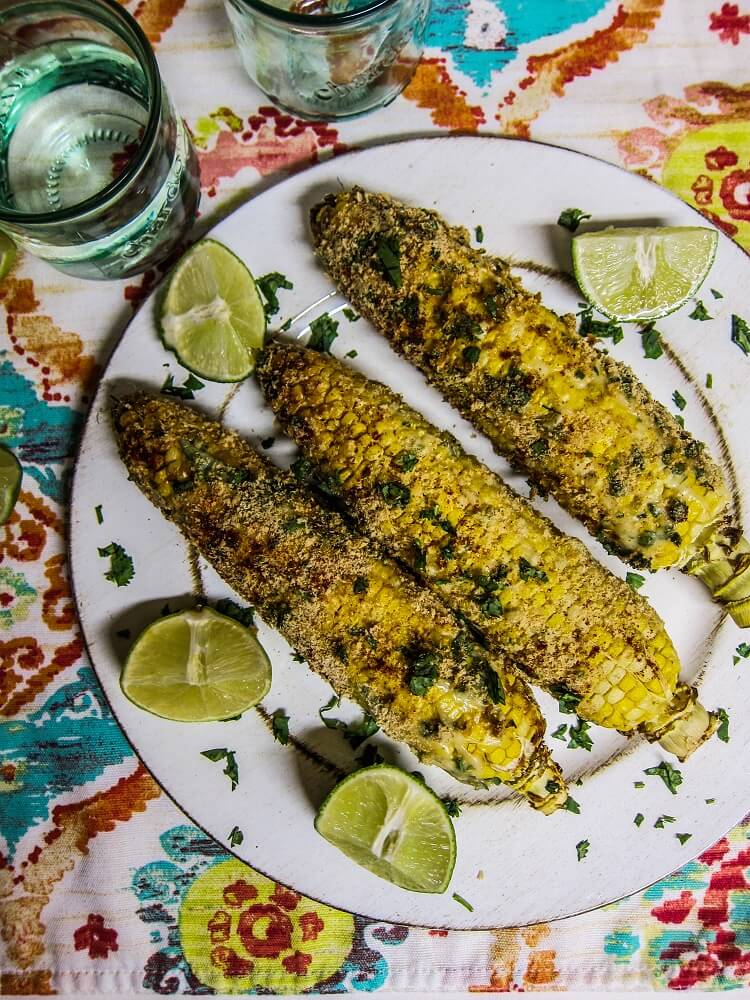 Vegan Mexican Street Corn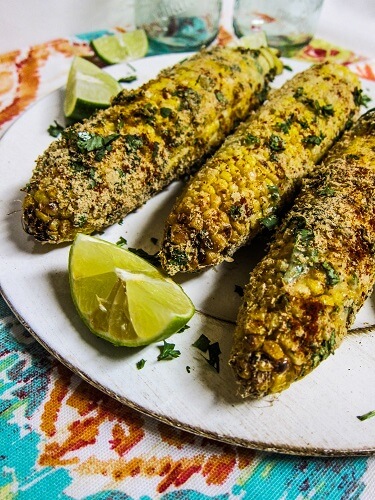 I have been wanting to make veganized Mexican street corn for a while now, and I finally decided to do so this week when I got a good deal on organic sweet corn.  You know what is really sad? I haven't had any sweet corn yet at all this year until now, and it is the end of summer!  So it was about time. What gave me the idea to make the Mexican street corn in the first place besides finding the corn on sale, was seeing someone make it in an air fryer on a show I was watching.  It seemed like a really good idea to roast corn in the air fryer. Especially when you are someone like me that doesn't own a grill.  I use my air fryer all the time anyhow, even more often than my actual oven for roasting vegetables.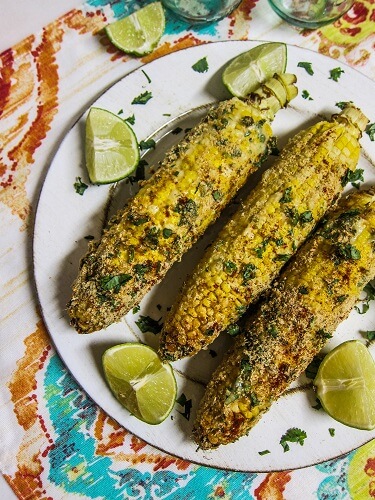 It worked out perfect for the corn!  It roasted up in about 25 minutes and it was some of the best corn I had tasted, even without the topping I put on it.  Roasting it makes it even more sweet and flavorful.  I grew up always just eating microwaved or steamed corn and it just isn't the same. Traditionally Mexican street corn has a mayonnaise mixture spread over it and it is then dipped in Mexican cheese.  Since I have always thought mayonnaise is gross and I am vegan I went about it a little bit differently.  Raw Guru recently sent me some macadamia nut butter, so I used that for the creamy element instead of the mayo.  It works similarly to raw cashew butter in things like vegan cheese sauce so I figured it would be perfect. Of course if you can't get macadamia nut butter, you could use raw cashew butter instead in this recipe.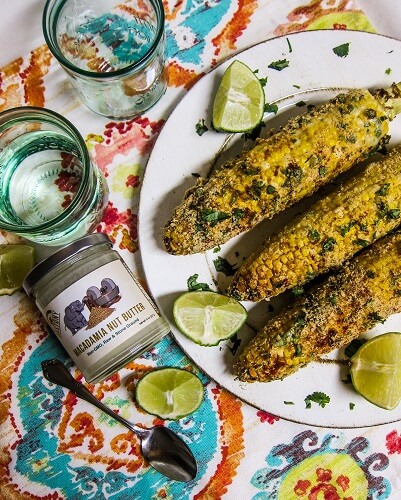 I mixed it with a little bit of lime juice, garlic, sea salt and water and it was super delicious.  Way tastier than actual mayo would ever be.  It needed something cheesy flavored for the coating as well, so I went with nutritional yeast.  It is a vegan staple after all. Also, I sprinkled a bit of cilantro and paprika over it for color and flavor and because it is traditional.  It may not be quite as pretty as the real thing but trust me it is even better tasting.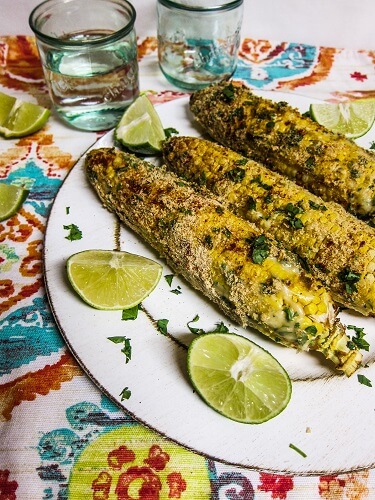 How things look isn't always most important anyhow.  This corn was bomb, and honestly some of the best tasting corn I have tried!  Trust me when I say you might just eat the whole batch of this yourself, so maybe double it if you are sharing with other people.  I think this is one dish that is perfect for enjoying the last of the sweet corn of summer with!  So get on it!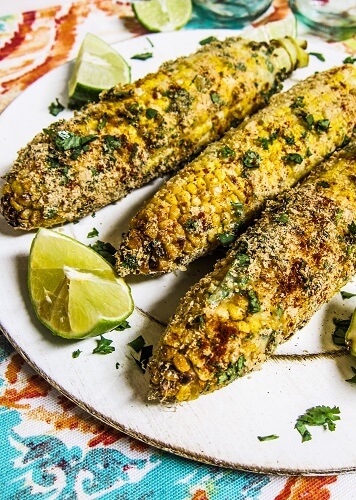 Vegan Mexican Street Corn
Makes 3
Ingredients:
3 ears organic sweet corn, leaves and silk removed, and washed
1/4 cup macadamia nut butter or raw cashew butter
1 Tbsp lime juice
1/4 tsp sea salt
1 garlic clove, minced
3 Tbsp minced cilantro
1/4 cup plus 2 Tbsp nutritional yeast
about tsp smokey paprika
Instructions:
Place the corn in your air fryer and cook at 375F degrees for 25 minutes until tender (alternatively you could use an oven and place the corn on a sheet pan, but it may take 5-10 more minutes).
Meanwhile, mix together the macadamia nut butter, lime juice, and garlic plus 1 Tbsp of filtered water (or as needed to thin it out to mayonnaise consistency).
When the corn comes out of the air fryer, brush the macadamia nut butter mixture over it, sprinkle it with the cilantro, nutritional yeast, and paprika, and serve!
(Visited 173 times, 1 visits today)