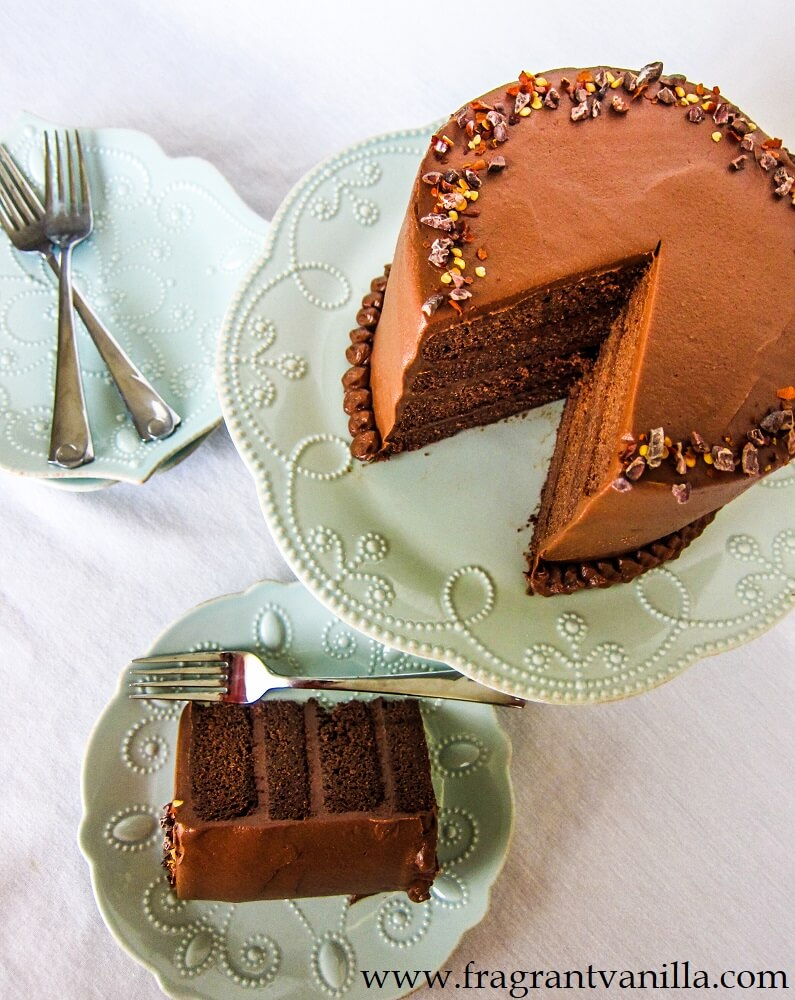 Vegan Mexican Dark Chocolate Layer Cake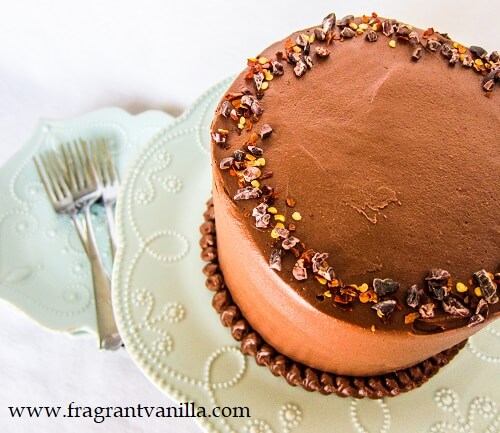 Last weekend we celebrated Eric's Birthday, and he totally lucked out because the weather has been fabulous and warm here lately and his Birthday didn't fall on Thanksgiving this year.  Some years it does and it is kind of not fair since who wants their Birthday on a Holiday when everything is closed and you can't do the things you want to.  So, this year  we visited our favorite brewery, took a brewery tour, and enjoyed one of our favorite special occasion restaurants.  I felt bad because he did have to work on Thanksgiving, so I tried to make the weekend fun.  He is my best friend and of course one of my top recipe tasters so he is super important to me.  So, I wanted him to be able enjoy himself.   His Birthday is actually today even though we celebrated it early due to having to work, and as is tradition I made him a cake.  Ever since 2012 (when we met), I have made him a cake of his choice.  Back then I was raw vegan so the first one was a Raw Mexican Dark Chocolate Turtle Cheesecake and it was heavenly!  He almost always chooses chocolate, although last year it was a Vegan Sweet Potato Bourbon Caramel Pecan Cake.  This year we decided to go for the spiced chocolate again with a Mexican Dark Chocolate Layer Cake.  It was definitely a good choice, and just the cake I would pick for him.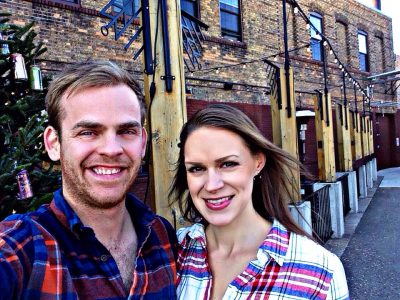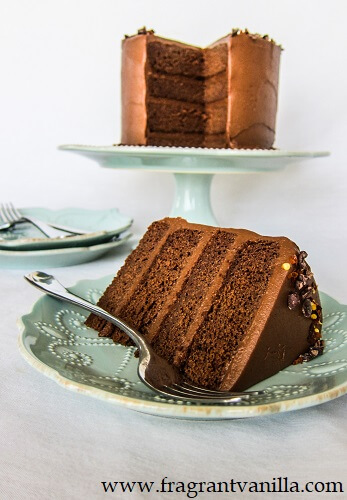 He is obsessed with hot peppers.  In fact, the first food item I ever shared with him when we first met was a small jar of habanero hot sauce.  We both appreciate that sort of thing, because he actually makes hot sauce too.  At one point we would buy a 5 lb box of habaneros at a time from the produce department at my work and share it to make hot sauces.  That kind of went by the wayside, because we are both busy, but he still asks me "what if you made (insert dessert here) with hot peppers?  I have made quite a few spicy things pairing sweets and heat for him in the past.  He recently got a pepper grinder with ghost peppers in it and we sat at the table eating dinner, both trying it and sweating.  He put way more peppers than me on his food but it was pretty comical to watch each other sweat.  That is what kind of gave us the idea for this cake.  Chocolate and spicy peppers are heavenly together.  I did not put ghost peppers in this cake though, I went for the more mild chipotle pepper because I figure you want to still be able to taste the cake as you eat it.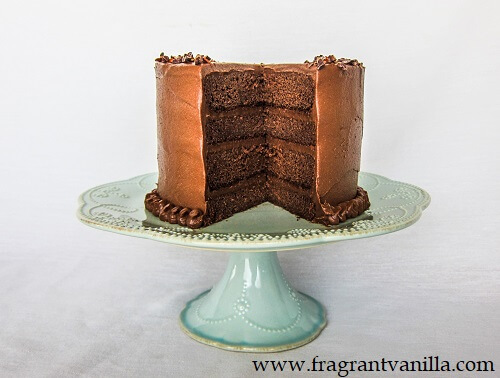 I made a decadent rich chocolate cake batter sweetened with dates and it made for a moist and delicious cake that wasn't too heavy, but just right.  I am super picky about cake consistency, and so I made sure to bake this for just the right amount of time.  Nothing ruins a cake like over baking it (or under baking it).  I had added chipolte powder and cinnamon into the batter to give it an aromatic special touch.  You could taste the spice in there, and it had a bit of heat, but not so much that you couldn't taste the rich chocolate flavor.  For the frosting, I went with a super fudgy one that is my go to for many cakes, one made with a sweet potato base.  It may sound weird but it is amazing once it is finished and tastes super rich.  So yes, this cake is actually refined sugar free, and gluten free but you would never know because it tasted amazing.  It was the perfect cake for my favorite guy on his birthday!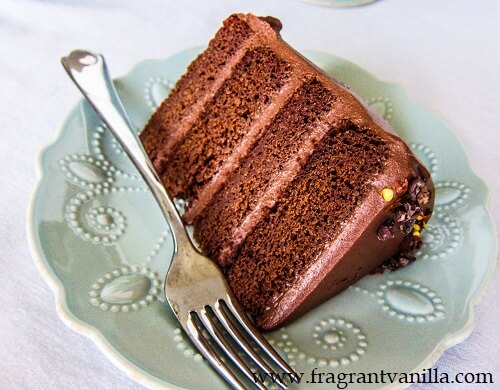 Vegan Mexican Dark Chocolate Cake 
Makes one 2 layer 6 inch cake
Ingredients:
2 6 inch cake pans
Cake:
1 1/2 cups Bob's Red Mill Gluten Free All Purpose Flour
1/4 cup cacao powder or unsweetened cocoa powder
1 1/2 tsp baking soda
1 tsp baking powder
1/2 tsp sea salt
1 tsp cinnamon
1/2 tsp ground chipotle pepper
1 1/4 cups packed soft medjool dates, pitted, soaked in water for 30 minutes and drained
1/4 cup almond butter
2 tsp pure vanilla extract
2 cups filtered water
2 Tbsp apple cider vinegar
Frosting:
1 1/4 cups mashed Japanese sweet potatoes*
1  cup soft pitted medjool dates (soaked in water for 30 minutes and drained before using if not soft)
1/3 cup almond butter
1/2 cup filtered water (or as needed)
1/2 cup unsweetened cocoa powder
1 tsp pure vanilla extract
1/4 tsp ground chipotle powder
1/4 tsp sea salt
Directions:
Preheat the oven to 375F degrees and position rack in center of oven.
Oil two 6 inch round cake pans with coconut oil and line the bottom with parchment.
Whisk flour, cocoa powder, baking powder, baking soda, cinnamon, chipotle sea salt in a large bowl to blend well.
Place dates, water, almond butter, and vanilla extract into a blender, and blend until smooth, then whisk this blended mixture into the flour mixture until well blended. Whisk in the cider vinegar until bubbles form.
Pour the cake batter into prepared pans, and place in the oven.
Bake cakes until set and a toothpick inserted into the center comes out almost clean, about 25-30 minutes.  Remove from oven, let cool completely, the un-mold them onto two plates (I like to cover mine and chill in the refrigerator for a few hours to make slicing easier).
Slice cakes in half horizontally so that you have 4 layers. Set aside.
To make the frosting, combine all ingredients in a blender and blend until smooth (adding water a little at a time if you think it is too thick).  Set aside.
To assemble, place one cake layer on a plate, and spread frosting 1/4 inch thick over it. Place the other cake layer over that, then spread more frosting, over it like the last layer.  Repeat with another layer, and top off with last piece of cake.  Spread the remaining frosting on the top and down the sides of the cake.
*I like to roast my sweet potatoes in the oven. To do so, cut them in half, and place them cut side down on a parchment lined tray.  Roast at 400F degrees for about an hour or until they are tender.  Let cool before pureeing.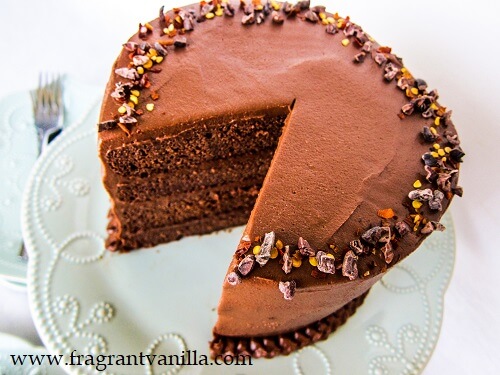 (Visited 838 times, 1 visits today)