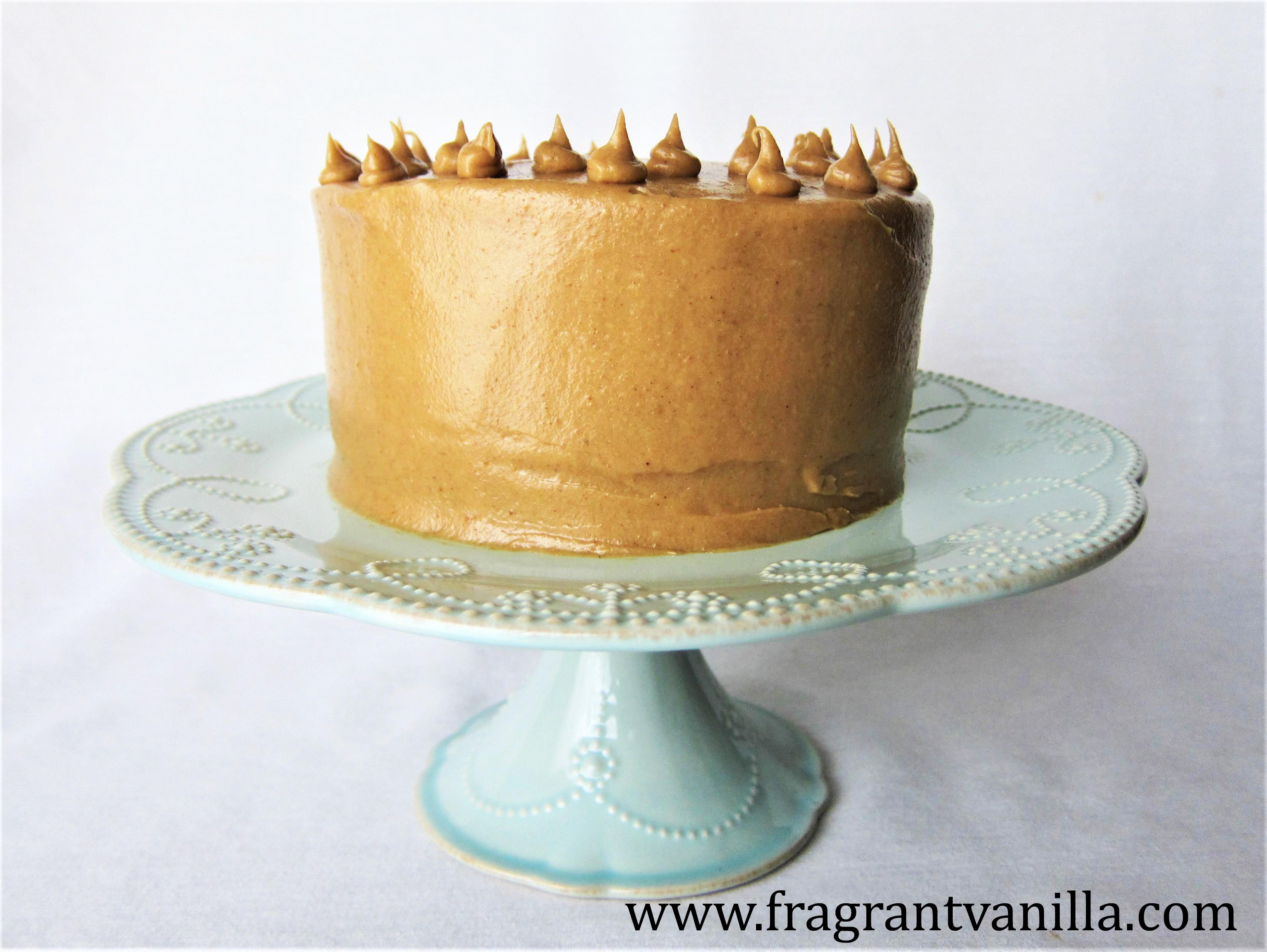 Vegan Sweet Potato Bourbon Caramel Cake
It was Eric's 30th Birthday last weekend, and that deserved a bit of celebration!  His birthday usually gets kind of lumped in with Thanksgiving some years, but not this year luckilly, so we were able to go out and celebrate!  It is not like it is warm and summery out in November, so we did some indoor things.  We have gotten into wine making lately, so we started a new batch of a flavor combination that Eric created, we hit up a local brewery for some beer tasting, and went to dinner at one of our favorite restaurants.  But of course, the weekend involved involve cake being made as well.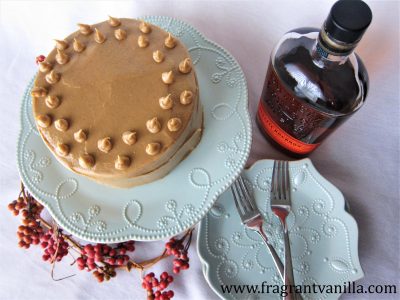 This year he said he wanted a bourbon caramel cake.  I was kind of shocked that he didn't want chocolate this year, because it has always been something chocolate in the past, but I am happy to make whatever he wants, so bourbon caramel it was!  It sounded delicious to me as well, and I haven't made anything of that sort in a while.  I bought some vegan bourbon, which we had to taste and make sure it was good before using it in the cake...and it was!  So I got to work!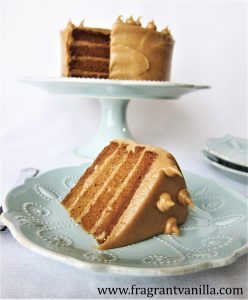 For the cake layers, I added in sweet potato along with my usual caramel cake batter to keep the cake moist and delicious.  What makes the cake caramel flavored is the dates that sweeten it.  It may sound odd to some to add dates instead of some sort of sugar but it is darn delicious and this is actually my go-to way of making cakes.  They keep the cake moist as well.  I use pecan butter in place of oil usually too, because it gives it that subtle something extra, but if you do not have pecan butter, almond butter would work here as well.  The cakes baked up beautifully, and I knew this was going to be good!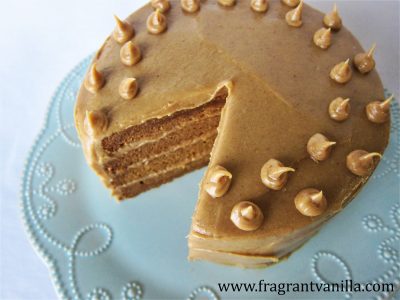 For the frosting I used an idea I saw over at Feasting On Fruit that was just genius to use Japanese sweet potatoes in frosting.  Hers was vanilla, and mine was caramel, but the sweet potatoes did the trick!  I blended them up with dates and pecan butter to give it a caramel flavor. I added a splash of bourbon and vanilla to the frosting as well, and it was good stuff!  Like the type of good stuff you could eat with a spoon...but I had to save it for the cake!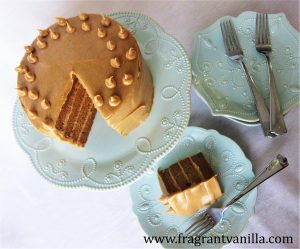 It frosted up beautifully, and tasted even better once assembled.  Sweet and caramelly with a hint of bourbon (I lightly brushed the cake layers with it too) and nice and moist and light thanks to the sweet potatoes.  It was definitely worthy of Eric's Birthday!  I hope his 30th year is his best ever!  This cake is a wonderful Fall and Winter cake, and I think it would be perfect for any Holiday celebration!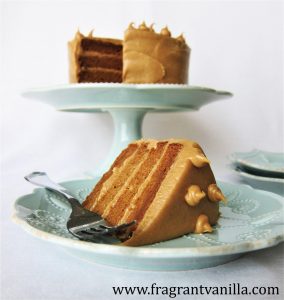 Vegan Sweet Potato Bourbon Caramel Cake
Makes 1 6 inch 2 layer cake
Ingredients:
Cake:
1 1/2 tsp baking soda
1 tsp baking powder
1/2 tsp sea salt
1 cup packed soft medjool dates, pitted, soaked in water for 30 minutes and 1/2 cup of the water reserved
1/4 cup raw pecan butter or raw almond butter
1 Tbsp pure vanilla extract
1 cup sweet potato puree
2 Tbsp apple cider vinegar
Frosting:
1 1/2 cups pitted medjool dates, soaked in water for 30 minutes
2 cups mashed Japanese sweet potato*
1/2 cup raw pecan butter (or raw almond butter)
1/4 tsp sea salt
2 Tbsp bourbon**
2 tsp pure vanilla extract
bourbon for brushing cake layers**
Directions:
Preheat the oven to 375F degrees and position rack in center of oven. Line two six-inch-diameter cake pans with 2-inch-high sides with parchment paper. Coat parchment paper and pan sides lightly with oil so that the cake doesn't stick and line the bottom of the pan with a piece of parchment fit to the pan.
Whisk flour, baking powder, baking soda, and sea salt in a large bowl to blend well. Place dates, reserved water, pecan butter, sweet potato puree, and vanilla extract into a blender, and blend until smooth, then whisk this blended mixture into the flour mixture until well blended. Whisk in the cider vinegar until bubbles form.
Transfer cake batter to prepared pans and bake cakes until tester inserted into center comes out clean, about 25 minutes.
Remove from oven and cool cakes completely in pan on rack, about 1 hour. Cut around sides of pan to loosen. Turn cakes out onto platter; peel off parchment paper. Slice into 4 layers (being careful not to break them, I like to refrigerate first to make it easier), cover (so that they don't dry out), and set aside.
Meanwhile, to make the frosting, combine all ingredients In a high speed blender, and blend until smooth.
To assemble, place one cake layer on a plate, brush with about 1 Tbsp bourbon, and spread frosting 1/4 inch thick over it.  Place another cake layer over that, brush with another Tbsp bourbon, and spread more frosting on it, then top with another cake layer and repeat. Place the remaining cake layer over that, then spread the remaining frosting on the top and down the sides of the cake.
*I baked mine until tender and scooped out the flesh.  You can also use regular sweet potato, but the Japanese makes for a lighter sweeter frosting.
**I used Bulleit Bourbon, because it is vegan. 
Check Barnivore
to find out if yours is.
***if you would like a 2 layer 9 inch cake, double this entire recipe and bake in two 9 inch cake pans.
(Visited 654 times, 1 visits today)