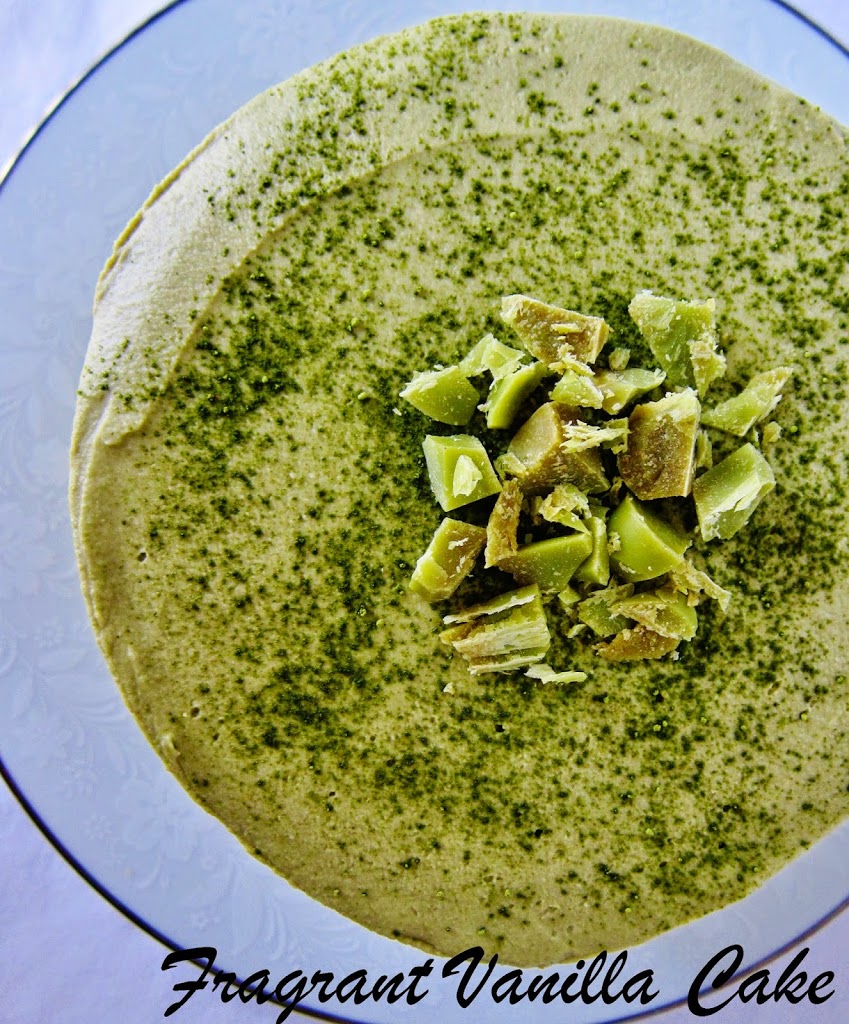 Vegan Matcha Pear White Chocolate Layer Cake (gluten free)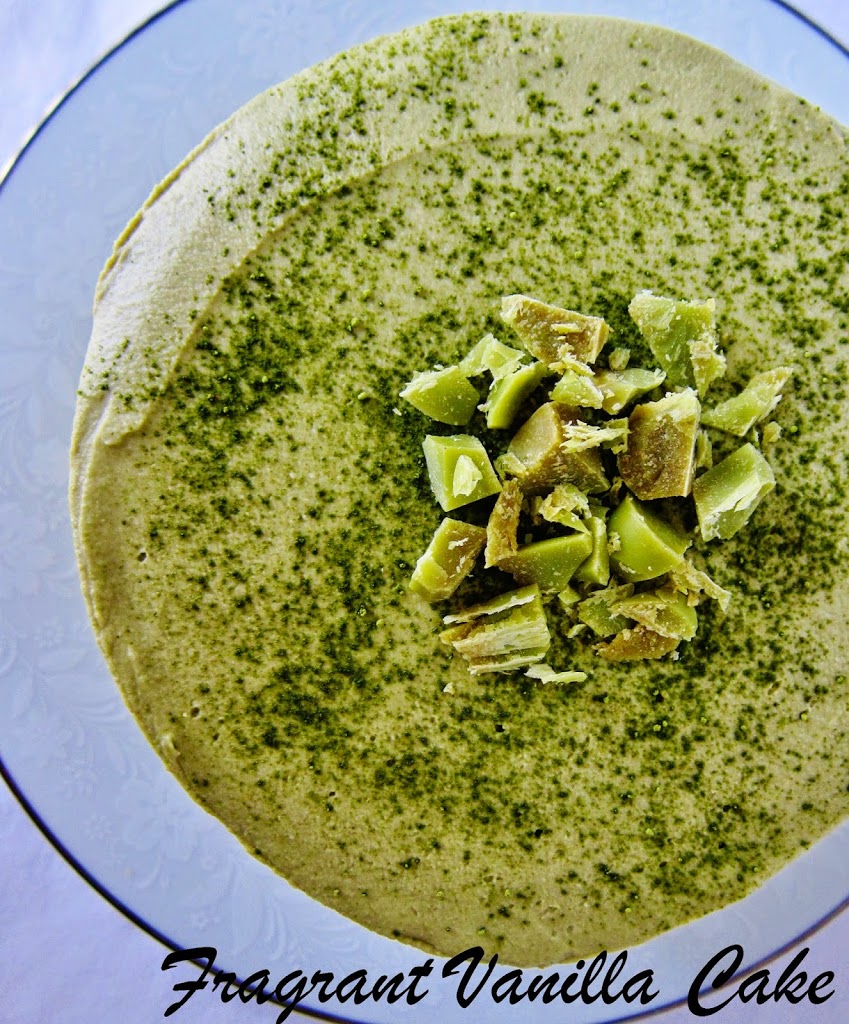 I love everything about matcha.  Its earthy aroma and flavor, its beautiful green color, and how wonderful it goes with sweet things.  Although I am perfectly happy with my matcha lattes, I am a big fan of allowing it to be the star in other things as well. Some of my favorite things to pair it with are chocolate, both white and dark, almonds, and certain fruits.  I have made some things with banana and matcha and that was an amazing combination, but recently I tried pear and oh boy was it wonderful.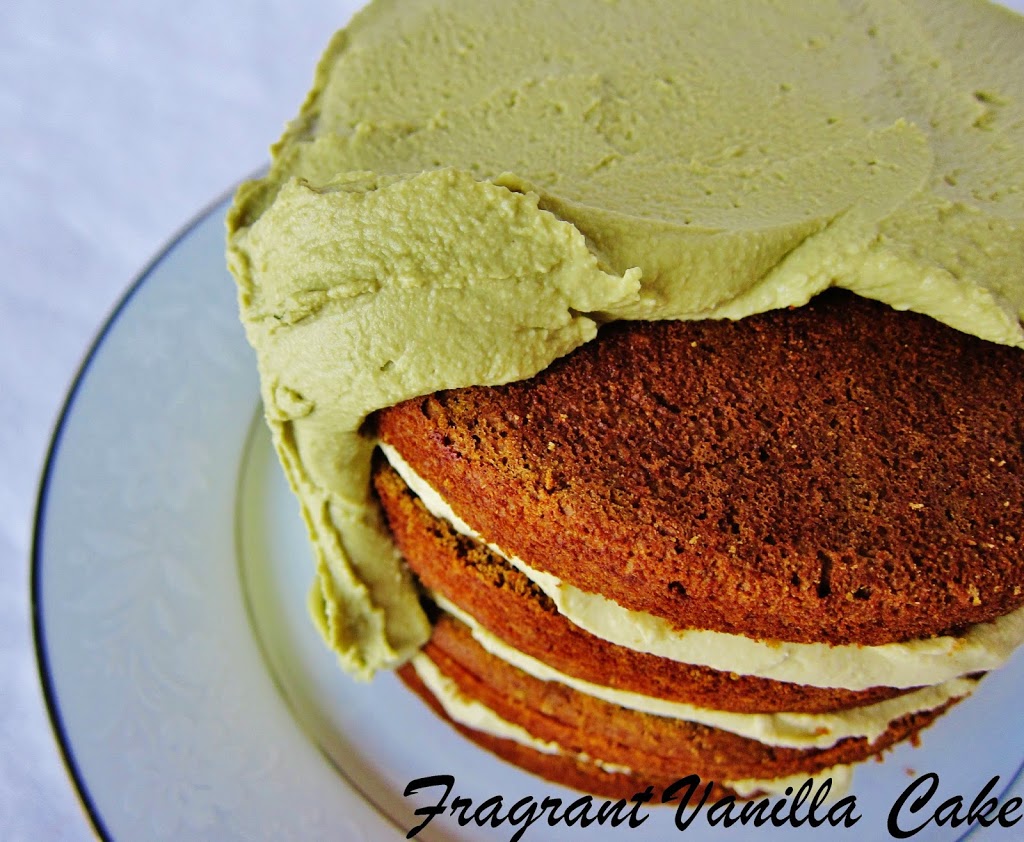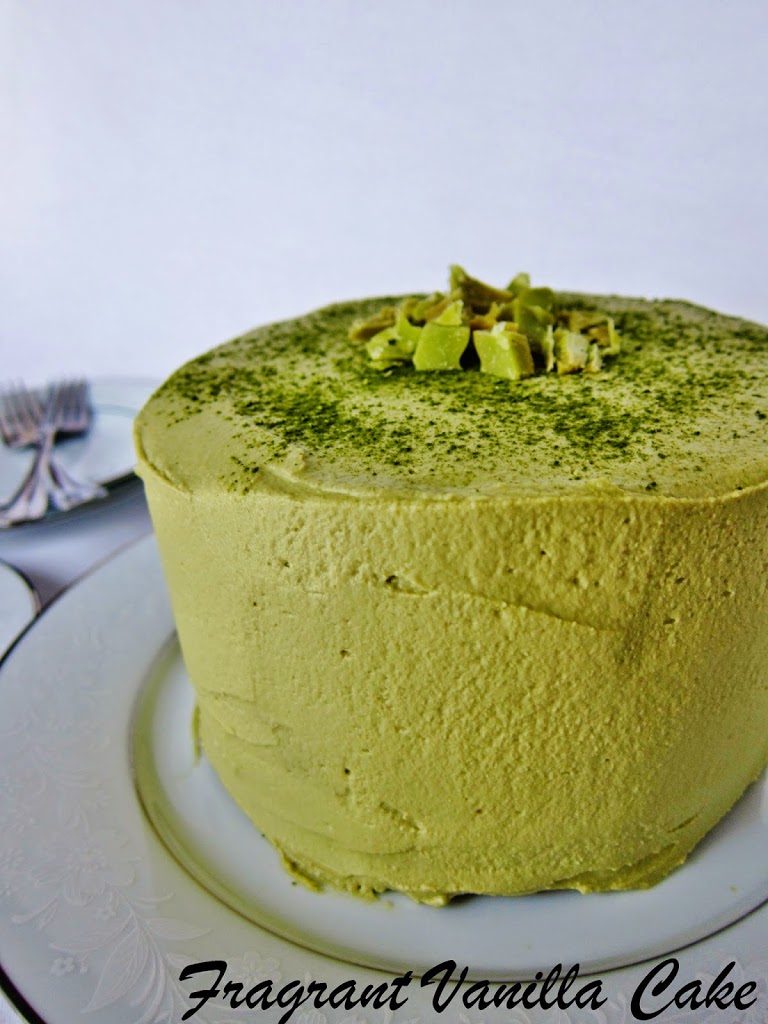 I tend to make things based on what I have on hand, and last weekend I knew I wanted cake, and I knew I wanted to include matcha.  But the other components had not fallen into place yet.  I was thinking about it all day at work on Saturday and then finally when I was shopping for my groceries afterwards I saw the perfectly ripe pears. They were calling my name.  They sounded so good to me at that moment.  So...I thought why not pair the matcha with the pears in a cake?  Maybe add in a little white chocolate in the frosting for good measure too!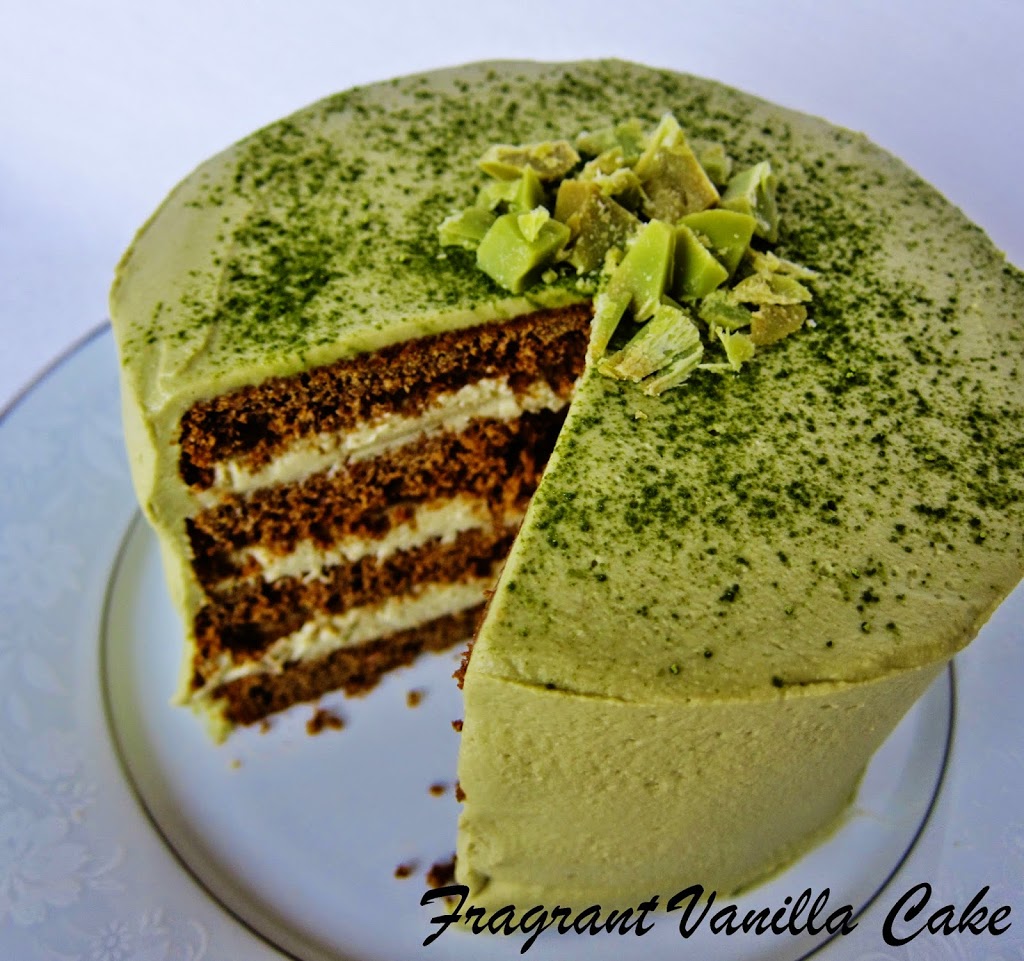 I was excited about this one!  I love trying new flavor combinations and this one was going to be wonderful, I could feel it.  For the cake batter, I added pureed pears to keep it moist once baked, and a bit of earthy matcha as well not wanting to limit it just to the frosting.  It smelled amazing and I needed to make a frosting that was just as much so.  I did not have any young coconuts at the time, and I know you all sometimes appreciate when I use easier to find things in my recipes so I went with organic coconut milk for the creamy part of the frosting along with coconut butter to thicken pureed pears.  Adding pears to frosting?  Yes!  It worked too, adding extra sweetness and bulk without being entirely coconut or having to add cashews.  So I kept this nut free as well.  Some cacao butter also made its way into the frosting to give it a hint of white chocolate along with the earthy matcha and it was heavenly.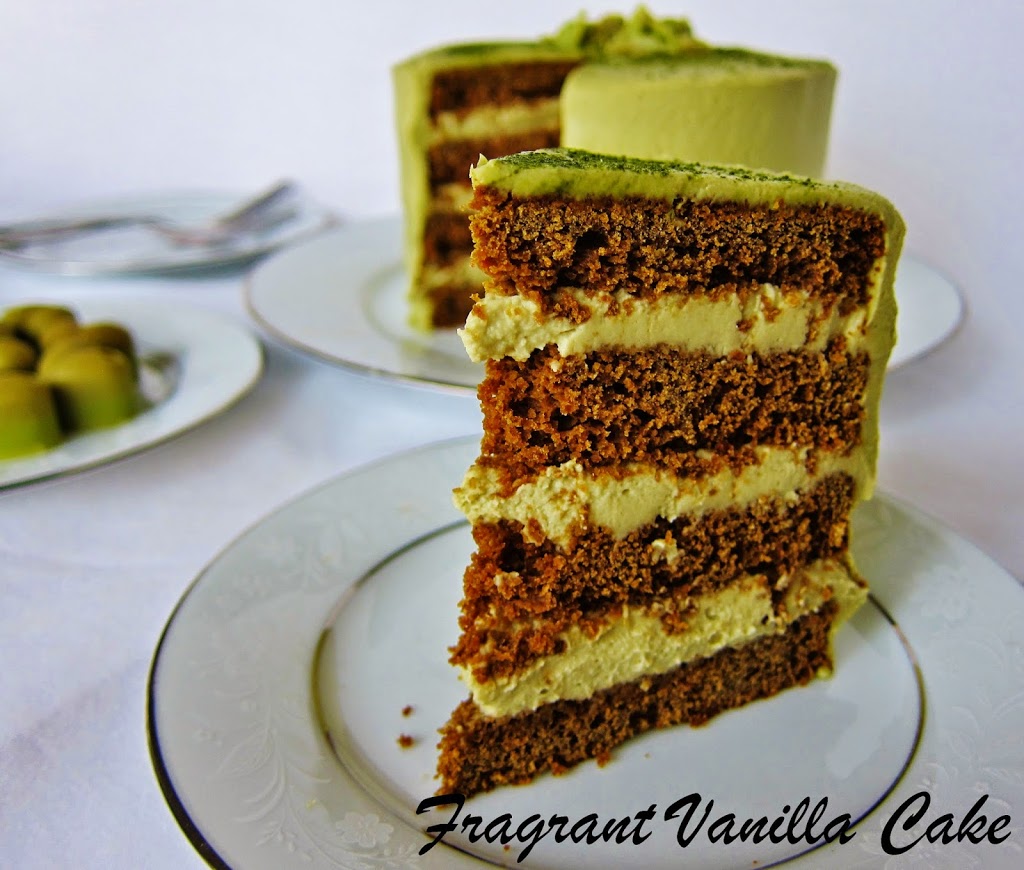 I could have eaten that frosting in a bowl with a spoon like mousse, but I thought it would be better to clothe the cake with it. I loved the color this cake turned out, a light mossy green that made me long for spring and warmer weather and a walk through the forest.  It tasted simply heavenly, the sweet pears and white chocolate in the frosting perfect flavors for the earthy matcha to play with.  I topped it off with some of my matcha white chocolates just because.  Trust me, if you are matcha obsessed like me, you need to make this for yourself.  It will put you in your happy place!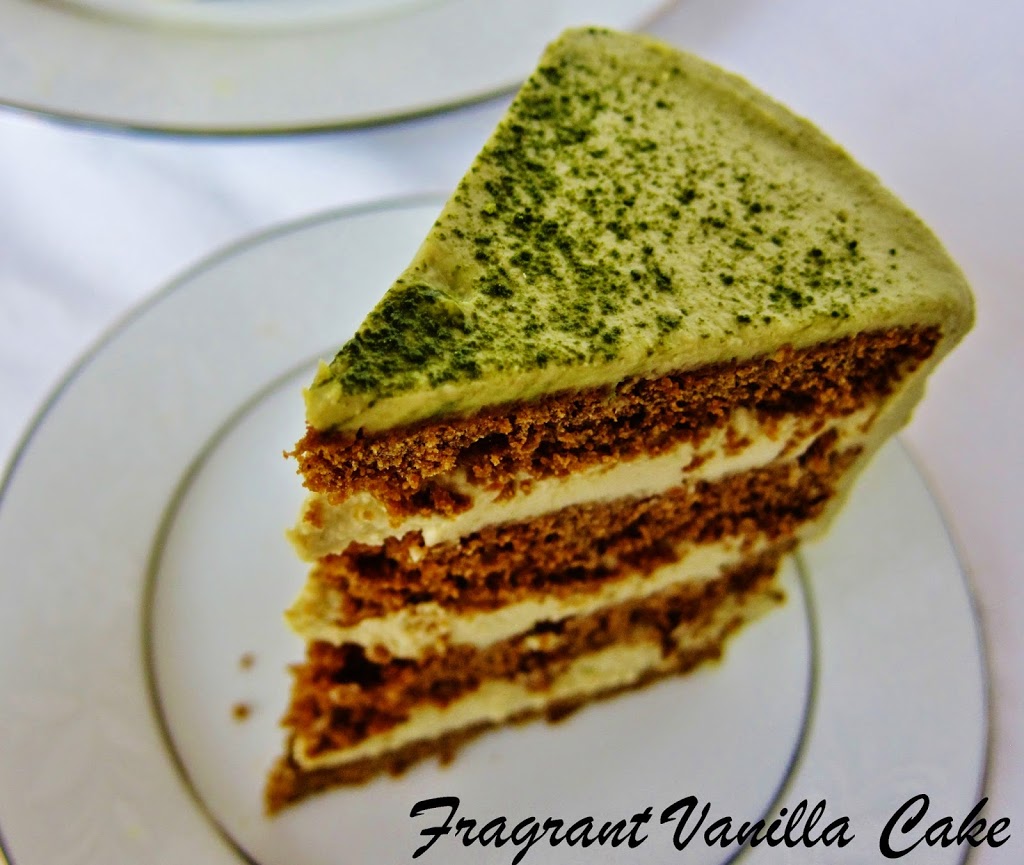 Vegan Matcha Pear White Chocolate Layer Cake (gluten free)
Makes 1 6 inch 4 layer cake
2 6 inch cake pans
1 1/2 cups All Purpose Gluten Free Flour (or GF oat flour works here as well)
1 tsp baking powder
1 tsp sea salt
2 Tbsp matcha powder
1 cup pureed fresh pear
1/4 cup virgin coconut oil
1 Tbsp pure vanilla extract
1/4 cup + 2 Tbsp light coconut milk at room temperature
2 Tbsp apple cider vinegar
Frosting:
2 cans organic full fat coconut milk, chilled
2 cups peeled, diced fresh pears
3/4 cup raw coconut nectar, maple syrup or agave nectar
1/2  tsp sea salt
2 Tbsp matcha powder
2 tsp pure vanilla extract
1 1/4 cups 
coconut butter
, warmed to liquid
1/3 cup raw cacao butter, warmed to liquid**Garnish:
Matcha powder
Chopped
Raw Matcha White Chocolates
Preheat the oven to 375 degrees and position rack in center of oven. Line two six-inch-diameter cake pans with 2-inch-high sides with parchment paper. Coat parchment paper and pan sides lightly with coconut oil so that the cake doesn't stick and line the bottom of the pan with a piece of parchment fit to the pan.
Whisk flour, baking soda, sea salt, sugar and matcha powder in a large bowl to blend well.
Whisk oil, coconut milk, and vanilla extract together in small bowl to blend well, then whisk into the flour mixture until well blended. Whisk in the cider vinegar until bubbles form.
Transfer cake batter to prepared pans and bake cakes until tester inserted into center comes out clean, about 25-30 minutes.
Cool cakes completely in pan on rack, about 1 hour. Cut around sides of pan to loosen. Turn cakes out onto platter; peel off parchment paper. Let cool completely, then place in the fridge to chill until very cold to make slicing easier. When chilled, slice cakes horizontally in half so that you have 4 layers.
Meanwhile, to make the frosting, combine all ingredients but the coconut butter and cacao butter in a high speed blender or food processor and blend until smooth.  With the motor running, add the coconut butter and cacao butter and process a minute more.  Pour the frosting into a bowl and let sit in the freezer until the consistency of whipped cream (this may take anywhere from 1/2 hour to an hour depending on how warm it has gotten).
When ready to frost, place one cake layer on a plate. spread frosting about 1/2 inch thick over the first layer, then top with the second.  Repeat the frosting, then another cake layer, then more frosting then the last cake layer. Spread frosting over the top and down the sides of the cake.  Dust the top of the cake with matcha (I put mine in a fine meshed strainer and tapped it over the top) and matcha white chocolate if desired.  Store cake in the fridge.
**If you can not get cacao butter, you can substitute more coconut butter or coconut oil.
(Visited 350 times, 1 visits today)