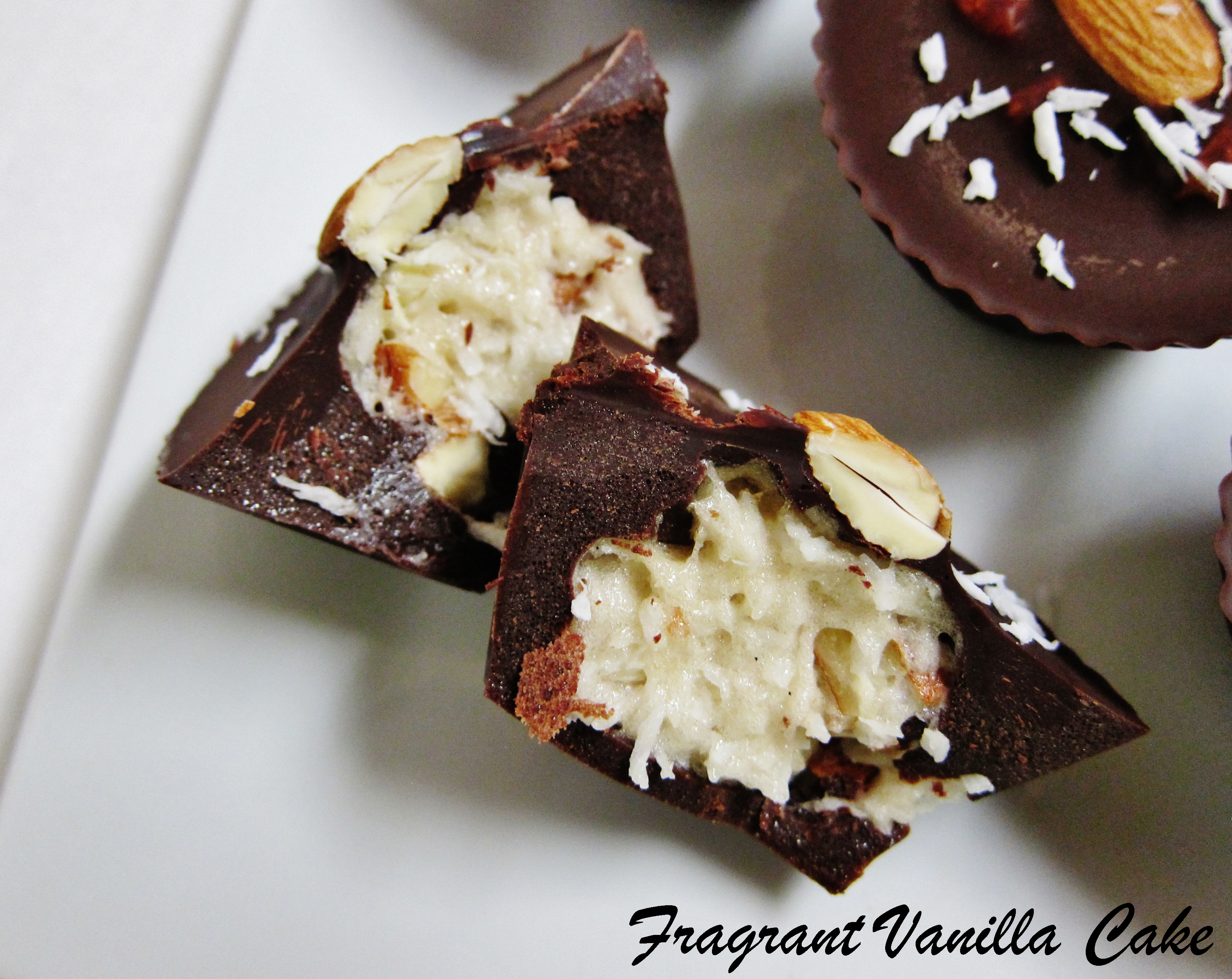 Vegan Marshmallow Coconut Almond Cups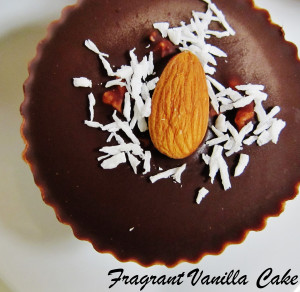 I always get suggestions from family and friends on what I should veganize or make, and a few weeks back, Eric suggested Cup O Gold candy. My first reaction was, "What the heck is that?  I have never heard of it!" I had to google it.  They sounded good, chocolate cups with marshmallow coconut almond filling.  Hmm, that was doable.  Turns out the reason I had not heard of them is they are sold on the West side of the US...so kind of foreign to this Minnesotan. Funny how some candy is regional.  If you ask a Minnesotan about Nut Goodies, we definitely know what you are talking about...but Eric had never heard of them because he is from Arizona originally.
So, anyways, back to the Cup O Gold.  I decided to just call them marshmallow coconut almond cups, because these are my vegan version and I am not sure if they were made like the originals because I have never had one.  But Who cares.  These were delicious and that is all that mattered.  I was not going to turn down a request from Eric for something delicious. I made my aquafaba marshmallow fluff to fill them, which I never would have thought possible a year ago before I discovered the stuff.  Total game changer for vegan s'mores.  Anyways, the fluff plus coconut and almonds was totally delicious.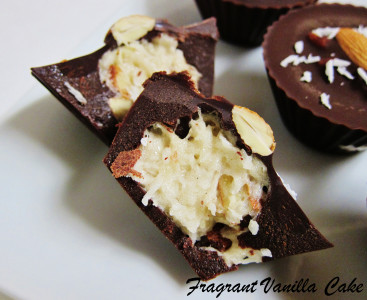 Even better once I covered it in chocolate.  Talk about a heavenly combination! Eric does have some brilliant ideas for recipes once in a while, that is why I keep him around.  Just kidding, love you Eric (for more than just that)!  If you are a marshmallow fan, definitely put these on your list of things to make.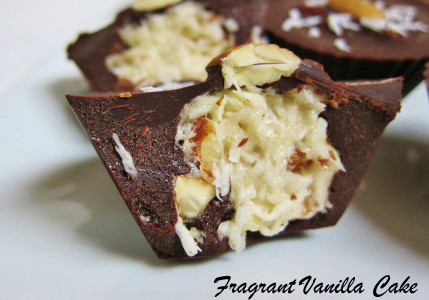 Vegan Marshmallow Coconut Almond Cups
Makes 12 large cups
Chocolate:
1 cup raw cacao butter or raw coconut oil, warmed to liquid
1 cup raw cacao powder
1/2 cup organic maple syrup or raw coconut nectar
a pinch sea salt
Marshmallow Filling:
1/2 cup reduced aquafba*
1 tsp guar gum or xanthan gum
1/2 cup granulated xylitol or granulated coconut sugar*
1 tsp pure vanilla extract
pinch sea salt
1/4 cup chopped almonds
1/3 cup finely shredded, dried coconut
To make the chocolate, whisk all ingredients together until smooth, and set aside.
Lay out 12 PB cup tins (not the mini ones, the larger candy size) or molds on a flat cutting board or tray, and fill them about 1/3 full with the chocolate.  Place them in the freezer to set about 5 minutes.
For the marshmallow fluff, in a food processor (which is what I used, or you may use a stand mixer with a whisk attachment), whip up the aquafaba until it has reached peaks. This will take about 2 minutes in the food processor.  Add the guar gum and process until incorporated.  Add the sea salt and sugar and with the motor running, a little at a time through the feed tube (so you do not deflate it), then allow to process until the sugar is completely dissolved and the meringue is smooth, shiny and thick.  Add the vanilla, and blend until uniform in color. Fold in the almonds and coconut.
Once the chocolate in the molds is set, spoon about 1 heaping tsp of filling mixture onto each, but not so much that it oozes to the sides (you want to be able to cover it with more chocolate and not have it stick out the top).  Spoon chocolate over each mound of marshmallow enough to cover and fill to the top of the tins (You may have extra).  Place in the freezer to set for about 15-20 min. to set.  Enjoy!
*  Aquafaba is the liquid from cooked or canned chickpeas (you want it to be the consistency of egg whites when cooled, if it is too thin, reduce it in a pan until it is thicker.)
**Xylitol is toxic to dogs (like chocolate is), so do not feed the marshmallow to your dog if you are using it.  If using the coconut sugar, the marshmallow will be more brown in color.
(Visited 73 times, 1 visits today)