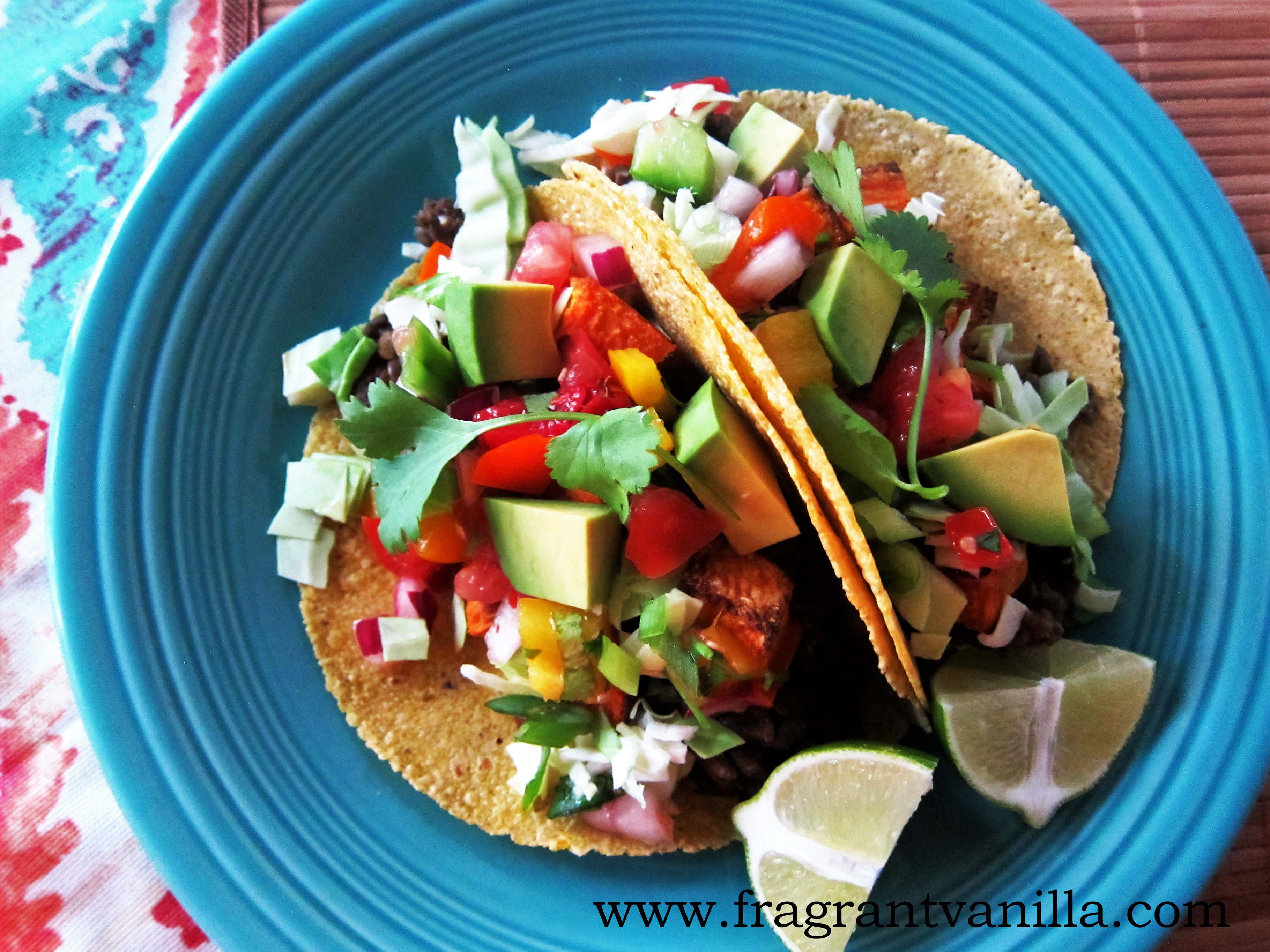 Vegan Lentil, Mushroom Yam Tacos
I had a really bad day a few Fridays ago.  I was feeling kind of tired and out of sorts because I was fighting off getting sick and at work and was sort of out of balance, I dropped a large can (like 96 oz can) coconut milk in the cooler (I work in a deli). It fell in such a way that it spilled down 3 shelves and their contents, all over the wall, the ladder rack next to the shelves, and the floor.  It was an uber mess.  I haven't made a mess that bad in a long time, and certainly not outside my own home.  I felt so bad, and wanted to cry, and at the same time was in a state of shock.  That just sort of threw a wrench in my day (and I am sure my coworker's days) to clean up the mess.  But it got cleaned up, and people were nice about it (although I am still catching crap for it a week later). I just have to laugh at myself looking back.  Anyways, that was how my work day went.  I got off work, and I checked my Instagram, and I saw that I had won $100 from US Bank in their #Extra100MN contest (you post a photo and say what you would do with an extra $100 this month).  My photo that won was one of my vegan desserts, and I said I would like to use the extra 100 dollars to make some more vegan goodies and desserts (because that is what I do, but I don't always have a lot of money to do so).  Winning that was a highlight to an otherwise bad day, it was like God was trying to tell me, "Hey, its alright, cheer up and forget the bad stuff.  I will take care of you".  So, my day went from kind of sucky to good.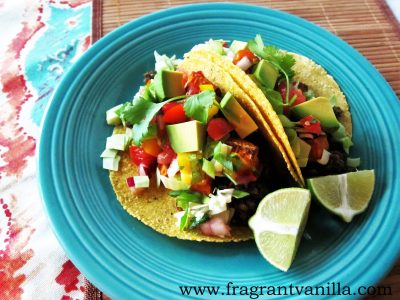 So, I got this gift card in the mail, and I am going to be posting a few fabulous desserts I made with some of it, but of course I had enough to buy several special recipes worth of food, so I did.  I have been wanting to make tacos for a long time, but the truth is I thought all of the ingredients would add up and be too expensive so I kept putting it off.  Yes, I know on their own maybe the ingredients arent a lot, but when you add up things like tomatoes, avocados, bell peppers etc, when you are not able to get to a farmer's market and don't grow them it is spendy sometimes especially organic. I am on a budget after all, and I try not to splurge a lot.  So, this was my chance to make those tacos with the little extra money.  I have been craving tacos for a while, so I was excited about this.  Yes, it took a little time to prepare them, but this was my after work project.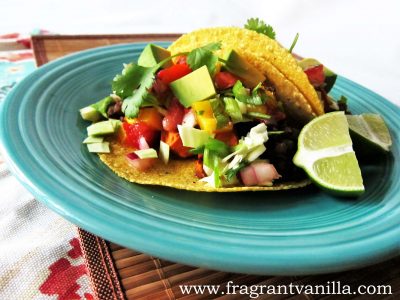 They were non-traditional. But you know what?  I didn't care, because I am a Minnesotan and the Mexican food up here isn't always traditional. Plus, I cook with what is available, and what tastes good to me.  Eric who is from Arizona and loves traditional Mexican food always gives me crap about the non-traditional tacos etc. I make so I had to mention that. But I know he secretly loves it anyhow.  I made lentil mushroom taco filling, topped it off with roasted sweet potatoes (one of my favorite things in the world), and some more traditional things, like salsa, cabbage and avocado.  All served on sprouted corn tortillas.  They were wonderful.  It was worth all of the work to prep for them, and honestly, we got 2 meals out of them, because it made enough for two days (and we both like to eat, so the servings were generous).  You have no idea how happy this meal made me.  So, thank you US Bank for the $100.  And I will be sharing the other recipes I made with it soon.  And the moral of the story, if you are having a bad day pray about it.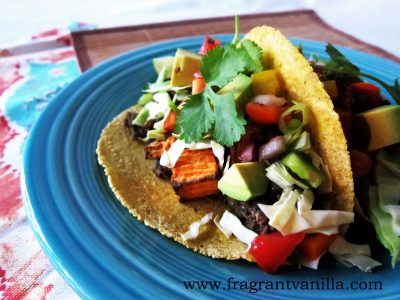 Vegan Lentil, Mushroom Yam Tacos
Serves 4
Salsa:
3 medium organic tomatoes
2 bell peppers, diced
1 small red onion, diced
1 jalapeno, minced
1 clove garlic, minced
juice and zest of 2 limes
1/4 cup chopped cilantro
sea salt to taste
1 tsp red pepper flakes
Combine all ingredients together in a bowl, cover and refrigerate for a few hours (or overnight) to let the flavors combine.
Yams:
3 small garnet yams, cut into large dice
olive oil
sea salt
Preheat the oven to 375F degrees. Toss the yams with olive oil and sea salt and spread out on a sheet pan. Roast for 1 hour to an hour or so until they are tender and starting to brown at the edges. Set aside.
Taco Filling:
1 cup green lentils
filtered water
2 tsp olive oil
1 cup sliced mushrooms
1/2 cup minced onion
1 garlic clove, minced
2 tsp chili powder
1 tsp ground cumin
1/4 tsp sea salt
In a pot, combine the lentils and just enough water to cover them by a couple inches, and bring to a boil. Lower to a simmer, and cook for about 40 minutes until tender. Drain and set aside. Heat the olive oil in a pan, and add the mushrooms and onions. Sautee for a few minutes until the mushrooms have softened, then add the garlic, and spices, and sea salt, and sautee until fragrant. Set aside until ready to assemble.
For assembly:
8 sprouted corn tortillas, warmed
1 1/2 cups shredded cabbage
2 diced avocadoes
Spoon some of the lentil filling mixture into the taco shells, top with some sweet potatoes, a little salsa, cabbage, and avocado. Enjoy!
(Visited 154 times, 1 visits today)