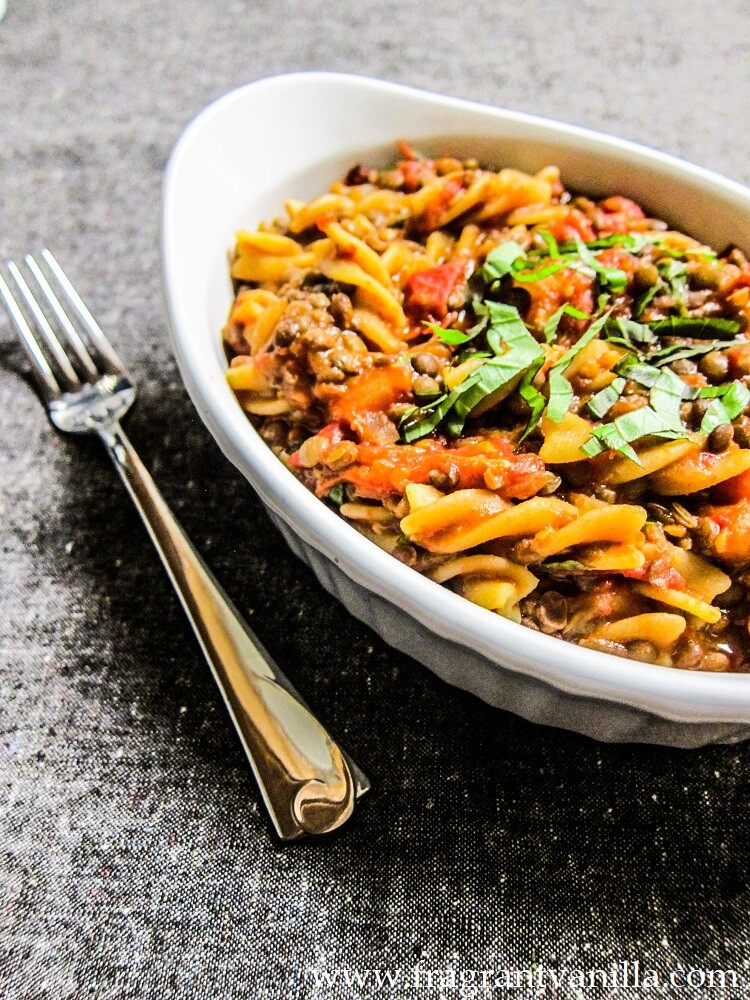 Vegan Lentil Goulash
Goulash is a classic comfort food that many American families had in their recipe box growing up. But my Mom did not cook that sort of thing.  She was never really a big fan of hamburger helper type things, and I can totally understand why as ground beef never usually appealed to me either growing up.  But I did however eat some really good goulash at the Church daycare I went to when I was in elementary school.  Those lunch ladies who made the goulash were amazing cooks, and although the goulash was nothing special to look at, it was super delicious.  It was flavorful, hearty and had plenty of veggies along with the beef.  If Grandmas across the country made goulash like that, I can see why people liked it, and I can see how it would be something easy and economical to make for a big family. I had not even thought about that goulash lately, I mean it has been over 14 years since I even ate beef, but I was recently discussing what was in goulash with a coworker.  Which made me think to myself, I should make a vegan version!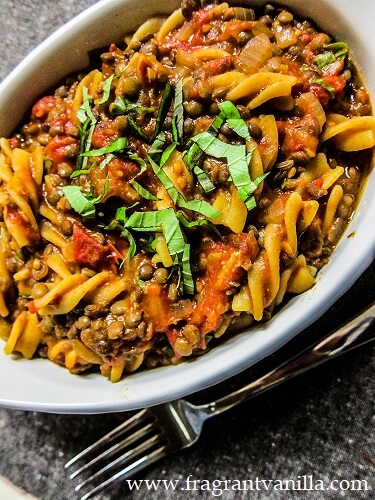 I am a big fan of healthy comfort foods, and I figured I could swap out the beef for lentils instead.  Even if you are not a vegan, I think you could be a fan of the health benefits of this swap.  After all, lentils are packed with fiber, and lower your risk for heart disease where as beef increases your risk.  I try to have lentils at least 3 times a week for dinner.  I admit they used to intimidate me because they looked weird to me when I first became vegan, and I had been just eating beans up until then, but then I tried some amazing Indian food with them and I was hooked.  I started experimenting with them in recipes and came to love their flavor, texture and the fact that they cooked faster than beans. So back to that goulash...they were the perfect swap for the beef!  I made a flavorful tomato sauce with tomatoes from my Grandpa's garden that I had roasted.  If you have fresh tomatoes from the garden I highly recommend doing this, they are so good that way.  I combined them with Italian herbs, bay leaf, and alliums, and let it simmer for a while to let the flavors get all happy and delicious together.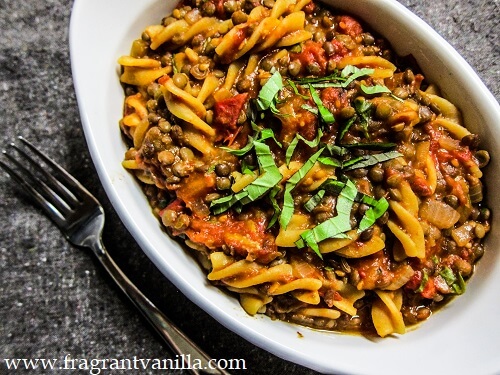 I then added in some lentils I had cooked, along with some gluten free chickpea fusilli and it was as simple as that!  A big pot of comfort food!  It was super delicious, rich in flavor, no greasy meat, and loads of yummy tomatoes. I shared some with Eric and he approved as well. If you were a fan of goulash growing up and want to enjoy it without the beef, give this recipe a try!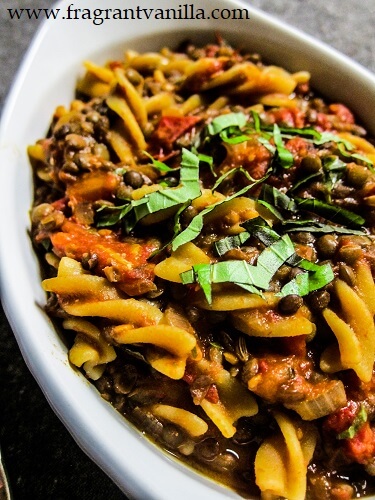 Vegan Lentil Goulash
Serves 3
Ingredients:
2/3 cup French lentils
filtered water
1 tsp olive oil
1/4 cup diced red onion
1 garlic clove, minced
1 tsp dried basil
1/2 tsp fennel seed
1 tsp dried oregano
1/4 tsp red pepper flakes
1 Tbsp tamari
3 cups crushed canned tomatoes or fresh roasted*
bay leaf
filtered water as needed
1 Tbsp cider vinegar
sea salt
4 oz gluten free fusilli pasta or macaroni pasta
Instructions:
To cook the lentils, place in a pot and cover with filtered water by 3 inches.  Bring to a boil, then lower to a simmer and cook for 20 minutes or until the lentils are tender.  Drain, and set aside.
Heat the olive oil in a medium pan. Add onions, and sauté until tender.  Add the garlic, tomatoes, bay leaf, herbs, tamari, pepper, vinegar, and filtered water as needed.  Bring to a simmer, and allow to cook until the tomatoes are very soft and the flavor has melded, about 15-20 minutes. Add the lentils and allow to heat through, taste for seasoning and add more salt if needed.  Meanwhile, cook the pasta according to package directions, and drain. Mix the pasta into the lentil mixture, and serve.
*To roast the tomatoes, cut them into 2 inch wedges, and spread them out on a parchment lined baking sheet.  Place in a 400F degree oven and roast for about 30-45 minutes until tender and starting to brown at the edges. Remove from oven and you are ready to use them in this recipe.
(Visited 567 times, 1 visits today)