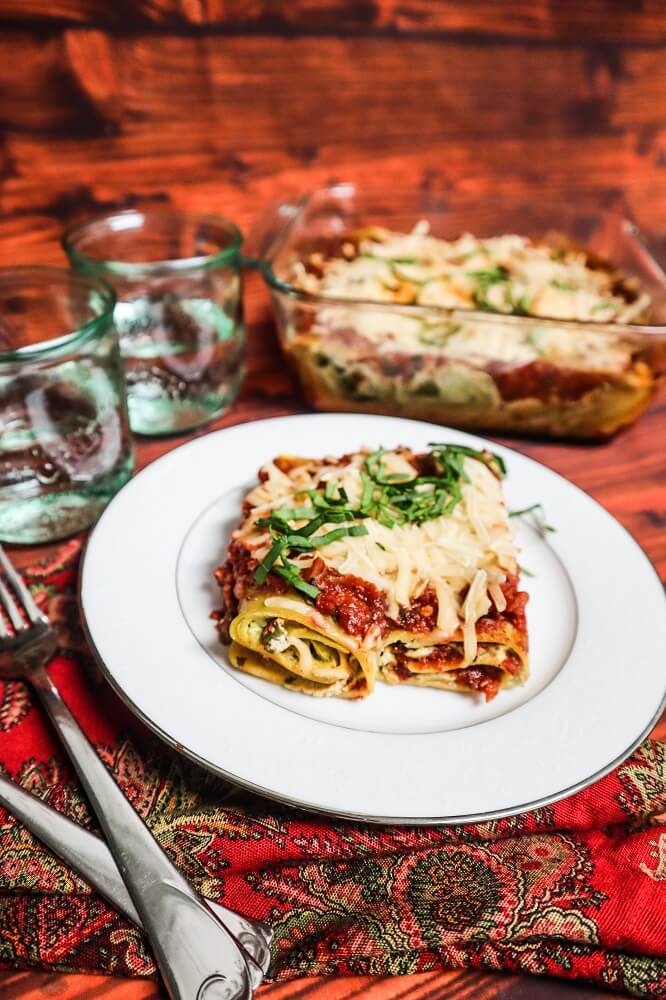 Vegan Lasagna Roll Ups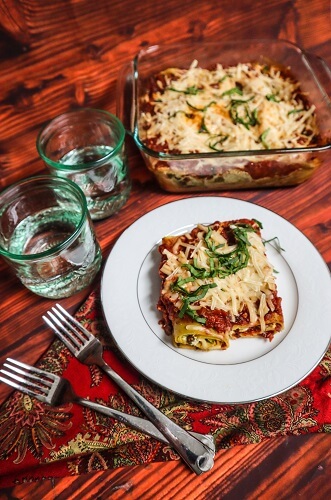 When I was in middle school and I ate school lunch, one of my favorite things were the lasagna roll ups. When I saw that they were on the menu, I looked forward to lunch time.  Oddly enough though, I haven't actually ever had lasagna roll ups since I left middle school, because most people, myself included make lasagna the old school way.  I had a coworker at the deli who made them and they always smelled good and I told myself I would eventually make a vegan version (since hers weren't vegan) but I never got around to making them.  Until now that is!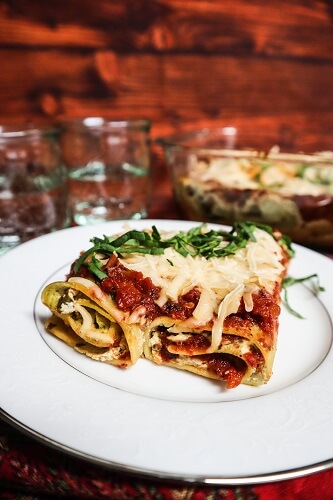 Last week I decided to make some because I had bought some lasagna noodles that I wanted to use up in my cupboard.  It was the perfect excuse to make the lasagna and I had the time to make the rolled version.  To be honest, I don't usually even make my lasagna with traditional noodles, I make it with short noodles and make a "lasagna" casserole, so this would be much more fancy!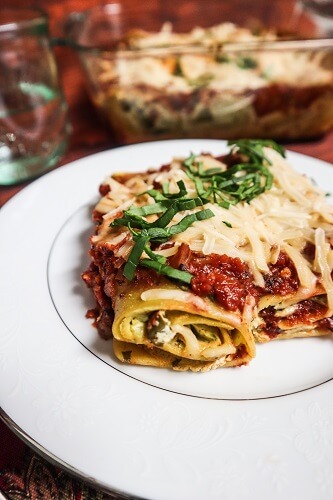 For the "ricotta" filling, I used a tofu base, because that is what my Mom used to use when she made lasagna when I was little and I loved it!  The texture comes out perfect and you don't even miss the cheese! I mixed in a little cashew butter to give it a little richness and it was perfect!  I wanted to keep this lasagna fairly simple, so I just added spinach instead of sauteeing a bunch of other veggies.  Plus I figured it would roll better.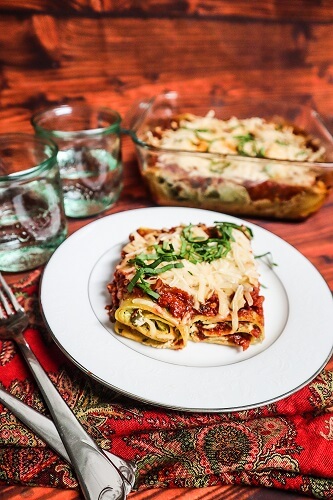 Once it was all assembled and I put it in the oven, it smelled so wonderful while baking! I could not wait to try it! When it was dinner time, it was sooo good!  This tastes every bit as delicious as those lasagna roll ups I enjoyed growing up, with none of the dairy!  If you are looking for some delicious comfort food, give these a try!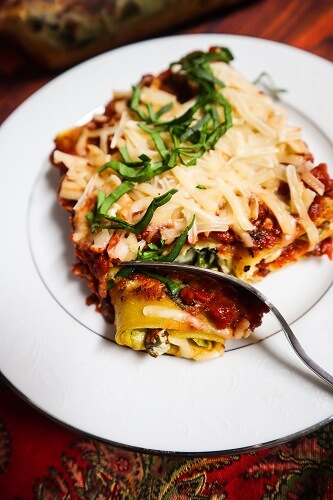 Vegan Lasagna Roll Ups
Serves 4
Sauce:
2 tsp olive oil
1 small red onion, diced
2 garlic cloves, minced
2 tsp balsamic vinegar
1 tsp dried basil
1 tsp dried oregano
1 28 oz can crushed tomatoes or tomato sauce
1/2 tsp sea salt
Ricotta:
1 16 oz package extra firm tofu
1/3 cup raw cashew butter
1/4 cup chopped red onion
2 tsp white miso
1/4 cup nutritional yeast
2 garlic cloves
2 tsp lemon juice
1/2 tsp sea salt
1/2 cup chopped spinach
Pasta and assembly:
1 12 sheet package lasagna noodles
spinach
vegan mozzarella cheese
Instructions:
To make the sauce, heat the oil in a pot, and add the onions and garlic. Sautee over medium heat until the onions have softened, about 5 minutes.
Add the vinegar, herbs, tomatoes and sea salt and bring to a boil. Lower to a simmer and cook for about 20 minutes until the flavors have blended and the tomatoes are more softened. Remove from heat.
Meanwhile, to make the ricotta, combine the tofu, cashew butter, miso, nutritional yeast, garlic, lemon juice, and sea salt in a food processor and process until blended.  Add the chopped spinach and pulse until distributed.  Set aside.
Cook the noodles according to package directions, and drain well. Set aside (not stacked on top of each other, spread them out, as they may stick).
Oil a 2 quart casserole dish.
To assemble, spread about 2 Tbsp of the ricotta over each noodle, place a few spinach leaves on top, and roll up.  Place in the prepared pan.  Repeat with remaining noodles, ricotta and spinach.  Pour the pasta sauce over the rolls in the pan evenly, and sprinkle the vegan mozzarella over it.
Place in the oven and bake until bubbling and the cheese is melted, about 20 minutes.
(Visited 679 times, 1 visits today)