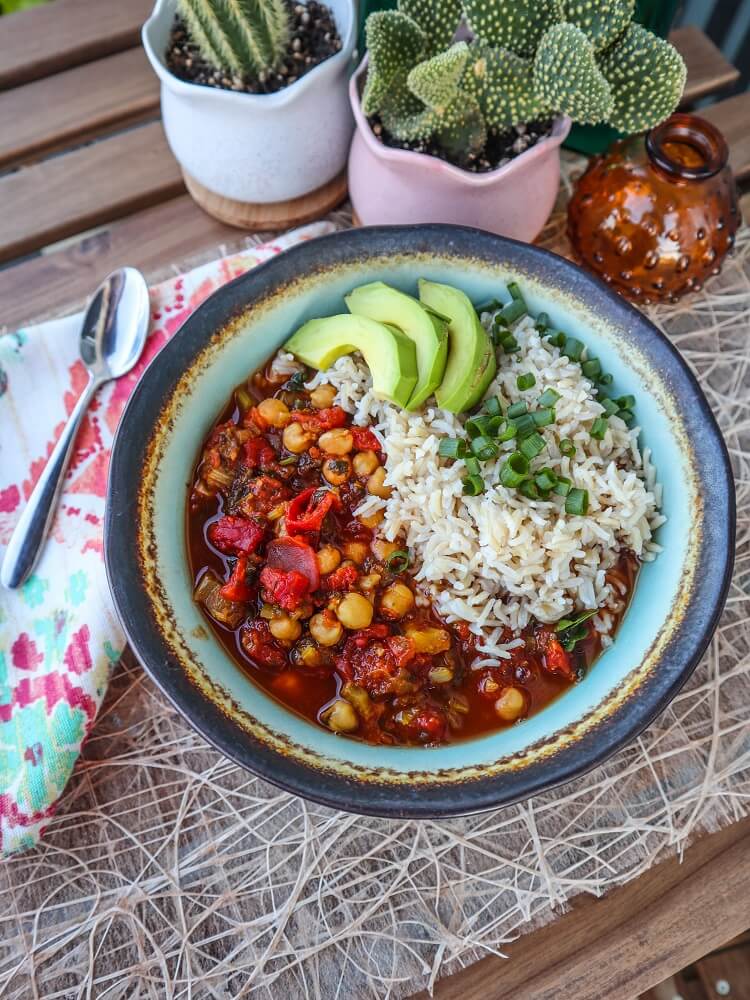 Vegan Instant Pot Chickpea Chili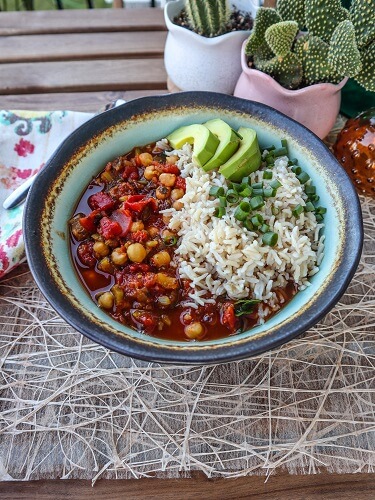 I have always loved chili.  My family didn't really make it, they just made regular soup and stew usually.  But my friend's Dad that lived next door to us made the best chili, and the ingredients in it were grown in their garden.  It was spicy, since they grew hot peppers, but it was so good! Now, as an adult I make my own vegan chili and I enjoy it so much I make it every week for a few meals.  I vary the recipe somewhat, but this is my latest version which I discovered by using what I had on hand.  Vegan Instant Pot Chickpea Chili!  Yes, I always use my Instant pot since it makes it super easy and that way I can walk away and do other things while it is cooking and not burn it.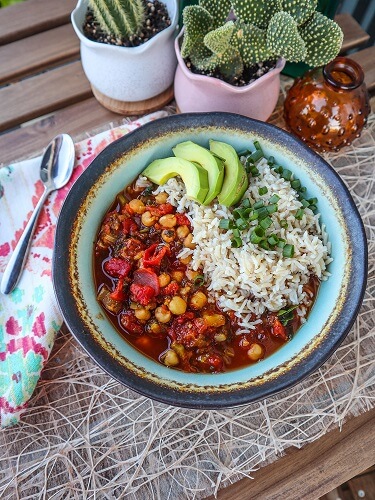 I start off with celery, onions, jalapenos and garlic in my chili.  I am not a big fan of carrots in my soup, since I feel like they flavor it too sweet in a weird way, but I like the savory celery and onions.  I like jalapeno in the chili to add a little kick.  But sometimes I will use even hotter peppers like habaneros if I have those.  I use plenty of canned tomatoes in my chili as well, and I like the combination of oregano and cilantro for my herbs.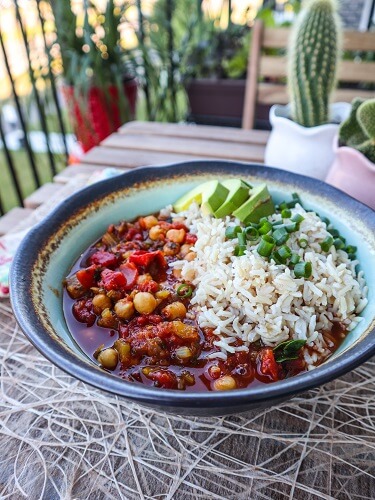 I like to add plenty of spices as well.  Cumin, coriander, and chili powder are always staples in my chili, but I have begun to add turmeric recently and I really enjoy it in there!  I have mostly made my chili with black beans or pinto beans in the past, but I had chickpeas on hand when I came up with this recipe so that is what I used, and I really loved them in here! Lastly, a splash of apple cider vinegar and some sea salt and the combination of flavors in this are really delicious!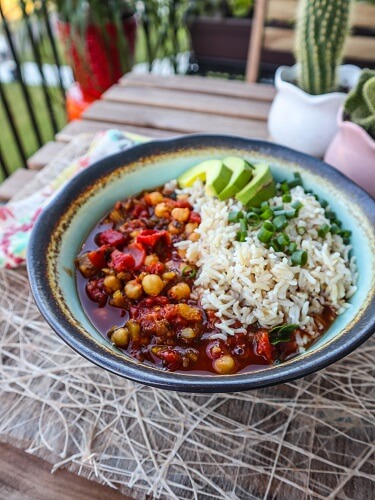 I have always enjoyed topping my chili with things too, it used to be cheese and sour cream, but I now like to do brown rice, avocado and green onions.  It is so delicious and this is my favorite savory meal as of lately.  If you are looking for something to make for dinner, this Vegan Instant Pot Chickpea Chili is delicious! I have also included directions below if you want to make it the old fashioned way not in an instant pot as well.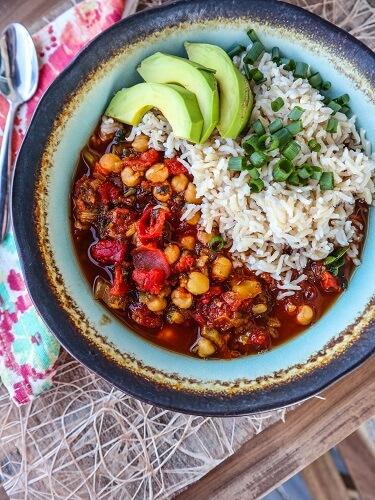 Vegan Instant Pot Chickpea Chili
Serves 2-3
Chili:
1 yellow onion, diced
1 jalapeno, minced
1 small bunch celery, sliced
2 garlic cloves, minced
1 small bunch cilantro, chopped
3 cups diced tomatoes (canned are fine)
1/2 tsp sea salt or to taste
1 tsp chili powder
1/2 tsp ground coriander
1 tsp ground cumin
1 tsp dried oregano
1/2 tsp turmeric
1 Tbsp cider vinegar
1 1/2 cups cooked chickpeas
cooked brown rice for serving (I used jasmine rice)
Sliced avocado for serving
sliced green onions for serving
Instructions:
In an Instant Pot, combine all ingredients but the beans.
Put on the lid, and set to the soup/broth setting for 40 minutes with the keep warm setting turned off. (Alternatively, if you are not using an Instant pot and are cooking on the stove, add to a regular pot, bring to a boil, and lower to a simmer with the lid on.  Cook on low heat for about 20 minutes or until the veggies are getting tender.)
When the Instant Pot is done cooking, let it set until the pressure valve goes down by itself, then open it and add the beans and stir in.
Remove from heat, and serve with the rice in bowls topped off with the avocado slices and green onions.
(Visited 498 times, 1 visits today)