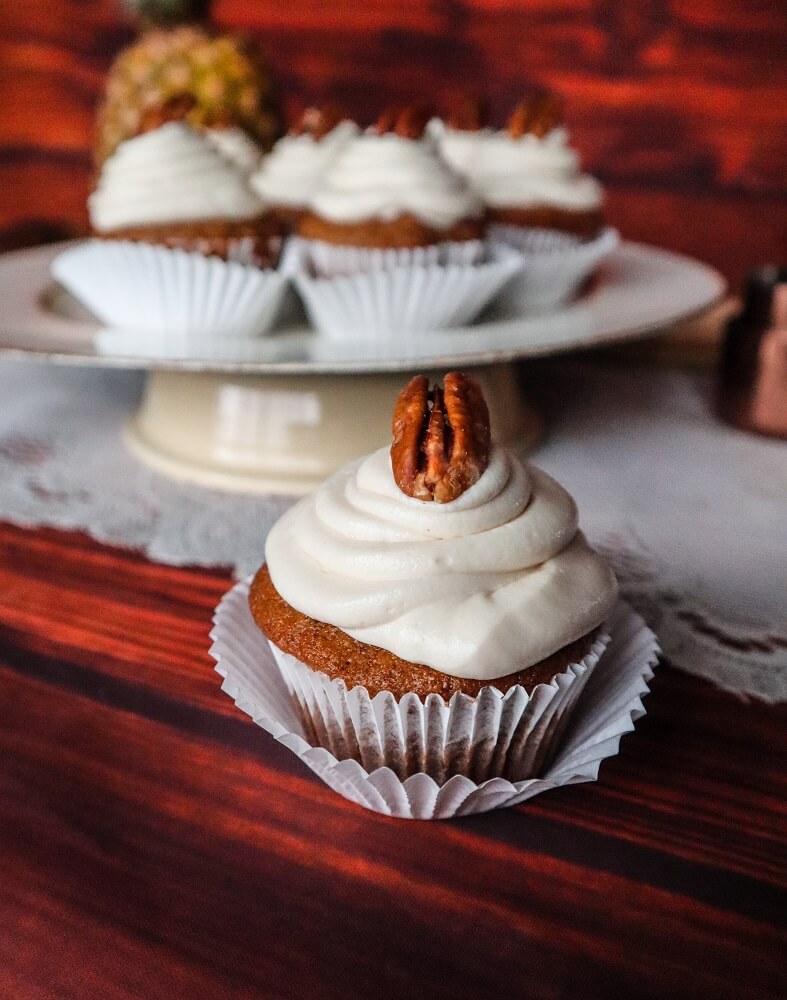 Vegan Hummingbird Cupcakes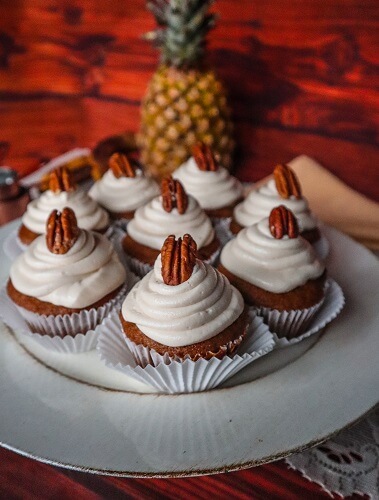 One of my more popular recipes on the blog is a Vegan Hummingbird Cake that I made years ago!  It is something I like to make in the spring, and I feel like it is perfect for Easter and Mother's Day!  I recently was craving that cake, but I didn't really want to make a whole cake, so I decided to make cupcakes instead which are less fussy and a lot easier to share since I usually end up sharing my cakes (I can't eat all that cake at once and my freezer can only fit so much lol).  To be completely honest though I did not end up sharing any of these except with Eric and I ate and froze the rest (for myself) because they were THAT good.   These Vegan Hummingbird Cupcakes differ a bit in ingredients from the original cake, because I used a more traditional vegan cream cheese frosting that I used to make years ago instead of the coconut milk based one the other cake had but they are both equally delicious in their own way.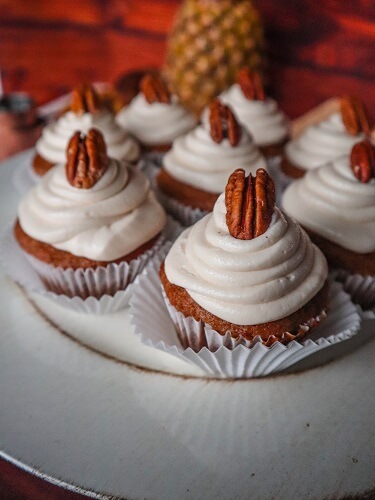 For the cake base of these, I used a whole wheat pastry flour, but if you prefer to use an all purpose flour, or all purpose gluten free flour (which is what was used in my other Vegan Hummingbird Cake) then you can use either of those instead, they all turn out similar in my opinion and I do not notice the difference.  Also, as far as the oil used in these goes, I prefer avocado because it stays soft when refrigerated, but you can use melted coconut oil if you prefer that, it is what I used in the other cake as well.  If you wanted to make these oil free you could use almond butter, but the cupcakes will be slightly less fluffy and a little more dense.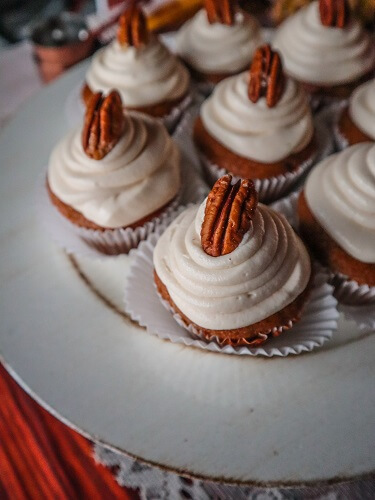 The batter for these is delicious! It has mashed banana and sweet pineapple along with crunchy pecans and fragrant vanilla!  I am not going to lie, I definitely licked the bowl clean after I was done filling the cupcake liners!  They smelled amazing while baking too!  That is honestly one of my favorite things about baking is the heavenly aroma that fills the kitchen!  I could not wait to add the frosting to these cupcakes!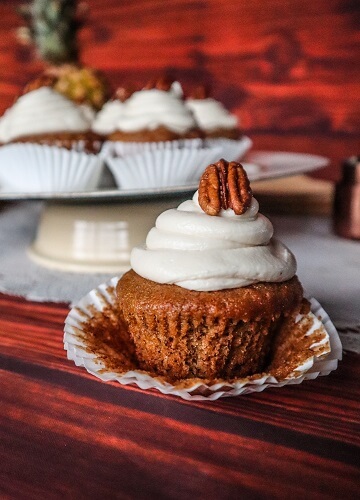 For the frosting I made a more traditional cream cheese frosting than my other Vegan Hummingbird Cake, as I mentioned earlier.   You could use the original cake recipe if you wanted something a little more healthy and less processed, but this frosting is darn delicious as an occasional treat!  I have always loved cream cheese frosting, and I used to make this kind a while back when I first started experimenting with vegan cakes.  It is luscious, creamy and a little tangy just like the traditional cream cheese frosting I grew up eating. These cupcakes turned out sooo good!  They were sweet and tropical with soft texture and a nice crunch from the pecans, the creamy dreamy vanilla frosting the perfect partner for the cake!  If you are looking for a delicious cupcake recipe to make this spring, definitely give these Vegan Hummingbird Cupcakes a try!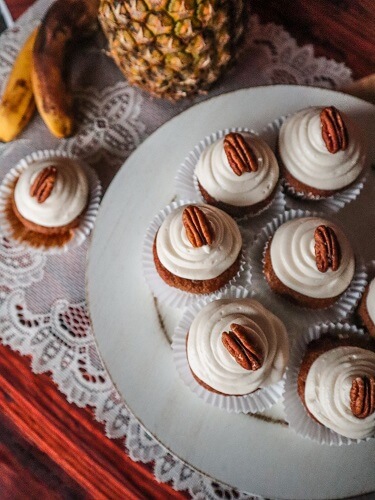 Vegan Hummingbird Cupcakes
Makes 20 cupcakes
Cake:
1 1/2 cups organic whole wheat pastry flour
1 cup maple sugar (coconut sugar or brown sugar will also work)
1 1/2 tsp baking soda
1 tsp baking powder
1/2 tsp sea salt
1 tsp ground cinnamon
1 cup mashed bananas
1/4 cup avocado oil or coconut oil warmed to liquid
1 Tbsp pure vanilla extract
1/4 cup + 2 Tbsp pineapple juice at room temperature
2 Tbsp apple cider vinegar
1/2 cup chopped pineapple
1/3 cup chopped toasted pecans
Frosting:
1 8 oz package vegan cream cheese, chilled (I used Miyoko's Kitchen)
8 oz vegan butter, at room temperature (I used two Earth balance sticks)
1 Tbsp plant based milk
1 tsp pure vanilla extract
3 cups powdered sugar
Instructions:
Preheat the oven to 350F degrees and position rack in center of oven. Line standard sized muffin tins with liners.
Whisk flour, baking soda, sea salt, cinnamon and sugar in a large bowl to blend well.
Whisk bananas, oil, pineapple juice, and vanilla extract together in small bowl to blend well, then whisk into the flour mixture until well blended. Whisk in the cider vinegar until bubbles form. Mix in the pineapple and pecans.
Transfer cake batter to tins and bake until tester inserted into center comes out clean, about 20 minutes.
Remove from oven.
Cool completely in pan on rack, about 1 hour. Cut around sides of pan to loosen. Turn cakes out onto platter; peel off parchment paper. Let cool completely, then place in the fridge to chill until very cold to make slicing easier. When chilled, slice cakes horizontally in half so that you have 4 layers.
Meanwhile, to make the frosting, combine the cream cheese, butter, milk and vanilla in a bowl and beat until creamy, then add the powdered sugar 1 cup at a time until the frosting is smooth, light and fluffy.  Note that if it has gotten too warm, you may need to refrigerate it a bit to firm it up before frosting the cupcakes.
Pipe the frosting onto the cupcakes with a pastry bag fitted with your preference of large tip, or spread the frosting generously over the cupcakes (I like a lot of frosting).
Garnish the cupcakes with chopped pecans if desired.
Store any leftover cake in the refrigerator.
(Visited 435 times, 1 visits today)