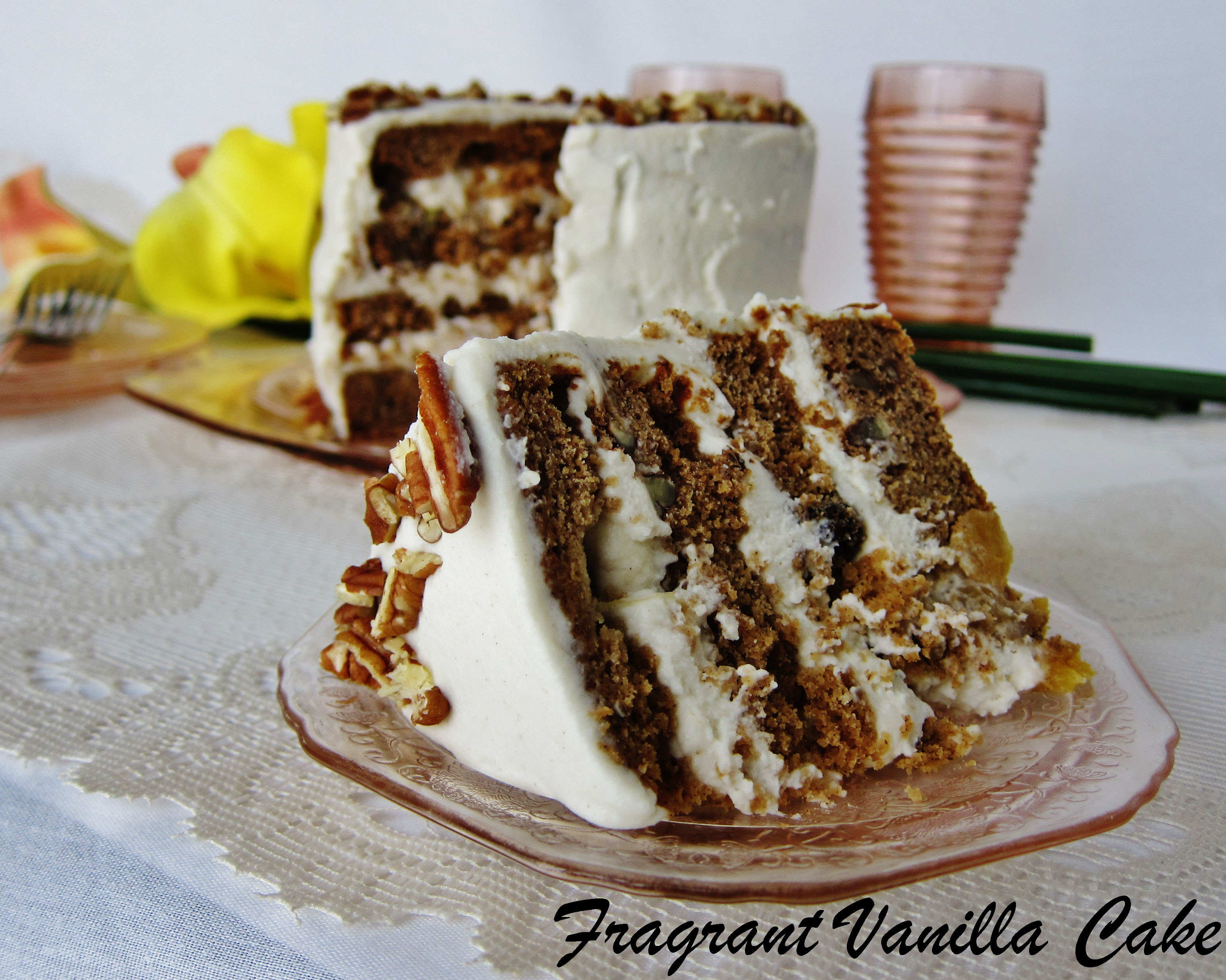 Vegan Hummingbird Cake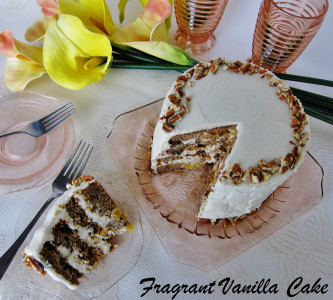 I have always wanted to make a hummingbird cake.  I have been hearing about them for years, and the old fashioned southern layer cake appealed to me. In case you haven't heard of them, they are a moist banana and pineapple cake, spiced with cinnamon, studded with pecans, and topped off with cream cheese frosting. What's not to love about that?  It sounded like something my Grandma might have made back in the day for a special occasion.  Because this is definitely a special occasion cake.  Since Easter is coming up, I thought also that if this turned out, it would make a perfect Easter cake to serve as a finale to the meal.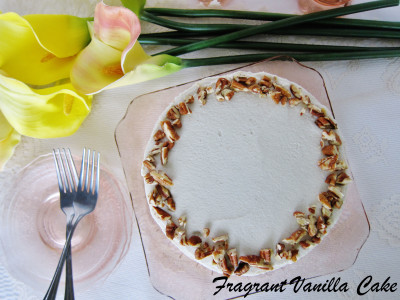 So, I went for it and made one.  Í used a gluten free vegan banana cake base that I have used in the past, and I swapped out pineapple juice for the coconut milk to make it extra sweet, and added in chunks of pineapple as well along with the pecans and cinnamon that were a must to make this cake traditional.  It smelled like heaven as it baked, and I couldn't wait to finish it off with the frosting!

For the frosting I used a simple coconut base with a little lemon juice to give it a slight tang reminiscent of cream cheese.  It was fluffy and delicious and perfect with the moist cake!  I topped it off with more pecans, keeping it simple as far as decorating went this time.  OMG was it good.  The texture was perfect, the cake was moist and sweet with a little bit of fruitiness, and the pecans gave it a nice crunch.  I shared some with my boyfriend Eric, and the piece was all gone pretty fast which should say something.  I think this would be perfect for Easter if you wanted something elegant and traditional.  Don't let the layers fool you, this is a pretty easy cake to make.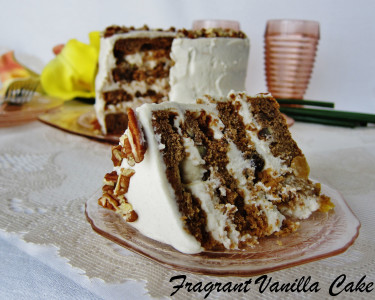 Vegan Hummingbird Layer Cake (gluten free)
Makes 1 6 inch 4 layer cake
Cake:
1 1/2 cups Bob's Red Mill Gluten Free All Purpose Flour
1 cup coconut sugar
1 1/2 tsp baking soda
1 tsp baking powder
1/2 tsp sea salt
1 tsp ground cinnamon
1 cup mashed bananas
1/4 cup virgin coconut oil
1 Tbsp pure vanilla extract
1/4 cup + 2 Tbsp pineapple juice at room temperature
2 Tbsp apple cider vinegar
1/2 cup chopped pineapple
1/3 cup chopped pecans
Frosting:
2 15 oz cans organic full fat coconut milk (the whole can, cream and water), chilled
2 cups raw cashews, soaked for 4 hours and drained
3/4 cup raw coconut nectar, or maple syrup
1/2  tsp sea salt
2 tsp pure vanilla extract
juice of one lemon (about 3 Tbsp)
1 3/4 cups coconut butter, warmed to liquid
Preheat the oven to 375 degrees and position rack in center of oven. Line two six-inch-diameter cake pans with 2-inch-high sides with parchment paper. Coat parchment paper and pan sides lightly with coconut oil so that the cake doesn't stick and line the bottom of the pan with a piece of parchment fit to the pan.
Whisk flour, baking soda, sea salt, cinnamon and sugar in a large bowl to blend well.
Whisk bananas, oil, pineapple juice, and vanilla extract together in small bowl to blend well, then whisk into the flour mixture until well blended. Whisk in the cider vinegar until bubbles form. Mix in the pineapple and pecans.
Transfer cake batter to prepared pans and bake cakes until tester inserted into center comes out clean, about 25-30 minutes.
Cool cakes completely in pan on rack, about 1 hour. Cut around sides of pan to loosen. Turn cakes out onto platter; peel off parchment paper. Let cool completely, then place in the fridge to chill until very cold to make slicing easier. When chilled, slice cakes horizontally in half so that you have 4 layers.
Meanwhile, to make the frosting, combine all ingredients but the coconut butter in a high speed blender or food processor and blend until smooth.  With the motor running, add the coconut butter and process a minute more.  Pour the frosting into a bowl and let sit in the freezer until the consistency of whipped cream (this may take anywhere from 1/2 hour to an hour depending on how warm it has gotten).
When ready to frost, place one cake layer on a plate. spread frosting about 1/2 inch thick over the first layer, then top with the second.  Repeat the frosting, then another cake layer, then more frosting then the last cake layer. Spread frosting over the top and down the sides of the cake.
Garnish the cake with chopped pecans.
Store any leftover cake in the refrigerator.
***if you would like a 4 layer 9 inch cake, double this entire recipe and bake in two 9 inch cake pans.
(Visited 5,923 times, 1 visits today)