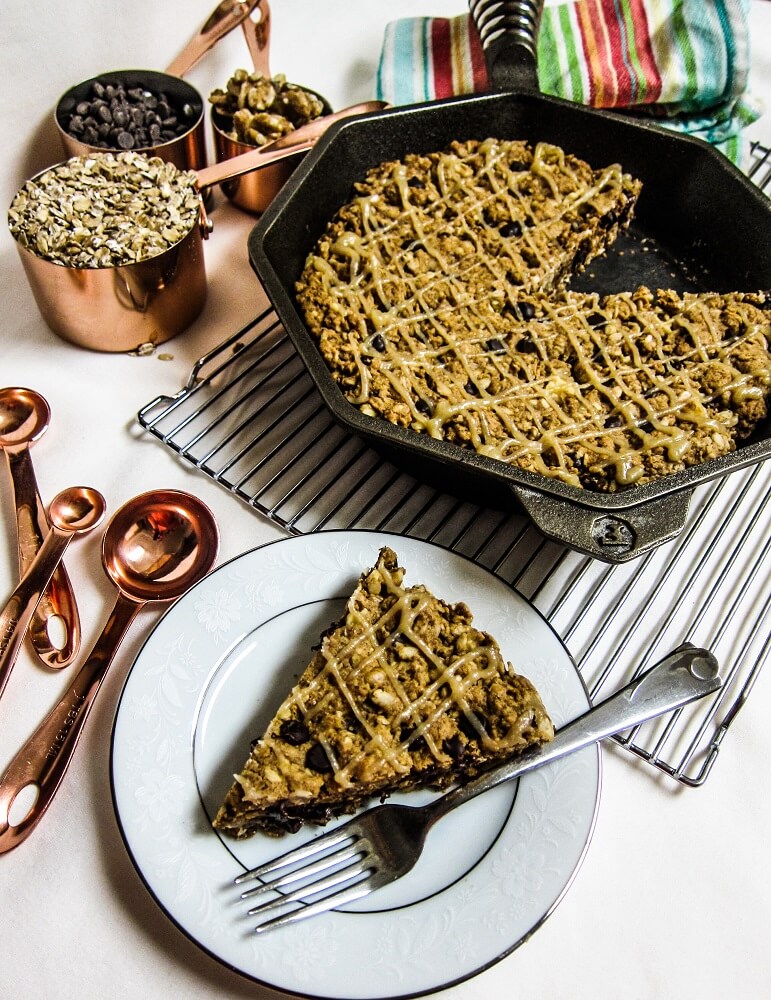 Vegan Giant Irish Oatmeal Skillet Cookie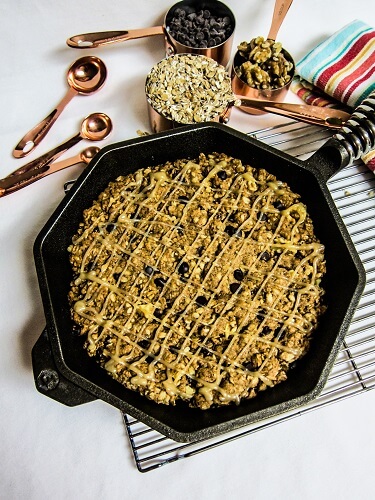 My Mom loves oatmeal cookies more than anyone I know, and ever since I made that Giant Double Chocolate Skillet Cookie last month, she has been asking me if I could make a giant Irish oatmeal cookie for St. Patrick's Day. Of course I had to make it. Because it did sound amazing, and I myself love oatmeal cookies. I mean, they have oats, so they can qualify as breakfast sometimes, right? At least that is what my Grandpa used to say. I just like them because they remain nice and soft and chewy and have some texture to them. I like mine with chocolate chips and walnuts. That is how they make them at the deli I work in, and it is the perfect combo with the oats. No offense to anyone who likes raisins in theirs. I am just not a big raisin girl and I don't usually have them on hand.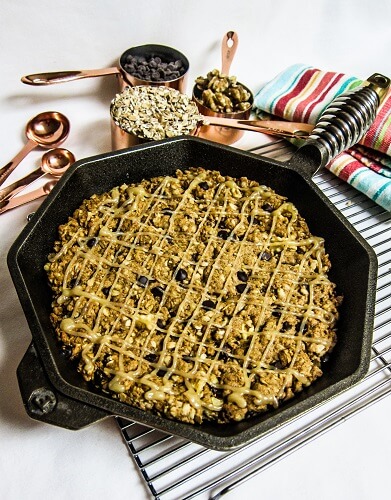 I have been waiting until March to make this cookie, so I was kind of excited about it! How is this an Irish oatmeal cookie? Well, I added a little bit of Irish Whisky to it both in the dough and in the glaze I put on the finished cookie. Because why not?! I had some on hand from making vegan Bailey's the week before anyhow.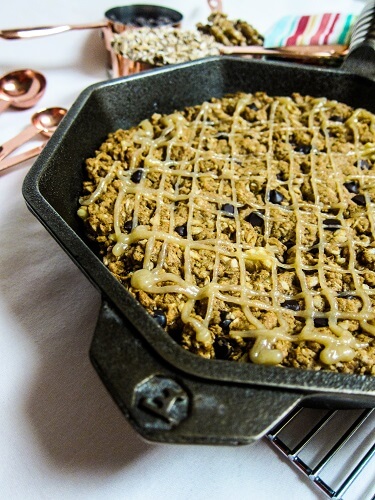 This dough is really simple to make, no fancy creaming the coconut oil with the cookies, or of course no rolling because this is one giant cookie. Just mix and press into the skillet! So easy and since I preheat the skillet, it only takes about 15 minutes to bake! You just have to wait for it to cool down slightly to cut into it so you don't burn yourself. That is the hardest part.
But you are totally rewarded for waiting! It is essential to cut into this while the chocolate chips are still gooey. Sooo heavenly! This is delicious with the soft, chewy dough, the gooey chocolate chips, crunchy walnuts, sweet glaze and touch of Irish Whisky! If you are an oatmeal cookie fan, definitely give this a try! My Mom, who I shared it with and who inspired it loved it as well, and that is always a win!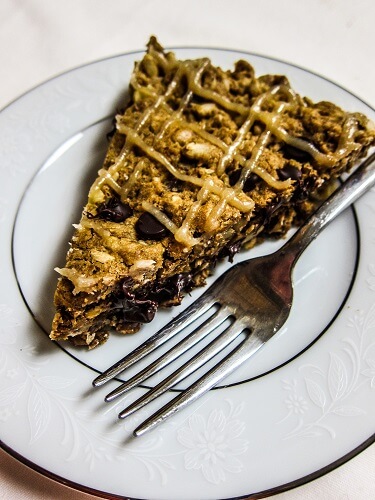 Vegan Giant Irish Oatmeal Skillet Cookie
Makes 1 dozen large cookies
Ingredients:
1 Tbsp ground flax seed
3 Tbsp Irish whisky (make sure it is vegan on Barnivore)
1/4 cup plus 2 Tbsp virgin coconut oil, warmed to liquid
3/4 cup Raw Guru coconut sugar
1 tsp pure vanilla extract
3/4 cup whole wheat pastry flour or fine oat flour
1/2 tsp baking soda
1/4 tsp sea salt
1 1/2 cups old fashioned rolled oats
1/2 cup chopped toasted walnuts
1/2 cup vegan dark chocolate chips
Whisky Icing:
3 Tbsp coconut butter, warmed to liquid
2 Tbsp Irish whisky
2 tsp maple syrup
1/2 tsp pure vanilla extract
filtered water as needed
Directions:
Preheat the oven to 350F degrees, and oil a cast iron skillet.
Mix together the flax seed and the whisky in a small bowl and set aside for 10 minutes.
In a large mixing bowl, mix together the coconut oil, and sugar until well blended. Add flax mixture, vanilla, and beat until well combined (the mixture will become very thick).
Mix in the flour, soda, and sea salt until well blended. Mix in the oats until well combined, then add walnuts and chocolate chips and mix until evenly distributed throughout the dough. Set aside.
Place the skillet in the oven for 10 minutes to warm up.
Carefully remove the skillet from the oven, and quickly press the dough into it (being careful not to burn yourself in the process, I used the bottom of a metal measuring cup to press mine down).
Place in the oven and bake for 15-20 minutes or until golden, but not over baked.
To make the whisky icing, whisk together the ingredients until smooth and whisk in just enough water to make it pour-able but still thick. Drizzle over the cookie.
Let the cookie cool until the pan is no longer hot, but the cookie is still warm, cut into pieces and enjoy!
(Visited 231 times, 1 visits today)