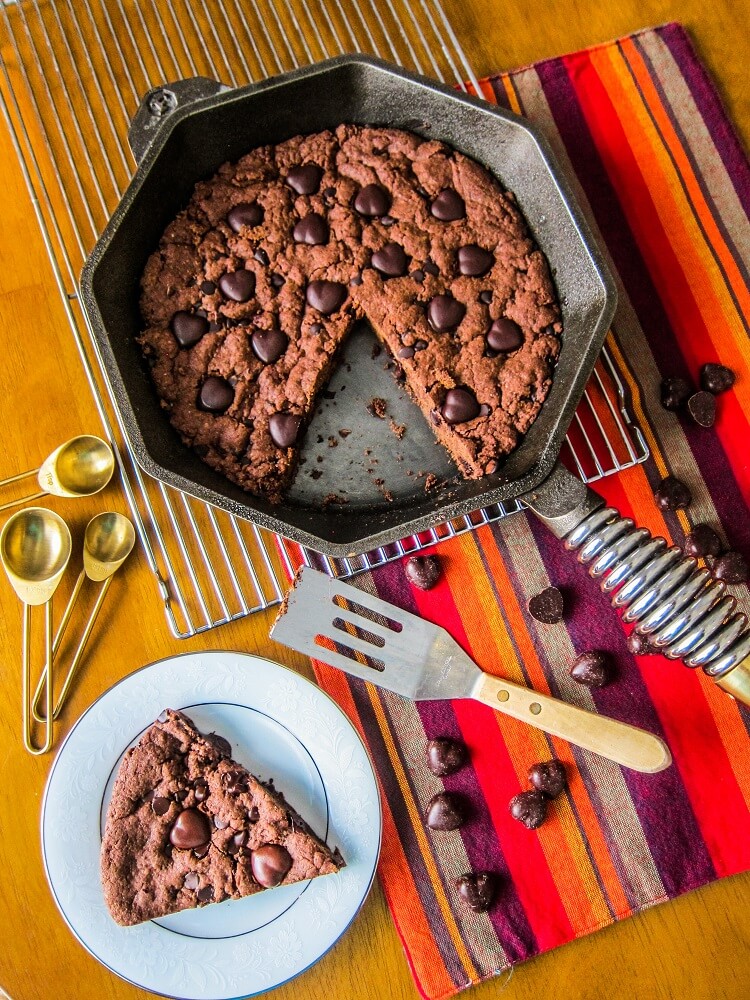 Giant Vegan Double Chocolate Skillet Cookie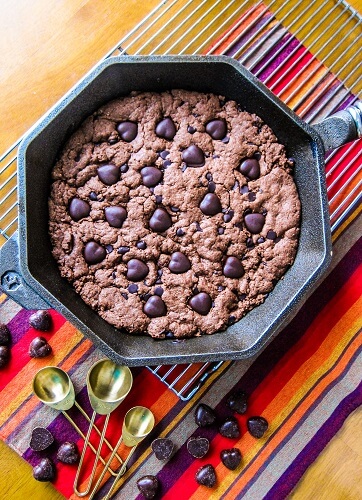 I feel like kids these days don't go to the mall as much. Back in the day when I was in high school, we went there all the time to hang out and shop and buy really unhealthy food from the food court. I enjoyed some of the savory items, like the pretzels with cheese. But what I really loved were the sweet ones. Especially the place that sold the giant cookies as big as a cake. I always used to buy brownies and cookies from there (which were also pretty big just not cake sized) and one time I brought one home for later and my Mom said it looked like diabetes in a bag. They were pretty sugary though so I had to agree and just laugh. But, back to those giant cookies. I have always wanted to make one but never have.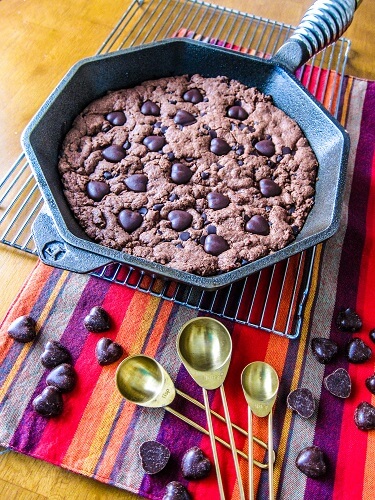 I have seen other people post recipes for skillet chocolate chip cookies, and said to myself, that sounds amazing and I should make it but sometimes things just get pushed to the back of my mind and I forget. My brain is like a shaken snow globe of thoughts and ideas a lot of the time, so sometimes things get lost. But finally last weekend I decided to make one. It was about time. I thought about making a plain old chocolate chip cookie, but I decided that I wanted more chocolate than that, so I went for a double chocolate cookie.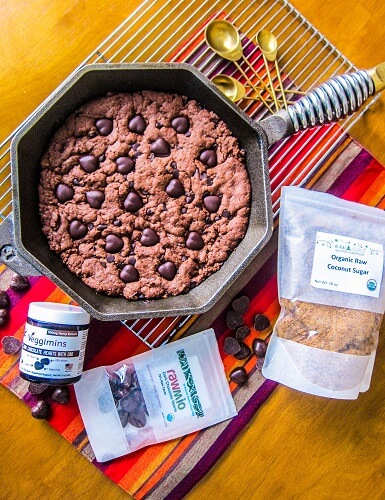 No, I did not get chocolated out from Valentine's Day. If anything, I am more in the mood for chocolate now since I think I will miss it when all the chocolate Valentine's treats run out. Plus Raw Guru had sent me some really cute Rawmio Dark Chocolate Hearts and Veggimins Dark Chocolate CBD Hearts, and I thought they would be super cute on top of a giant chocolate cookie. If you haven't tried either of these products they are amazing. Their chocolate is top quality, super smooth and tastes amazing and I love that I can get my daily dose of CBD while enjoying chocolate with the CBD hearts.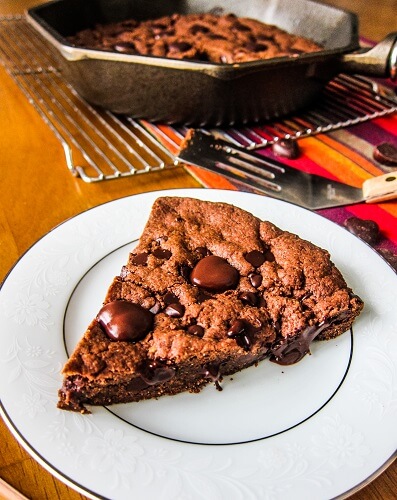 The cookie dough for this tasted amazing. If you have read my blog in the past, then you know I am all about the dough when it comes to cookies. Well this stuff was something I could have eaten with a spoon. But then I would not have my giant cookie so I had a few tastes then baked it. It turned out so good! Rich, decadent and soft with gooey dark chocolate chips and those delicious hearts on top! This is especially good served while still warm, about 30 minutes after baking. If you have some vegan ice cream to top it off with even better! If you are in the mood for some chocolate, give this a go! It is easier to make than rolling out cookies!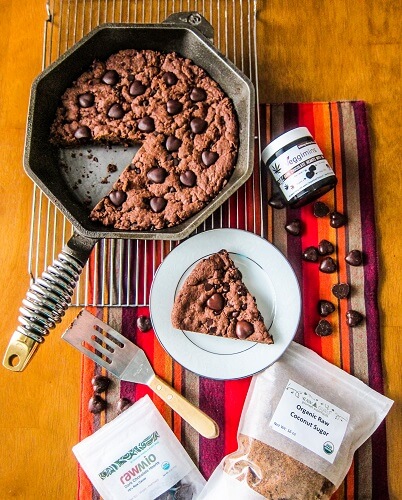 Giant Vegan Double Chocolate Skillet Cookie
Makes one large 9 inch cookie
Ingredients:
Directions:
In a small bowl, whisk together the flax seed and filtered water. Set aside in the refrigerator for 15 minutes.
Meanwhile, in a large bowl, coconut oil and pecan butter with sugar and mix until well combined
Mix in the vanilla extract and flax mixture until well combined. Add the baking soda and salt then the flour, a cup at a time, mixing between each addition, until well combined. Mix in the chocolate chips and pecans. Place in the freezer for about 10 minutes until it is firm enough to scoop (if it is too soft at all, it may not be, in that case proceed with scooping. It just depends on how warm the coconut oil was).
To bake, Preheat your oven to 350F degrees. Oil a 9 inch cast iron skillet and put in the oven to heat for 10 minutes.
Remove the pan from the oven and carefully (you don't want to burn yourself on the pan) press the cookie dough into the pan using the back of the spoon so it is even. Bake for about 15-17 minutes, until puffed and just starting to brown slightly. Remove from the oven, and press in the chocolate hearts to decorate the top.
Move to a wire rack and let cool about 30 minutes before enjoying.
(Visited 1,572 times, 1 visits today)