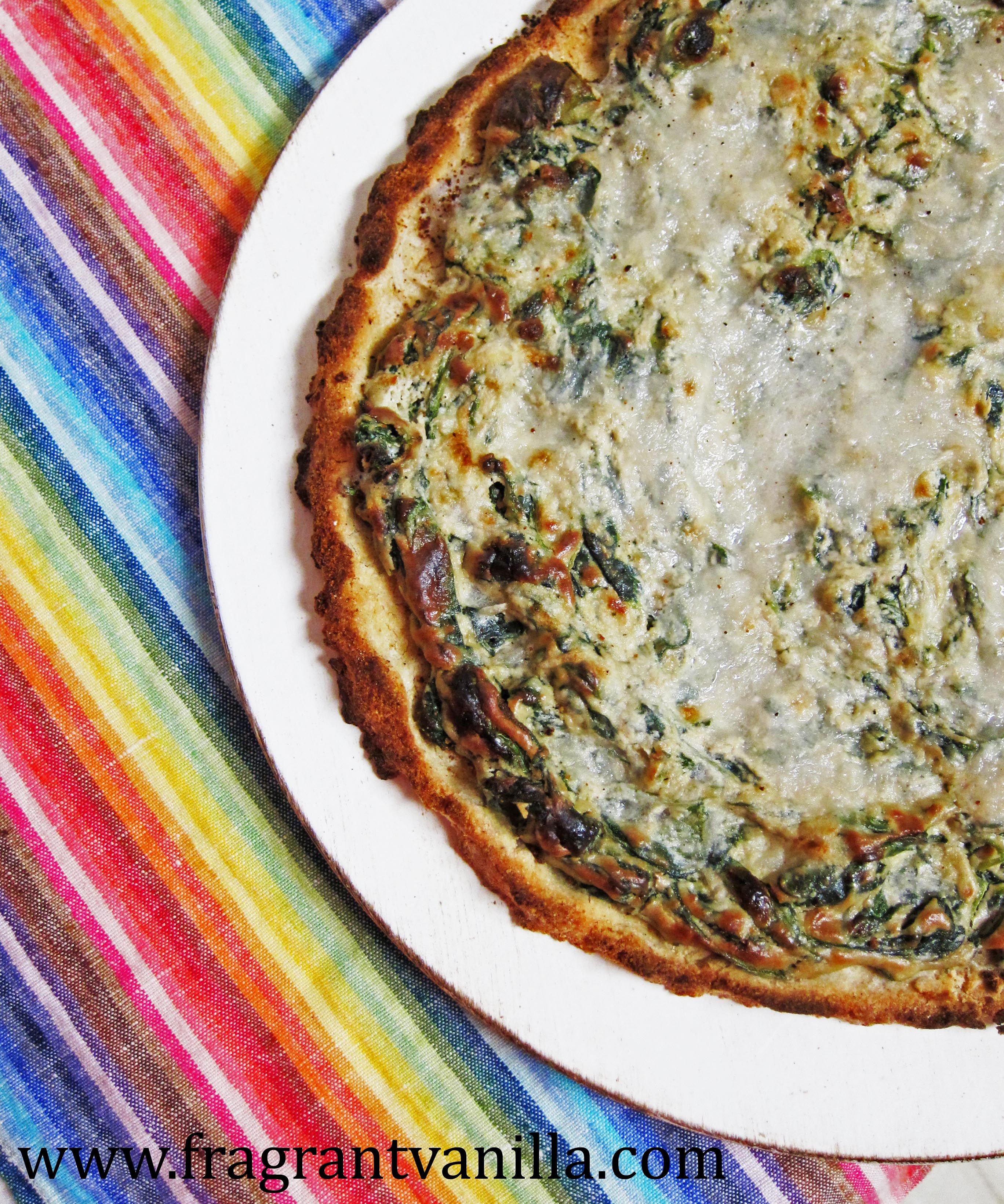 Vegan Florentine Pizza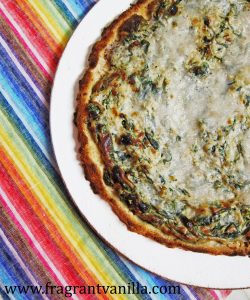 Do you ever accidentally buy too much of something, and realize that you need to use it up fast before it starts to go bad?  Well, I have.  I sometimes buy things like large containers of greens thinking I will eat more than I end up eating in a week, or I just don't use them up fast enough.  Well, I am not one to waste things.  So I find ways to use them. I had bought a big thing of spinach, and at the end of the week, I said to myself, this needs to be eaten.  Like now.  So, I came up with a delicious recipe to use that large amount of spinach, a vegan Florentine pizza!  Because pizza is always good, especially on a cold Winter day.  It was 8F degrees, I think that qualifies as cold.  I was excited about this pizza, I had some vegan mozzarella in my freezer that I had already made, and ingredients to make a ricotta cheese for the spinach portion, so it was perfect.
I had this huge bag of sunflower seeds, and I decided to make a nut free ricotta cheese with some of them.  Because I know there are a few nut free peeps that read this blog, and I want them to be able to enjoy recipes too.  I blended up the sunflower seeds like I would cashews with my other typical cheese ingredients in the blender and it turned out yummy!  I knew it would be good mixed with the spinach and spread over the pizza.  I have made creamed spinach before, and this was sort of like that only with cheese instead of the cream.  I sautéed the spinach with little garlic and olive oil before I mixed it into the cheese, and the combination was delicious!  Once it was spread over the crust, sprinkled with mozzarella and ready to bake, I thought, this is going to be good!  What's not to like about cheese, greens and pizza?!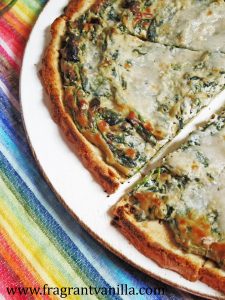 It turned out super tasty, and decided to be nice and save some for Eric, who was at work at the time.  I may have eaten whole large pizzas by myself when I was in high school, but now I practice a bit more restraint.  At least this one comes with healthy greens!  Who says vegans can't have delicious pizza with gooey cheese?!  This is way better than the traditional chain takeout pizza I had as a teenager, and way healthier!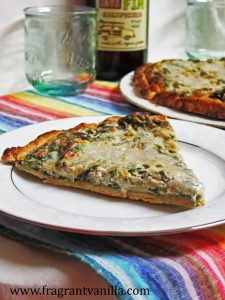 Vegan Florentine Pizza
Makes one 14 inch pizza
Vegan mozzarella Cheese:
1 15 oz can full fat organic coconut milk
2 Tbsp arrowroot starch
1/4 cup plus 1 Tbsp filtered water
3 Tbsp agar flakes or 1 Tbsp agar powder
2 tsp lemon juice
1 tsp sea salt or Himalayan salt
1 Tbsp virgin coconut oil
1 tsp guar gum
To make the mozzarella cheese, heat the coconut milk in a saucepan until it comes to a simmer.
Meanwhile, dissolve the arrowroot starch in the water and set aside.
Once the coconut milk has come to a simmer, add the agar flakes, and heat until they are dissolved (mine took about 8 minutes, if you are using the powder, it should dissolve within one minute).
Next, add the lemon juice and sea salt to the coconut milk.
Mix the coconut oil with the guar gum so that the guar gum does not clump up.
Turn off the heat and add the arrowroot mixture, guar gum and coconut oil. Whisk for about 30 seconds, then pour into a silicone mold (I used a loaf pan, but if you had another shape you would like to use go ahead). Refrigerate for a few hours until firm, then pop out of the mold. You will need half the cheese for this recipe, reserve the other half for another use in the fridge, wrapped in an airtight container.  Shred the half you will be using into a bowl, and keep in the refrigerator until ready to use.
Pizza Dough:
1 1/2 cups gluten free all purpose flour
1 Tbsp olive oil
1/2 tsp sea salt
1/2 tsp xanthan gum
1/2 cup plus 1 Tbsp filtered water
To make the pizza crust, combine the flour, xanthan gum and sea salt in a bowl, and whisk until well blended. Add the oil and water, and mix in until you have a soft dough.
Turn out onto a sheet of parchment paper with a light dusting of flour, and roll out into a 14 inch circle.  Set aside.
Sunflower Seed Ricotta:
1 cup raw sunflower seeds, soaked in filtered water 1 hour and drained*
1/2 cup filtered water
1/4 tsp sea salt
1/2 Tbsp lemon juice
2 tsp white miso (optional)
2 Tbsp nutritional yeast (optional)
To make the ricotta, combine all ingredients in a blender and blend until smooth.  Set aside.
Spinach:
1 Tbsp olive oil
8 cups of spinach
2 garlic cloves, minced
sea salt to taste
To make the spinach, heat the olive oil in the bottom of a pot, add the spinach, garlic and salt and cook until the spinach is just wilted.
Add the ricotta, and stir until blended.
Pizza Assembly:
Pre-heat the oven to 400F degrees.  Set a pan on the center rack with an upside down sheet pan, or a pizza stone set on it. Brush the crust with olive oil, sprinkle with sea salt, and slide the parchment with the crust on it onto the stone.
Bake crust for 10 minutes, then remove the crust from the oven (still on the parchment). Top the crust with the ricotta spinach mixture spreading around evenly. Then top with the cheese, making sure it is all evenly distributed.
Place the pizza in the oven, turn up the temperature to 475F and bake for 20-25 minutes until the cheese is bubbling and starting to brown (keep an eye on it after 15 as some ovens cook faster than others). Remove the pizza and parchment from the oven, slide pizza onto a cutting board or plate, slice and enjoy!
*If you are not a sunflower seed fan, you may use raw soaked cashews instead.
(Visited 350 times, 1 visits today)