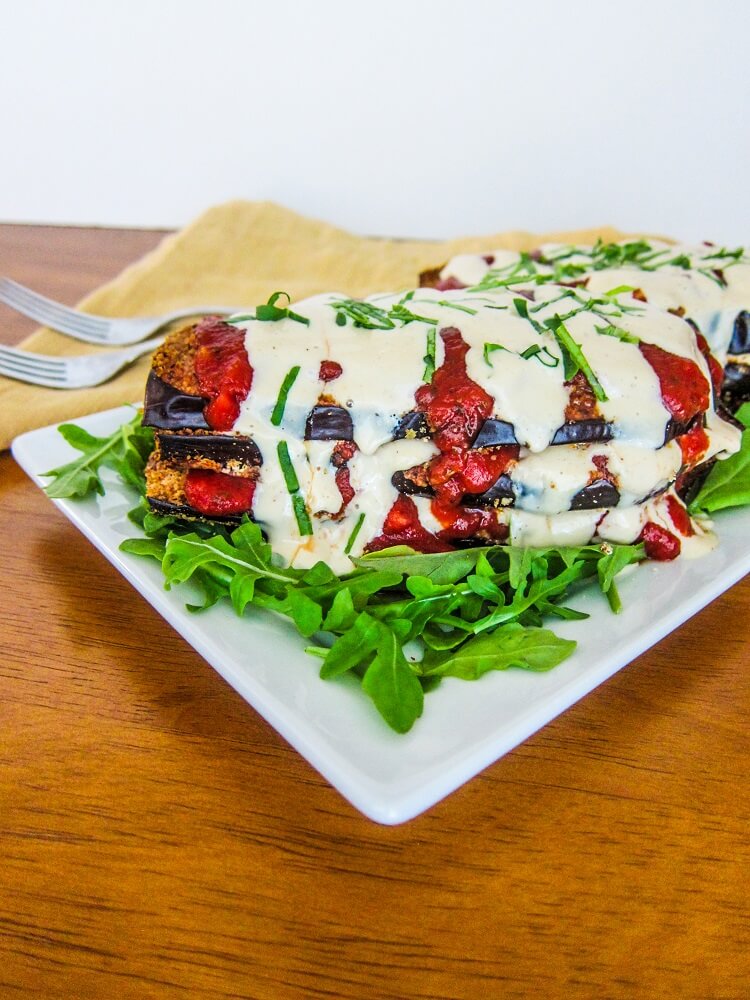 Vegan Eggplant Parmesan Stacks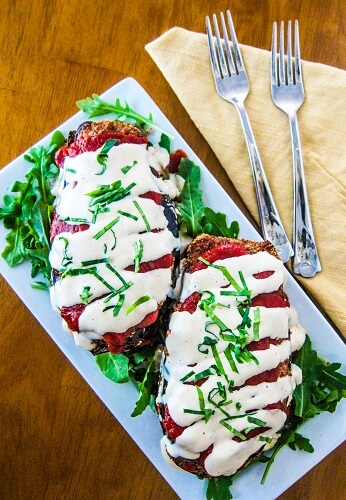 Growing up, I used to love eggplant parmesan. Or anything parmesan for that matter, my Mom would make chicken parmesan a lot as well. I loved the red sauce served with it and the crispy parmesan crust, the cheese and all of the good flavors of course. Surprisingly I haven't yet tried to make a vegan eggplant parmesan until this week. I have been wanting to for a while, and I finally had time on one of my days off so I went for it!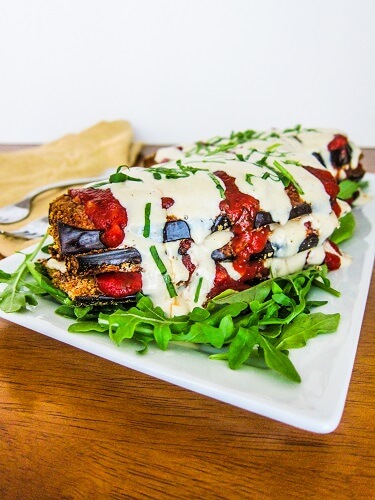 Traditionally it is fried, and a pretty rich dish but I made mine much lighter. Since I never actually fry things I prefer to bake them or use the air fryer. I decided to bake these though because I had to spread them out on a large pan and I wanted them all to get done at the same time. To start off with, instead of an egg wash, I used a flax egg wash because it was what I had on hand. And it worked perfect! For the coating I used a mixture of almond meal and nutritional yeast with herbs and spices because I wanted it to be delicious but gluten free. The almond meal has some protein and the nutritional yeast gives it a cheesy flavor so it is wins all around!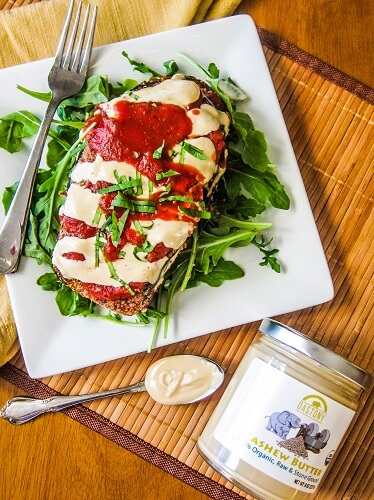 They baked up beautifully and I couldn't want to add the sauce and cheese. For the sauce, I made it really simple and oil free but it turned out super flavorful. For the cheese sauce I used Dastony Raw Cashew Butter that Raw Guru recently sent me and it turned out rich and delicious! Who doesn't love a good cashew cheese sauce?!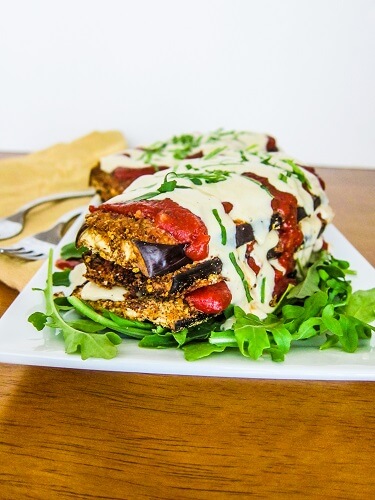 Once the eggplant was all layered up with the cheese I could not wait to try it! It was super delicious, like an eggplant lasagna! If you get your hands on some eggplant, definitely give this recipe a try! Since it is eggplant season now, I expect to be seeing it at the farmer's market soon!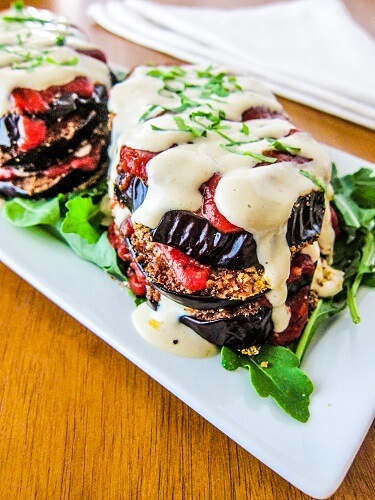 Vegan Eggplant Parmesan Stacks
Makes 3 stacks
Eggplant:
1 medium Italian Eggplant, cut into thin 1/4 inch thick slices lengthwise
2 Tbsp ground flax seed mixed with 1/4 cup plus 2 Tbsp filtered water
1 1/2 cups almond meal
3/4 cup nutritional yeast flakes
1/2 tsp sea salt
1 tsp dried basil
1 tsp dried oregano
1/2 tsp garlic powder
Sauce:
3/4 cup tomato paste
1 cup filtered water (or as needed)
1 Tbsp balsamic vinegar
2 garlic cloves, minced
1 tsp dried basil
1 tsp dried oregano
1/3 tsp sea salt or to taste
1/4 tsp red pepper flakes
Cheese Sauce:
3/4 cup Dastony raw cashew butter
1 garlic clove, minced
2 Tbsp nutritional yeast
2 tsp cider vinegar
1/2 tsp sea salt (or to taste)
Instructions:
To make the eggplant, preheat the oven to 375F degrees, and line a sheet pan with parchment.
Spread the eggplant slices out on the pan.
Brush the slices of eggplant on one side with the flax mixture.
Mix together the almond meal, nutritional yeast, salt, basil, oregano, and garlic powder, in a bowl until well blended, then sprinkle it over each eggplant slice, patting it in after.
Flip the eggplant slices over, and brush the other side with the flax mixture, and sprinkle with the remaining almond meal mixture.
Place in the oven and bake until tender and starting to brown, about 25-30 minutes.
Meanwhile, to make the sauce, combine all ingredients in a saucepan. If it seems too thick, add a little more water. Bring to a simmer. Simmer for 20 minutes, stirring every so often, then remove from heat.
Meanwhile, to make the cheese sauce, whisk together all ingredients until smooth. You want it to be thick but pour-able so if it seems too thick, add more water.
When the eggplant is ready, to make the stacks, place 3 slices of eggplant on a tray. Spoon some of the red sauce and cheese sauce over it, and top with another eggplant slice. Repeat 2 more times until you have 3 slices in each stack and end with the red sauce and cheese sauce.
Serve!
(Visited 474 times, 1 visits today)